Corolla, NC Vacations
At the northern end of the Outer Banks, what's also known as the Currituck Outer Banks, Corolla is a resort area that caters to vacationers with mostly locally owned shops, restaurants, and recreation opportunities.
Ever since 1984, when Highway 12 was extended north of the Dare County line, it has become an extremely popular Outer Banks vacation destination. Many Corolla vacation rentals include luxury homes with amenities such as private pools, theater rooms, hot tubs, game rooms and more! Corolla is quickly becoming one of the most desirable destinations for upscale Outer Banks vacation rentals.
Corolla is increasingly becoming popular for it's fishing, beach weddings, and vacations that take you away from everything. Well known for its wild mustangs, Corolla also offers incredible nature tours. And don't forget to explore some of Corolla's fine dining.
Corolla Sights and Attractions
Currituck Beach Lighthouse
This redbrick wonder was built in 1873 in what would later become the historic Corolla Village. In an effort to distinguish the Currituck Beach Lighthouse from other lighthouses in the area, such as Bodie Island Lighthouse, officials opted to leave the red bricks exposed. Now, the structure continues to tower over the Outer Banks' northern beaches and warn mariners of the coastline while also serving as a popular Corolla attraction. For an admission fee, visitors can climb the 220 steps to the top to be rewarded with a 360 view of the Atlantic Ocean, Corolla landscape, and Currituck Sound. The grounds around the lighthouse are home to the Museum Shop and the Victorian-style lighthouse keeper's house. The Currituck Lighthouse is part of Currituck Heritage Park, which includes the Whalehead Club and Outer Banks Center for Wildlife Education.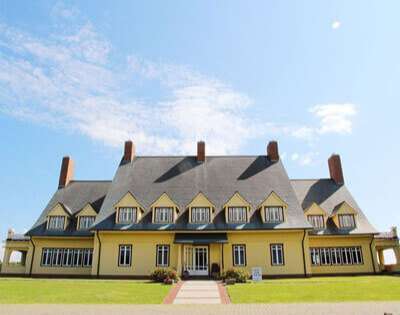 The Whalehead Club @ Currituck Heritage Park
The Whalehead Club features unique Art Nouveau and Arts & Crafts style architecture and Tiffany light fixtures. The club is open for tours year round and offers group and self-guided tours. Built in October of 1922 by Northern Industrialist Edward Collings Knight, Jr. and his bride Marie Louise LeBel, the Whalehead Club was originally a 21,000 sq.ft. private residence. Its location on the Currituck Sound and the Atlantic Flyway was perfect to satisfy the Knight's passion for waterfowl hunting. It has withstood hurricanes and nor'easters, witnessed a series of owners, and entertained hundreds of visitors from 1925 to 1970. In 1992, Currituck County purchased the badly deteriorated Whalehead Club in the interest of historic preservation. Today, the Whalehead Club is an intricate part of Currituck Heritage Park. Situated on 39 acres of sound front property, the public is invited to tour this newly restored "jewel by the sea".
Outer Banks Center For Wildlife
The Outer Banks is an incredibly diverse area with the ocean, the sound, and an estuary. Each of these habitats is beautifully represented in the 22,000 square feet Outer Banks Center for Wildlife Education. This interpretive center opened in 2006 and houses a number of exhibits showcasing the variety of wildlife and habitats in the area. The center's most impressive exhibit is an 8,000-gallon aquarium with native fish. Outdoor sportsman will enjoy the center's collections of unique waterfowl decoys and historical outboard motors. Located across from the Whalehead Club in Currituck Heritage Park, the Outer Banks Center for Wildlife Education is ideal for all ages to explore. All exhibits are wheelchair accessible and hearing devices are available for the hearing impaired. The center is an engaging way to spend a rainy day on the Outer Banks and admission is free.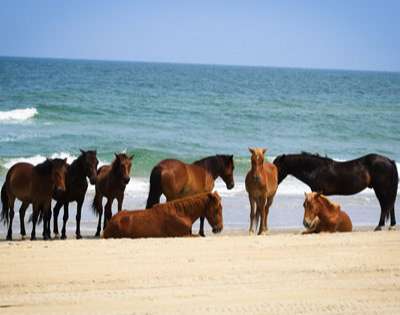 Wild Horses of Corolla
Corolla's oldest and most famous residents are the wild horses. These captivating creatures are the descendants of Spanish Mustangs originally imported by explorers in the early 16th century. Nearly 500 years later and the herd continues to roam the beaches and sand dunes of Corolla. Travel to the northern most beaches of Corolla, in the four-wheel drive accessible area of Carova to catch a glimpse of the wild horses. Several companies offer wild horse tours. These tours are provided by seasoned veterans who are knowledgeable about the area and horses. The tours are an engaging way to learn more about the animals while also seeing them. While staying in your Outer Banks vacation home in Corolla, you may find yourself sharing the beaches or even your front yard but remember to stay at least 50 feet away for the safety of both you and the horses. Here is a link to a helpfull video provided by the Corolla Wild Horse Foundation.
Driving On The Corolla's Beaches
There is no permit required to drive on the beach in Corolla/Carova, although you will need a permit to park along the beach from Late April through Early October. Visit
Currituck County's website
for more information. When driving on the beach, speed limits are 25mph unless otherwise marked. Remember to go slower if you encounter wild horses and stay 50 feet away, even in a vehicle.
Dogs on Corolla's Beaches
Corolla follows a year-round leash law, meaning that dogs are permitted on the beaches year-round so long as they are on a leash. And don't forget to always pick up after your pet!
Average Corolla Temperatures
Corolla temperatures average a high of 85 from June through September. The shoulder seasons (fall and spring) average in the 60s, while the winter is mild with temperatures hovering around 40.
Other Areas in Corolla, NC
Corolla Village
Just before the road ends you will find Corolla Village which features the historic Currituck Lighthouse, Whalehead Club, small shops and The Corolla Chapel. Stroll over to see historic homes that have been converted into charming shops, climb to the top of the lighthouse, or take a tour of the Whalehead Club.
Whalehead Beaches
This community, at the heart of Corolla, offers wide, uncrowded beaches and is close to all the best shopping, dining, and family activities Corolla has to offer. With three tiers of Oceanside homes, you're never far from the beach, and many homes have private pools. Many homes offer city water; however, some homes use private wells.
Monteray Shores
The private resort of Monteray Shores offers a full package of amenities including a clubhouse with fax, Xbox, TV/VCR and picnic area, fitness room, and wireless internet. Other amenities include an outdoor swimming pool with kiddie pool (mid-May through mid-October, weather permitting), four tennis courts, boat launch ramp for small boats or windsurfers, sound front pier and gazebo, half court basketball, playground, Oceanside parking within one block of the beach access, and planned activities for children.
Crown Point
The community of Crown Point offers private tennis courts, swimming pool, and picnic grounds. Homes in this area are just a short walk or bike ride to Monteray Plaza and Timbuck II shopping centers. And the wide flat beaches are perfect for the beach glass and shell collectors in your family.
Ocean Sands
Ocean Sands, offers the wide, soft sand beaches and is surrounded by natural shrubbery such as bayberry and wax myrtle which shelters the variety of birds and other wildlife residing in the area. A seven-acre, stocked freshwater lake is also a haven for waterfowl. Community tennis courts, located in Sections D, F and H, are available to most guests (check individual property description for details). Southern Ocean Sands, Sections A, B, & C, do not offer community amenities, but all other sections do.
The Currituck Club
The Currituck Club offers an 18 Hole Championship Rees Jones Signature Golf Course, free trolley transportation system, a 2,050 sq. ft. swimming pool with a kiddie pool, a pool bathhouse with family facilities, 2 outdoor tennis courts, 4 lighted half-court basketball goals, children's playground, fishing ponds, lighted biking and jogging trails, lighted sand volleyball court, and a fully equipped fitness center offering classes, personal trainers, ping pong, billiards, and a tennis shop.

Spindrift
Spindrift is a small, private community in Corolla where you will enjoy private access to beautiful, wide beaches. While here enjoy a round of golf at the Currituck Club, or visit the shops and restaurants right across the street.
Pine Island
Located across from the National Audubon Society Sanctuary, Pine Island guests have access to community tennis, basketball, oceanfront pool, jogging and bike paths, and playground.

---
---