February 25, 2020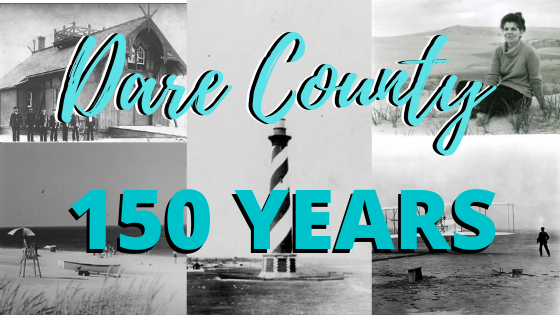 The Outer Banks, a picturesque barrier island system nestled along the Atlantic Ocean, is teeming with biodiversity, adventure, and history. It was originally and roughly formed some 20,000 years ago as the Gulf Stream and the Labrador currents deposited sand slowly over time. It is a "living" island, as it is constantly shifting, moving, and reshaping. Similarly, its inhabitants have also shifted, moved, and reshaped.
Previously inhabited by Native Americans, then European settlers, and now, mostly tourists as it one of the nations top family vacation destinations. The first English settlement, now commonly referred to as "The Lost Colony", was home to the first English child born in the "New World". She was named Virginia Dare and she was born in August 1587 on Roanoke Island. Her name lives on today as thousands of folk flock to her shores, and call their landing Dare County.
Dare County was founded in 1870 and is the largest county in North Carolina. It is home to 110 miles of coastline, and only 25% of her territory is land. Three-quarters of Dare County is comprised of pristine water, and it spans from Duck to Hatteras, including Roanoke Island and East Lake. This area has always been a destination for all walks of life: migratory birds and whales; Native Americans and slave escapees; explorers and pirates; modern-day retirees and vacationers alike. Throughout the years, the stories and legends have unfolded, and we are here to unpack some of the history that has been buried beneath the dunes of Dare County's 150 years. (All photos from darecountync.gov unless otherwise captioned)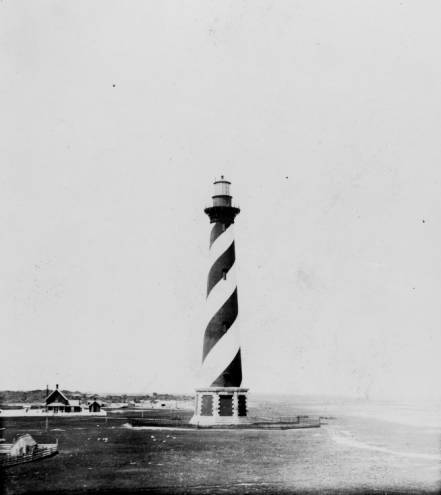 1870 – Cape Hatteras Lighthouse is lit! Diamond shoals, the infamously treacherous sandbar formed from the intense ocean currents that collide at Cape Hatteras. These shoals had swallowed many a ship, so it was deemed necessary that a lighthouse be established to warn mariners of the shoals wrath. The lighthouse built this year, and the one we see today, is actually the second Cape Hatteras Lighthouse. The first was made of sandstone, sporting the colors red and white. Today's lighthouse has its iconic black and white spiral daymark. It's the nation's tallest lighthouse, standing at a whopping 198.5 feet (63 m) tall!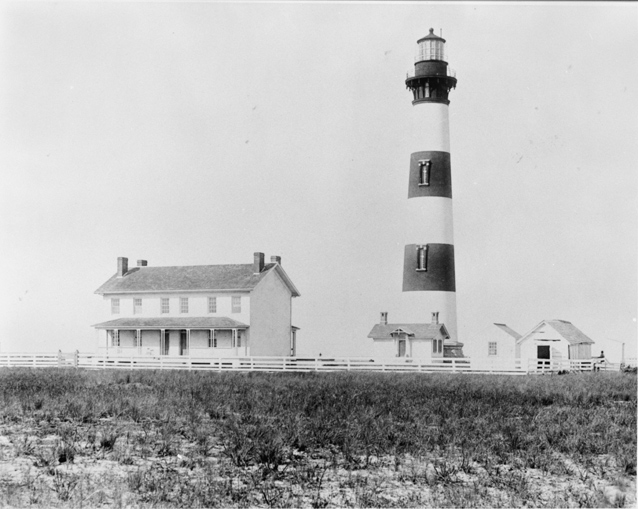 1872 – Bodie Island Lighthouse is lit! This was the third and final construction of the lighthouse. The prior 2 attempts at this lighthouse did not stand the test of time. The first was lost due to poor construction. The second was blown to pieces by the confederacy during the Civil War.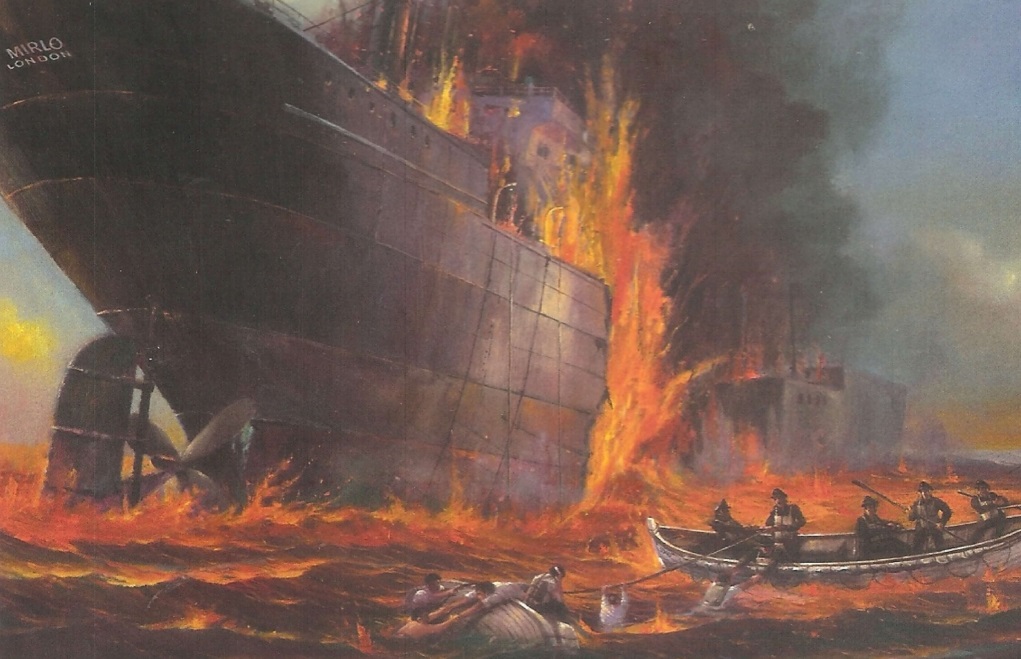 1874 – Seven North Carolina life-saving stations are built. Including Dare County's own Little Kinnakeet and Chicamacomico Life Saving Stations. Chicamacomico's station's most notable rescue was of the British ship Mirlo. On August 16, 1918 the ship was torpedoed by German submarine U-117. Captain John Allen Midgett and crew forged through 20ft breakers and fought flames as they made 4 trips to shore and back, saving 42 of the 51 men aboard. The legend of this rescue lives on today, as many still speak of the heroes of the wreck.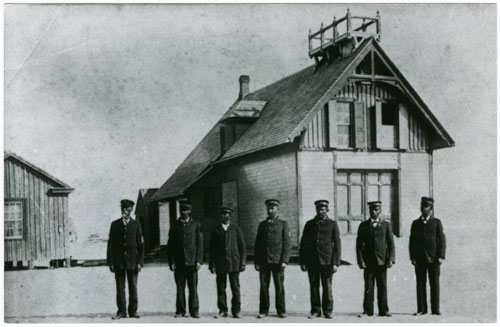 1878 – Pea Island Life Saving Station is built. This station is most noted for its first and only all black life saving crew – lead by Capt. Richard Etheridge. They saved many lives and were so outstanding in their field they they were awarded the Gold Lifesaving Medal by the United States Coast Guard. A memorial has been erected of Richard Etheridge, it can be visitied today in Manteo.
1899 – Town of Manteo incorporates. The Outer Banks and Dare County's first town is official, and remains as the county seat.
1901 – First official U.S. Weather Bureau station is established. It's located in Hatteras.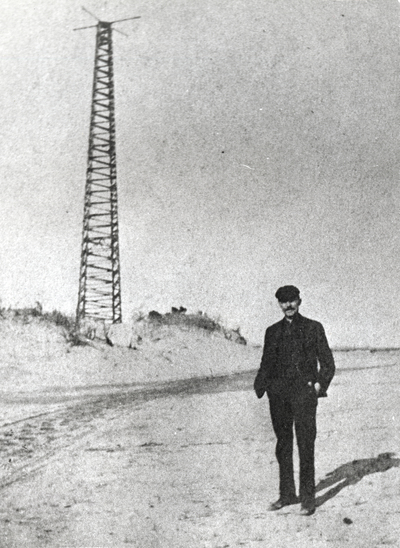 1902 – Famous inventor Reginald Fessenden is stationed as a contractor for the U.S. Weather Bureau. He erected 50-foot tall radio towers on Roanoke Island, Cape Hatteras, and Cape Henry. It was in this year that he became the pioneer of radio technology and successfully transmitted and received human voice for the first time. He sent a 127-word message from Cape Hatteras to Roanoke Island.
1903 – First Flight! The brothers from Ohio, Orville and Wilbur Wright give birth to modern aviation as they flew on December 17th, 1903. They shared their message of a successful flight from a life-saving station that is now home to local restaurant.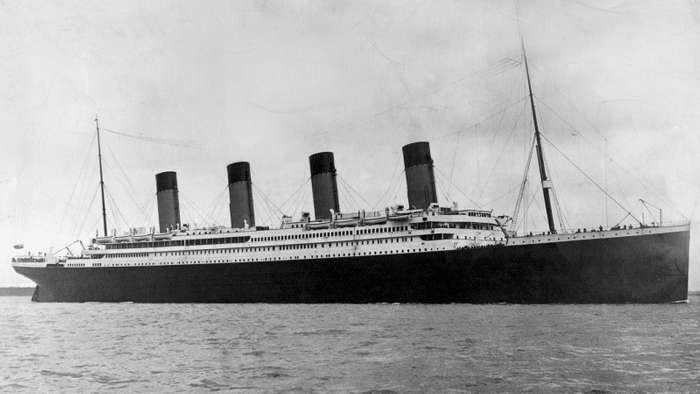 1912 – Titanic contacts the Outer Banks. The Hatteras Weather Bureau Station receives a distress call from the sinking ship. Around 11:40pm (ships time) on the night of April 14, Hatteras receives a "CDQ" signal, meaning "All Stations: Distress". Ten minutes later, another signal is received stating "Have Struck Iceberg".
1928 – Washington Baum Bridge Built. One can reach the beach via car! This was a drawbridge, and has since been replaced. The bridge has been built with a high arch, eliminating the need for a drawbridge all together.
1931 – Highway 158 is complete, allowing for paved passage between central Outer Banks communities, Kitty Hawk, Kill Devil Hills, and Nags Head.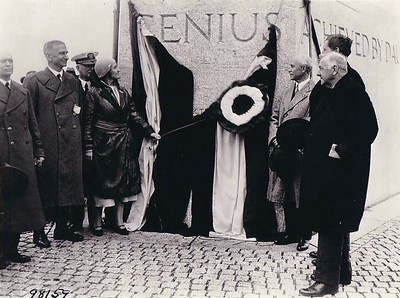 1931– Wright Brothers Memorial dedicated. This monument was originally designed as a lighthouse. However, many mariners mistook it as being a different lighthouse, since there were many along the NC coast. The issues and confusion it caused resulted in an early end to its lighthouse career. The memorial still stands as a reminder of the Wright brothers and their contributions to modern society as we know it.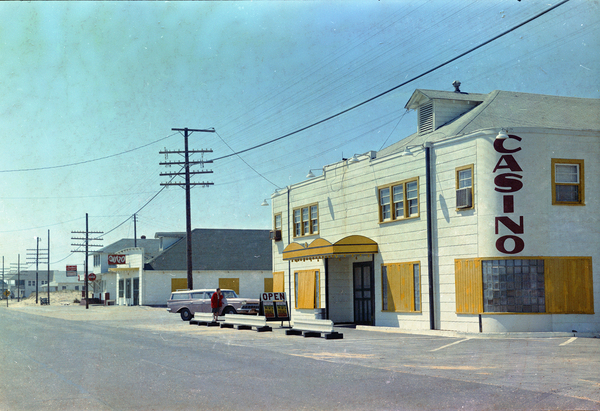 1936 – The famous Nags Head Casino opens its doors. A place unlike any other, this casino boasted legends like Louis Armstrong and Count Basie. This place was of high-caliber. Absolutely no one wore shoes while dancing on the sparkling, buffed-out, and impeccable floors.
1937– The Lost Colony Play first debuted. The play still runs today, 83 years later, and is the nation's longest running outdoor drama. In 2013, it won a Tony Honor for Excellence.
1948 – After WWII, during the Berlin Airlift, U.S. pilots air-dropped supplies to people of West Berlin. This included food and various supplies. The Spirit of Freedom, flown by Lieutenant Gail S. Halvorsen was well-known by the children of west Berlin for the special treat dropped from "Uncle Wiggly Wings". This plane would "wiggle" its wings to identify itself to the children, and then drop candies and sweets for the war-stricken children. This gave the plane the well-suited name, "The Candy Bomber". The sweet spirit of the Spirit of Freedom lives on today, and Lt. Halvorsen still drops candy "bombs", but now to the children of Dare County. This has been 20-year tradition locals look forward to every Christmas season.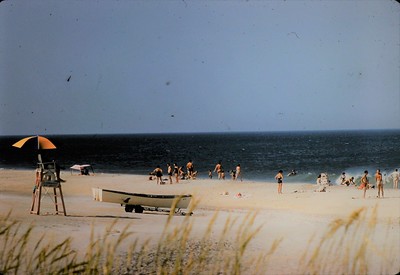 1953 – Cape Hatteras National Seashore is established. Twenty years prior, conservationist and artist Frank Stick published an article about his dream of having Cape Hatteras protected as a national park. He believed everyone should enjoy the seashore like he had. In 1937, the federal government approved this plea. The next step was to acquire the land. Stick had persuaded Henry Phipps of Carnegie Steel Company into donating his land as a means of escaping taxes. After years of working it out, Cape Hatteras National Seashore was officially protected under the United States National Parks.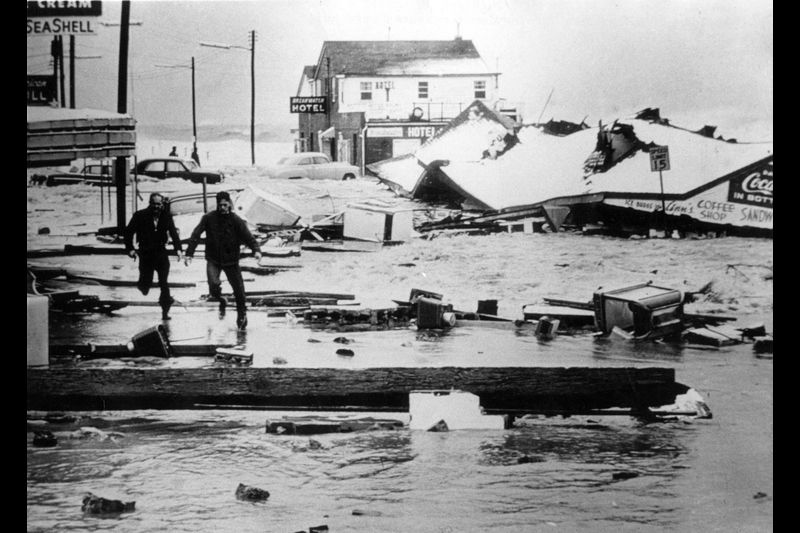 1962 – Ash Wednesday Storm hits the east coast and is recorded as one of the top 10 worst storms in United States recorded history. The storm lasted 3 days and caused major flooding and mass destruction.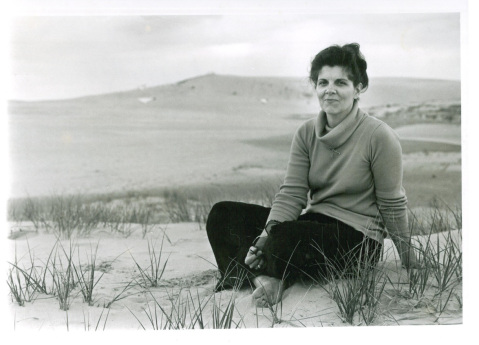 1975 – Jockey's Ridge is saved! Developers had planned to dismantle the dunes in order to build real estate. Carolista Baum, who had fond memories of the beautiful ridge and it's legacy, fought tooth and nail to protect the area. As construction was to begin, Carolista planted herself in front of their machinery and halted development. Backed by petition, NC General Assembly created Jockey's Ridge State Park in this year. Today, visitors from around the globe enjoy its landscape, sledding down the dune face, and hang gliding from its peaks.
1979– The town of Southern Shores is officially incorporated.
1981 – Kitty Hawk becomes an incorporated town. Though it's not until 1981 that it officially becomes a town, the area had been dubbed and commonly referred to as "Kitty Hawk" since the 1700's.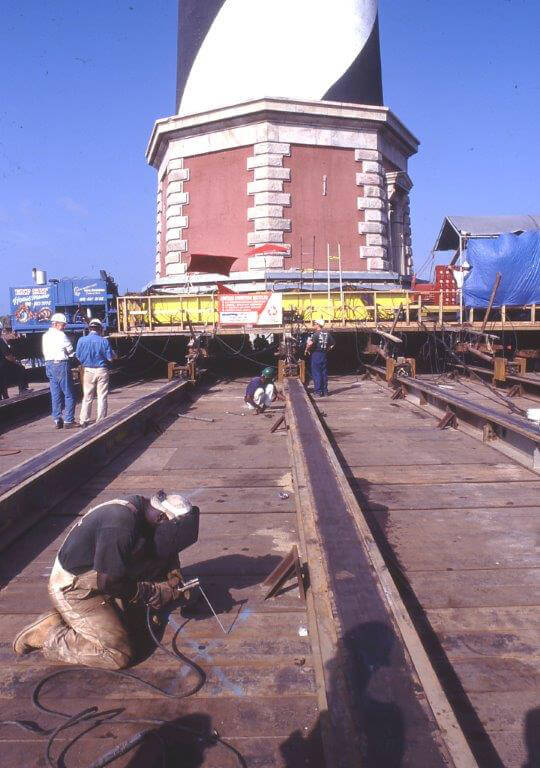 1999 – Cape Hatteras Lighthouse is moved to new location. It original location was threatened by the ocean, as erosion and rising sea levels were putting it at risk. A team of movers begin the successful relocation of the lighthouse 2,900 ft. This pushed it 1,500 ft back from the shoreline. The move took over a year of preparation, $11.8 million and 23 days, moving incrementally at approximately 5 feet a go. Today, many love to climb her spiral staircase for the unbelievable view — where one can observe the old lighthouse location.


2002 – Town of Duck is officially incorporated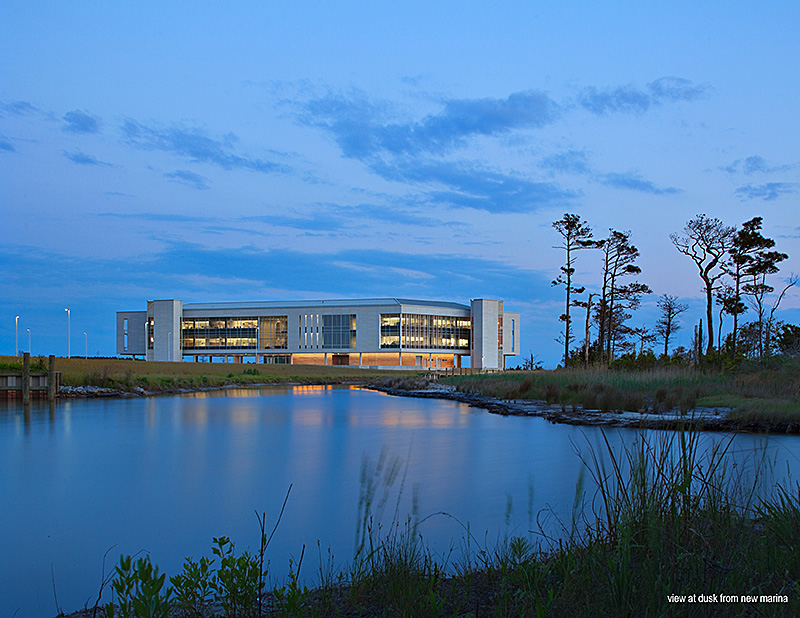 2012 – The Coastal Studies Institute is completed. The multi-institutional research facility is led by East Carolina University and partnered with UNC school systems. This institute brings together scientists, academics and skilled professionals to provide unbiased fact-based research to the public and NC's policy makers.
2019 – Marc Basnight Bridge built and replaced Herber C. Bonner bridge
2020 – 150th Year Anniversary of Dare County.
..And history is still being written today! Have you visited any of the sites of these historical events? If not, we recommend checking them out on your next OBX beach getaway! Southern Shores Realty is happy to accommodate your inner explorer. Check out our full list of cozy vacation rentals by clicking here.
Published February 25, 2020 by Kelly Knutson