October 28, 2018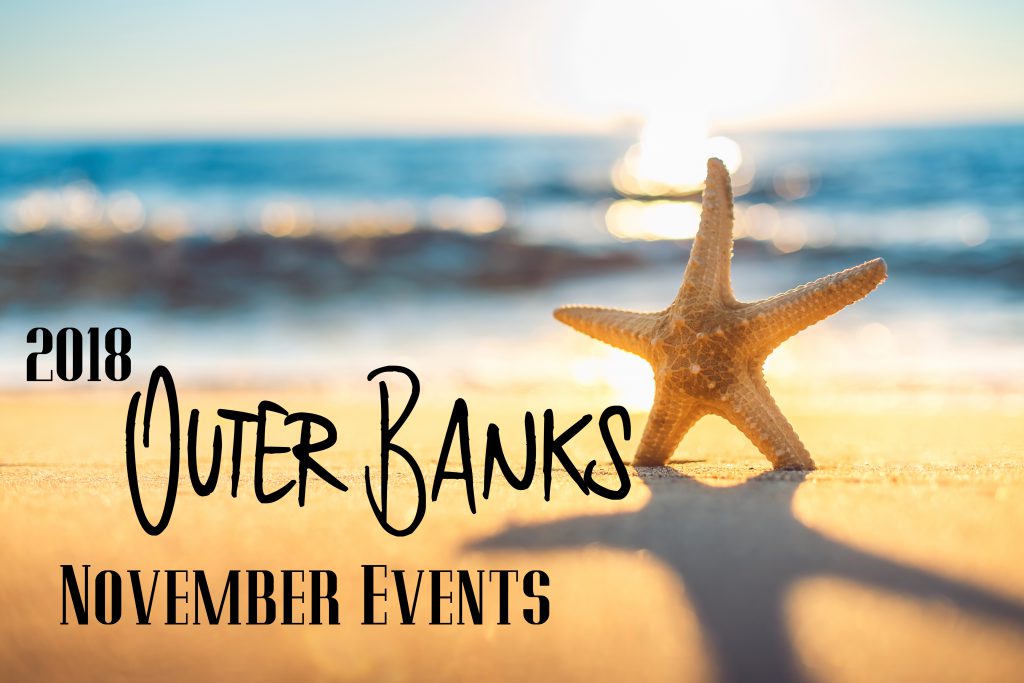 November is an awesome time to be on the Outer Banks!  The holidays will be here before you know it and it only means planning your Thanksgiving holiday to the Outer Banks. Staying in one of our Outer Banks vacation rentals will help you be close to where all the fun events are this November. Let's look at what is happening next month on the Outer Banks.
13th Annual Outer Banks Marathon Weekend
November 9th – November 11th
The 13th Annual Outer Banks Marathon Weekend is scheduled for: November 9-11, 2018.  This is an amazing weekend experience!  Some of the best weather all year will be here as well as several fantastic sporting events.  The Outer Banks Marathon Weekend also includes a Half Marathon, 8K, 5K, and Fun Run which is a one mile family run! For the Full Outer Banks Marathon, Half, 8K, 5K, and Fun Run. Friday will begin with the Race Expo and picking up your Packet for the races. Saturday will be a day filled with fun beginning with the 8K, followed by the Family Festival, 5K, Fun Run and the Diaper Dash for the little ones. You can find more information on how to sign up for the events here. Don't miss out on this family fun activities this year during marathon weekend!
Manns Harbor Holiday Gift & Craft
November 9th – November 11th
This 10th annual Manns Harbor Holiday Gift & Craft event is sure to please!  Join in on the fun from 10 a.m. – 4 p.m. There will be many craft vendors, holiday home decor, nautical decor, handmade soaps, candles, embroidery, vinyl, recycled grass art, sea glass jewelry, crocheting, knitting, home canned veggies and jams, t-shirt scarves, painting, beauty control and so much more!  It's that time of year again, celebrate in style! Admission is free into this event and the Manns Harbor Womans Club will be selling breakfast and lunch this year. Don't miss this event and get an early start on your holiday shopping list this year!
Advice 5K Turkey
November 22, 2018
Before you start cooking that amazing Thanksgiving Day feast, come out for the 23rd Annual Advice 5K Turkey Trot. A great warm up for your Thanksgiving Feast! Starting on Scarborough Lane in Duck with a finish line full of post race festivities. Runners and walkers of all abilities and ages are welcome. Make this a family tradition each year while you spend Thanksgiving on the Outer Banks. To sign up for this fun race, visit here for more details.
Gobbler 5K & Fun Run
November 22, 2018
Head out to the Gobbler 5K & Fun Run this year before you enjoy your Thanksgiving Day dinner!  Run, Walk, Trot, Stroll the course through The Villages of Nags Head this year and enjoy the beautiful views. You can enter last minute for the race on Thanksgiving Day from 6:30 am – 7:30 am. If you sign up by November 5th you will be guaranteed a shirt for the race. The 5K will begin at 8:00 am and the Fun Run will begin at 9:00 am. There's going to be plenty of pre-and post-run activities!
Garden to Hearth
November 23rd  – November 24, 2018
Looking for Family Thanksgiving activities?  Come to the Island Farm as they interpret fall food traditions and share how Roanoke Island families prepared for winter during the 1850s.  Some activities include: hearth cooking, food preservation, candle making and ox-drawn wagon rides from 10 am – noon, corn shucking and shelling in the afternoon.  Bring a nonperishable food item and receive $1 off  standard admission.  Food goods will be donated to the Roanoke Island Food Pantry.  This is a great thing to do for families that supports a great cause!
Hanging with Santa
November 23rd – November 24, 2018
On the Friday and Saturday after Thanksgiving, come out to Kitty Hawk Kites to see Santa himself!  Santa visits each year in hopes of getting to fly a hang glider on Jockey's Ridge!  Santa always makes sure to see every child before he leaves for the day.  If it's good weather, he'll be outside, and if it's cold he'll move inside the store so the kids can stay warm.  On Friday, Santa will be at the store from 10am-2pm and on Saturday from 1pm-4pm. If you have any questions please feel free to contact their event coordinator at events@kittyhawk.com today. This has been a family tradition for many locals and visitors for years. Don't miss out on the fun your children can have meeting Santa this year!
30th Annual Festival of Trees 
November 30th – December 1, 2018
Festival of Trees brings together visitors and residents alike to celebrate the holiday season with a holiday bazaar, twinkling lights, festive musical performances, punch and homemade cookies, craft activities for children, a visit with Santa and shopping for one of a kind gifts. The culmination of the festival is an auction of donated, decorated Christmas trees and holiday objects at a catered Gala Holiday Social. Festival of Trees is an annual fundraiser to benefit crisis intervention programs of the Outer Banks Hotline for victims of domestic and sexual abuse. Don't miss this amazing event this year with your family while celebrating the holidays!
These are just a few of the events that are happening in the area during the month of November on the Outer Banks. While there are more events that are happening, we thought you'd like to know about these mentioned above. If you and your family are still searching for the perfect Outer Banks vacation rental for your Thanksgiving celebration, we still have some available. We hope that you and your family will make this year the best one out there and will continue to visit the Outer Banks for every holiday!
Picture Sources:
https://www.obxmarathon.com/
https://www.facebook.com/Manns-Harbor-Holiday-Craft-and-Gift-Show-169975713067971/
https://www.advice5kturkeytrot.com/welcome
https://www.facebook.com/OBRC-Outer-Banks-Gobbler-5k-Fun-Run-211848065546560/
http://www.theislandfarm.com/
https://www.kittyhawk.com/wp-content/uploads/2012/04/hanging-with-santa-event-outer-banks-nc
https://www.obhotline.org/wp-content/uploads/2018/06/FOT-Main-Slider