December 29, 2017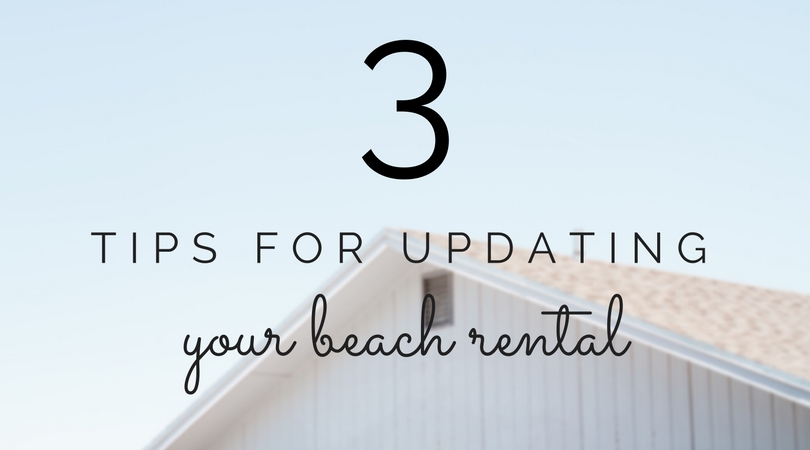 An Outer Banks vacation home has the potential to be a rewarding investment that pays dividends in memories and suntans. As with any investment property, however, updates are an integral part of maximizing earning potential and with hundreds of visitors each year, beach homes can always use a little extra TLC. Keeping your home stocked and up-to-date shows your guests that you care about their comfort and experience in your vacation home, ultimately generating positive reviews and return guests. So, what kind of updates are we talking about? Read below for our recommendations on getting the most bang for your buck out of your vacation rental.
1 // Furniture
One of the biggest requests from guests is "comfortable furniture." Worn, outdated furniture not only dates your home but also is often unpleasant to rest on. This doesn't mean that your vacation home needs the plushest, most luxurious sofas you can find on the beach but choosing furniture that is functional and comfortable makes a big difference in guests' satisfaction. When updating furniture, consider asking yourself these questions:
Is there enough seating for my home's occupancy?
How easy is it to clean?
Will this look dated in two years?
Choosing timeless, clean silhouettes in fabrics such as microfiber, leather, or wool blend will give you years of use and help to create an inviting atmosphere for guests.
2 // Kitchen
One of the aspects that set a vacation rental apart from a hotel is the element of hospitality and a large part of that is the kitchen. The majority of vacation rental guests do not eat out every night during their vacation but often opt to cook throughout the week. Besides ensuring that you have enough plates, bowls, cups, utensils, pots, and pans for your home's occupancy, there are several other ways to keep your kitchen updated.
Is it time for new appliances?

Guests expect up-to-date, functional appliances that are easy to clean. Consider stainless steel for a modern look that won't be going out of style anytime soon.

Are the cooking dishes and dinnerware still in good shape?

Chipped plates and peeling Teflon pans are a no-go.

Is it well stocked?
While having the basics covered is, of course, the top priority, there are several thoughtful items that will show your guests how much you care. Large pots for seafood, a blender, electric can opener, and baking dishes are a good start. For larger houses, a second refrigerator is helpful and ensuring that knives are sharpened is also a plus.
3 // Beds
Comfortable beds in a vacation rental are more important than you may think. Avoid cranky guests by ensuring that the mattresses in your vacation home are still providing restful nights' sleep. While there's some debate as to how long mattresses actually last before they become uncomfortable, a general rule is to change them at around seven to eight years and at most 10. Since vacation homes see so many guests throughout the season, it's also a good idea to change out comforters every few years to keep the space looking its best.
Want to see more of our home tips and tricks? Read this article.