You just made it to your Outer Banks beach house; the vacation weekend you have been planning for the past 6 months now! You quickly unpack the car and everyone scrambles to put on there bathing suits so you can all get on the beach as fast as humanly possible. Grabbing the beach bag you run through the soft sand, take a deep breath of salty air and then it hits you… you FORGOT the sun screen!!! Don't worry, we've all been there, done that and that's why we created an essentials list for you and your fellow beach goers for your next OBX getaway. Here are some things that are often forgotten when staying at an Outer Banks vacation rental.
The Beach Day
There are several items that your local beach stores carry a lot of because most people forget it and not that we don't want them to get the business, but it's better to be prepared then having your beach fun delayed. You wouldn't think it, but Bug Spray is an essential when on the beach. When the wind stops, the bugs bite. But hey, you can't be mad at them, they are just trying to have a beach day too. Beach Games are also important. Some of us like to just sit and soak up the sun but some of us have energy we need to get rid of, and there's no better way than a nice game of Corn Hole or Volleyball.
Pro-Tip: Go buy some Baby Powder, it takes the sand (wet or dry) right off. It's safe, handy and is great for kids who could get sand in their eyes.
For The House
The last thing you want to do is take a trip to the local grocery store when you just arrived at your beach house. Here are some "can't live without" items that should definitely be on the list:
Toilet Paper
Soap (don't forget shampoo and conditioner)
Towels (for the house, not the beach)
Water and snacks
Everyone has tips and tricks for making their OBX beach vacation smooth sailing and these are a couple of ours. We also created a list for all your essential items that you can save directly to your phone. The most important part of your next Outer Banks vacation is FUN and it's worth a little time and preparation before you leave home base so you can have the most fun possible! Be sure to save our list and start planning for that next OBX vacation.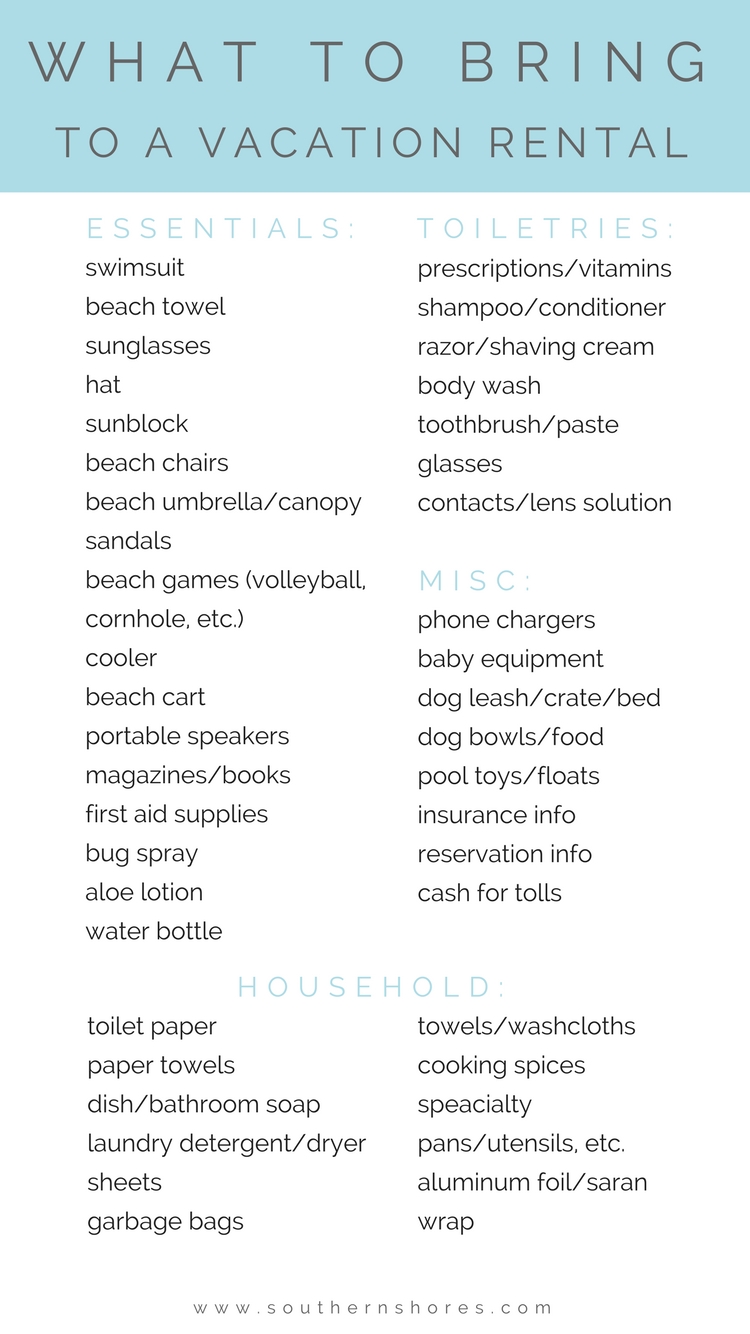 Looking to pack light?
Southern Shores Realty offers linen and towel rentals for your vacation home. Call one of our vacation specialists at 1-800-334-1000 for more information.