July 20, 2013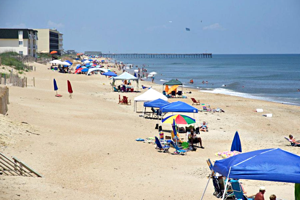 The Outer Banks of North Carolina is a very volatile beach environment that is subject to many elements that would at first, rub typical beach goers the wrong way.  Jellyfish, off-season lack of lifeguards, limited beach access at times, and constant beach erosion are all factors that may deter those not already drawn to the area.
For the past several years, one of the hottest topics of debate in both the local and tourist communities is that of beach access and beach erosion.  There are six towns in the northern Outer Banks that all have varying profiles of beach and access to them.  Most towns here have moderate public access, as well as about 20 yards or so, of soft sand beaches.  Over decades of hurricanes (notably Isabel & Irene), storms, and quotable "Nor'Easters," the beaches in many towns paid a significant price to their profiles; ultimately affecting the desirability to vacationers.  One of the first movers to replenishing the beach or "beach nourishment" was the town of Nags Head, NC.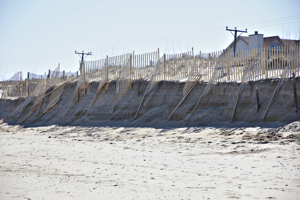 Once enacted, the town of Nags Head coordinated with Coastal Science Engineering (see reference) to move thousands of tons of sand onto the beaches.  While progress seemed positive, many local area residents took unsavory stances on the project due to in part the large stenches created from resurrecting sand from the bottom of the ocean to the surface.  By in large, the project was a success.  Before and after photographs can be found at http://coastalscience.com/projects/nags-head-beach-nourishment/.  The town of Kitty Hawk, NC is currently in planning phases of similar nourishment to save its beaches; some areas have 10 yards or less of beach during high tide.
In regards to beach accesses,  this is another highly contended issue on the Outer Banks.  While towns on the northern end of the beaches have ample public accesses, this is not the case everywhere.  Southern Shores, NC for example, is mostly residential with very secluded access to the beach.  Without proper parking permits (furnished only by Southern Shores Realty or homeowners) visitors to the area will be unable to use beach access parking lots.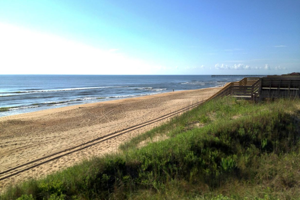 There has also been a back-and-forth battle between residents on Hatteras Island, one of the southward most islands on the Outer Banks, and wildlife supporters.  Hatteras Island's land mass is largely a protected national seashore; home to hundreds of species of migrating birds and many beach inhabiting animals like sea turtles.  For years the Audubon society and the National Park Service have been implementing strategies to protect many of the shorebirds and sea turtles here.  These efforts have included stern measures such as limited beach accesses, primarily to ORV's or Off Road Vehicles.
While my stance on the issue won't surface today, it is a highly contended topic that directly affects the access to miles of beaches at a time during particular closures.  It seems as if the Outer Banks is susceptible to many elements that may, on the surface, would appear too negative to someone who has never been here.  The beauty of the beaches here are just the opposite.  The Outer Banks, hands down, is one of the most frequented tourist destinations in America; largely in part by returning visitors.  The landscape, environments, and state of mind on the Outer Banks is truly unique and instills a sense of "home away from home" in those who visit here.  I myself, fell for this lifelong love affair, and moved to the area permanently in 2012.  For those that visit, these small hindrances seem to not bother at all.  On vacation, there's no need to panic; it's still better than working!