October 4, 2017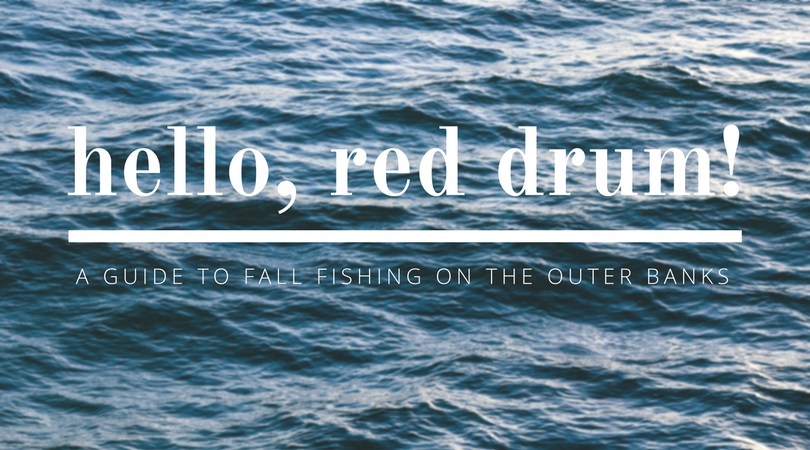 We like to think that the Outer Banks has something for everyone, whether it's the newly nourished beaches, the wild horse tours, or the coastal dining, everyone is sure to find something they love. And out of all the Outer Banks has to offer, fishing might just be at the top of that list. Every year, the Outer Banks draws numerous fishermen and –women in search of their next catch. With several piers along the coast, various charter boats, and plenty of surf fishing spots, the opportunities to reel in a big one are endless.
Now that it's October, this is the best time to grab your pole and head to the pier because it's Red Drum season (not to mention Black Drum, Bluefish, Flounder…okay, a lot is in this season)! If you're not familiar with this species of marine life, you should know that Red Drum is North Carolina's state saltwater fish because of our historically huge catches (we're talking 40+ pounds here). In fact, a fisherman from Virginia caught a 94.2-pound Red Drum off our coast in 1984. So where did the name Red Drum come from? Besides their vibrant color, Red Drum males create a sound similar to a drum during spawning season, hence the "drum" portion of the name. When cooked, these fish have a mild, sweet flavor and are more tender and finer textured than their cousin, the Black Drum.
To help you get the most out of Red Drum season on the Outer Banks, here are our tips and tricks for reeling in a big one:
In order to have a successful day of fishing, you have to start out with the right knowledge like where to fish, what North Carolina's fishing regulations are, and which equipment you'll need.
"It is better to ask for forgiveness than permission" does NOT apply to fishing in North Carolina. To avoid being fined make sure you get yourself a fishing license, which can be purchased at these stores.
You'll need either a Residents or Nonresidents License, depending on your home state. A Nonresidents Coastal Fishing 10-Day License is extremely affordable at just $10 for access to coastal and joint waters.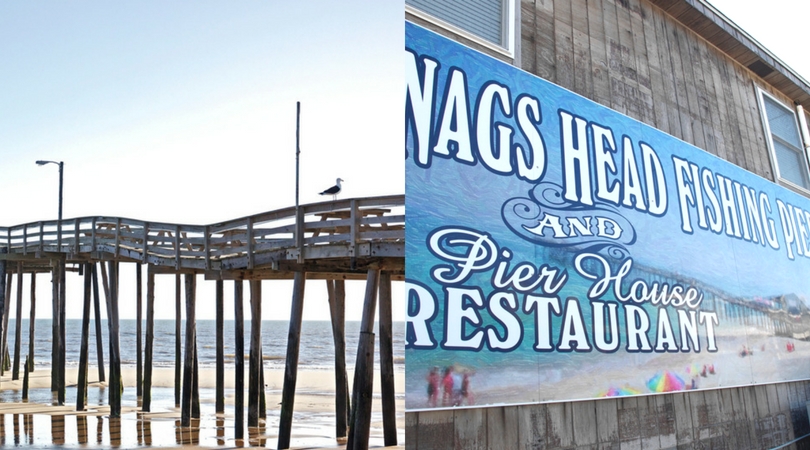 The most popular spots to fish for Red Drum on the Outer Banks are on the piers—Avalon, Nags Head, and Jennette's. Fishing from a pier has the added bonus of allowing you to avoid obtaining a fishing license, as those privileges are included in the access fee (typically around $10). Be sure to stay towards the middle of the pier if you're not an experienced fisherman or –woman, as the ends are limited to those on a serious search for the biggest Red Drum. There is also the option of surf fishing from the beach if you have confidence in your cast or taking a charter out into deeper waters.
Now that you know where to go and you're appropriately certified, what do you need?
To successfully snag a Red Drum, you need to find the right fishing tackle. This fish absolutely loves Mullet lures (especially with a weighted tail) but you can also try cut bait, shrimp, or live bait. Be sure to grab your gear while you're picking up a fishing license at one of the above shops!
If you've decided to go the route of surf fishing for Red Drum, then you'll want to cast no further than 30 feet and keep an eye out for birds or blue tails breaking the surface in order to spot a school. Experts recommend dropping your line while the tide is going out.
Now that you have all these helpful tips, you're ready to snag a red drum. Good luck and happy fishing!
TW's Bait and Tackle (Corolla, Kitty Hawk, and Nags Head locations)
Walmart (Kitty Hawk)
K-mart (Kill Devil Hills)
Stop-N-Shop (Kill Devil Hills)
Fishing Unlimited (Nags Head)
Dillon's Corner (Buxton)
Sources and Additional Info:
http://portal.ncdenr.org/web/mf/red-drum
https://www.chesapeakebay.net/discover/field-guide/entry/red_drum
http://www.ncwildlife.org/Licensing/Hunting-Fishing-Trapping-Licenses/Nonresident-Licenses
http://www.saltwatersportsman.com/catch-more-and-bigger-redfish
http://www.sportfishingmag.com/top-5-strategies-for-catching-redfish#page-9
http://www.ncfishandgame.com/fish/drum.php