February 29, 2012
Hello February 29th, we haven't seen you for some time now!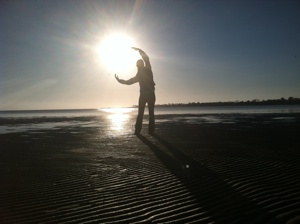 Here on the Outer Banks, we're celebrating Leap Year by jumping right into the life of vacations. Something we all have to agree on loving. Who doesn't enjoy a vacation by the shore, especially the shores of North Carolina? The beaches here are secluded, pristine, and absolutely stunning; however, that isn't the only thing that makes the shore of North Carolina so wonderful. Our guests, our vacationers, our travelers, and our tenants are what complete the Outer Banks of North Carolina. We wouldn't be able to enjoy such a place without sharing our soft sand with you. So if you haven't planned your Outer Banks vacation for the year of 2012 do so now! For this is the year to live, reach all limits, and simply enjoy yourself. Why? Because it's Leap Year, and we'd like you to leap out on the beach with us! For those of you who have never vacationed in an Outer Banks vacation rental, keep reading… Breathing in the fresh beach air lets you know that you're here, you've made it… it's finally time for a week full of good times, and memories will be made to last. After a long drive to the Outer Banks, there's nothing better than feeling a sense of total freedom when you step into your spacious, private, gorgeous vacation rental. There are many benefits to reserving a vacation rental, rather than a hotel room, hands down. To enjoy a truly relaxing vacation you'll need privacy, space, family/ friends, and…
Amenities that vary from having a place to rest your head to large hot tubs, game rooms, in home theaters, private pools, and much more that you can't always find at a hotel, at least not to yourself.
A location that will give you the freedom you're seeking. Stay in an oceanfront rental overlooking the Atlantic ocean, or a sound side rental that offers panoramic views of the sun setting over the sound. Perhaps you'd rather be near shops, dining, and local attractions for a busy week on the banks? The point is, you choose.
An affordable vacation, one where you'll save money. Find a deal with Southern Shores Realty then split the cost between extended family, and friends. Now we're really talking about savings. Vacations are about being together, and there's nothing more special than actually spending time together as one. (In one home NOT 5 rooms.) You will even save on entertainment and dining costs. For you have those amenities to choose between that will keep everyone busy all week long, and a full kitchen to share moments around the dinner table.
It's hard to place a value on a vacation, they're priceless. Make memories to last your lifetime, and give the children a chance to become best friends with their cousins. (They'll come forever to share the experience you gave them with their own children. Trust us.) Traveling to the Outer Banks will easily become one of your favorite family traditions. This is your year, Leap Year 2012, to travel, vacation, and have a good time! You deserve it, and we'd love to share our special banks with you.
Search affordable Outer Banks Vacation Rentals I've booked my rental, and want to start planning my stay! See you soon, Southern Shores Realty