January 7, 2013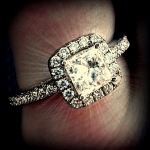 Hello, everybody.  I wanted to (under co-worker suggestion) start a new blog series chronicling my Outer Banks Wedding story that is currently underway. I know that many people love the Outer Banks and decide to get engaged here, married here, or even live here, and I think I will be able to add lots of good advice if you find yourself in any of these categories.  My story, in fact, involves all three of these!  For those of you not familiar with my background, I promise to be brief.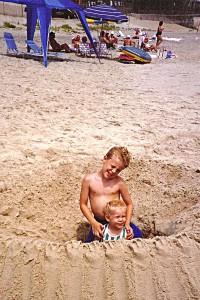 I am a Pennsylvania native who has been vacationing to the Outer Banks with my family for as long as I have been alive.  My father started coming here in his early teens and it has turned into a second home for my family.  Typically, my family vacations for one week, twice a year (Summer and Fall).  I really pride myself on having a diversified view of the Outer Banks, as I have been all over the beach here; north and south.  My parents have also made sure to educate myself, my brother, and sister about the area's history, culture, and people.  Through my many years of visiting here, I have made many family friends in local businesses and industries, and feel privileged to have made these connections. As someone who has been so entwined in the Outer Banks for so long, it was only natural that I would hold it very close to my heart.  I started dating my beautiful girlfriend in 2008 and through strong coercion, negotiated the ability to start bringing her on our family vacations (I tended to emotionally "zone out" on family vacations being 500 miles away from where my mind was at).
Anywho, after several vacations with us, my fiance started to see the charm and beauty that is the Outer Banks, much like my family and I have known for years.  I realized then, that it was only appropriate to ask the love of my life to marry me at the most beautiful place on earth. It was a cold morning on November 21, 2011, and my family and sweetheart were on our Thanksgiving vacation in Salvo, NC.  It was only one day into our week's vacation, but I knew the week would be better spent celebrating the growth of our family versus me being a nervous wreck all week, waiting for the perfect time to pop the question.  Unbeknownst to my girlfriend, I had spent a lot of time finalizing in my mind the way I would propose to her.  I had the idea to pull off a "message in a bottle" proposal to her while we walked on the beach.  For the bottle, I scoured several antique stores back in PA and eventually had my "ah ha!" moment when I came across a vintage ship ballast bottle.  It was a beautiful green hue and would work perfectly for me to it dress up!  I spent many hours with an old fishnet, hemp, and several add-ons to craft an authentic looking maritime bottle.  The last step in my prep was to write an awesome mushy-gushy love letter to her on parchment and snazzy it up with some burnt edges.  Dang, I'm good!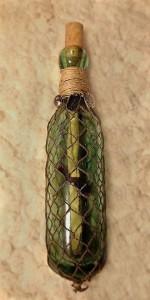 The day of reckoning came, and I decided to ask her to go for a morning walk with me while my family was still getting ready for the day.  It honestly had to be around 7:30am in the morning, but the sun was out and the shells were calling!  I had to be very careful to dress appropriately as I considered how she was to discover my bottle I had made.  I ruled out the idea of having any third party involvement, so I needed to bring the bottle AND the ring with me undetected.  All I can say is thank goodness for cargo shorts and hoodie pockets! We started our walk together, hand in hand, and perusing for shells in the wash.  We were certainly isolated and alone (especially in Salvo in November), but I had a mental blackout on how to pull it off perfectly.  I decided I had to act rather fast as we would not be walking much longer after we turned around.  Well, we did turn around and start heading towards the house again, and that's when I decided to improvise and create temporary separation from the lover's handholding taking place prior.  I told her that I wanted to take a look in some of the small sand dunes on the beach to see if any good shells had washed up to there.  She seemed alright with the idea so I had to act fast, yet casual to plant the bottle. When I noticed her bending down to pick up a shell of her own, I struck.  It was a well-placed bottle-toss that nestled my love-inspired creation neatly by some sea oats and grass/sand.  The next step was getting her to the vicinity and playing off like nothing happened.  I shouted and informed her that there were some nice shells up where I was walking and that she should come help me find more!  I started to head backward as to make her walk in my direction; the direction of the bottle.
Words can't describe the butterflies in my stomach during those few minutes.  I don't think I have ever been so nervous in my life.  Not nervous because I did not know what she would answer, but nervous because I only planned on doing this once in my life and I wanted everything to be absolutely perfect. I can still remember exactly the way she exclaimed when she found the bottle.  I had 1,000 mental pats on my back because when she walked up to it, she was 100% convinced that it was a legitimate message in a bottle that had washed to shore!  Her eyes already told me how excited she was to open it and see the long lost words that lay inside the antique capsule.  She managed to uncork the bottle without issue and unscrolled the paper much faster than I imagined.  I intently watched her and her eyes start to read the words on the parchment.  She leaned over to me and exclaimed: "this is your writing!"  I gently nodded, and she continued reading.  After she made it through the outpouring of my heart's penmanship, the letter prompted her to let me see her "diamond eyes" (I thought this to be appropriate wording).  By the time she had turned to me, I was already on one knee. The Salvo sun could not have hit that rock any better.  It was like a sunburst hit a disco ball, and my world paused for a glorious eternity.  I remember how I asked her to marry me, but that's between the two of us. 😉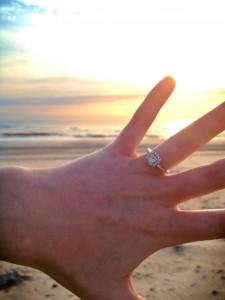 When we returned from our walk, the rest of my family was awake.  Mom and sister were watching a morning movie, and my Dad was out on the deck with the binoculars taking in the natural beauty of the beach.  My fiance walked up into the living room and was asked how our walk together went.  Without a second thought, she coolly extended her hand down to them; what happened next made me fear for every window in the house.  My mother and sister rocketed into the air with enthralled screams as if they had won 100 PowerBall jackpots!  I'll never forget that either.  I think everybody was in joyful tears that day.  One of the coolest things was hearing my fiance tell the story of my proposal to her.  I'd rather hear that version anytime! The rest of the day and week for that matter were a grand celebration!  The first thing we decided on, was that everybody needed a good breakfast!  The whole crew packed up and headed to Kill Devil Hills to our favorite breakfast joint; The Jolly Roger.  Need I say more?  The owner, Carol Ann honored our day by not only providing us with great service and food but 2 Jolly Roger coffee mugs and a sweet engagement treat at the end of our meal! That week's vacation will always be one to remember.  I mentioned above that my story involves engagement, marriage, and living here.  I would love to spend more time telling my Outer Banks Wedding Story but you will have to return for more again!  We are still engaged and are to be wed 9/13/13 in the beautiful Jennette's Pier in Nags Head, NC.  I intend to publish an entry at least once every two weeks so STAY POSTED! Feel free to post ANY questions you may have for someone that: got engaged here, is getting married here, works here, lives here, or anything else!