March 10, 2020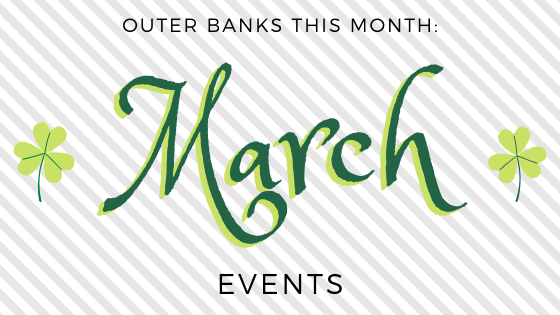 Hooray! Winter is officially over this month, as we celebrate the first day of spring. You know what this means: one step closer to SUMMER! Not to mention, spring break and St. Patricks Day are this month! Sure, it may still be considered the "off season" but we've got a lot going on! Check out our list of March 2020 events on the OBX!
Womanless Beauty Pageant
7pm – 10pm at Basnight's Lone Cedar (7623 S. VA Dare Tr, Nags Head)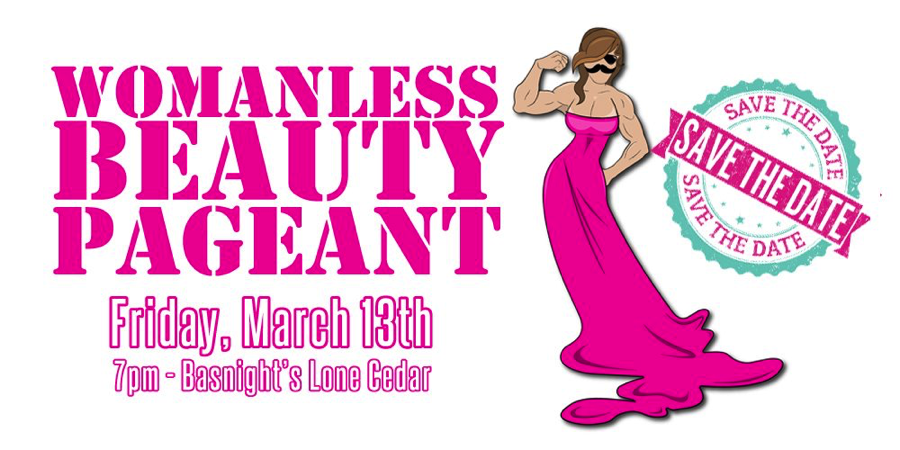 The 1st Annual Womanless Beauty Pageant is sponsored by the Wanchese Community Foundation, and will be gathering funds to assist a local mother recently diagnosed with breast cancer.
Join us for a goofy night of pageant fun as local business owners and well-known community members step into gowns and high heels for a cause! A list of all participants will be available soon!!

Running of the Leprechauns
8am at Satterfield Landing Rd, Nags Head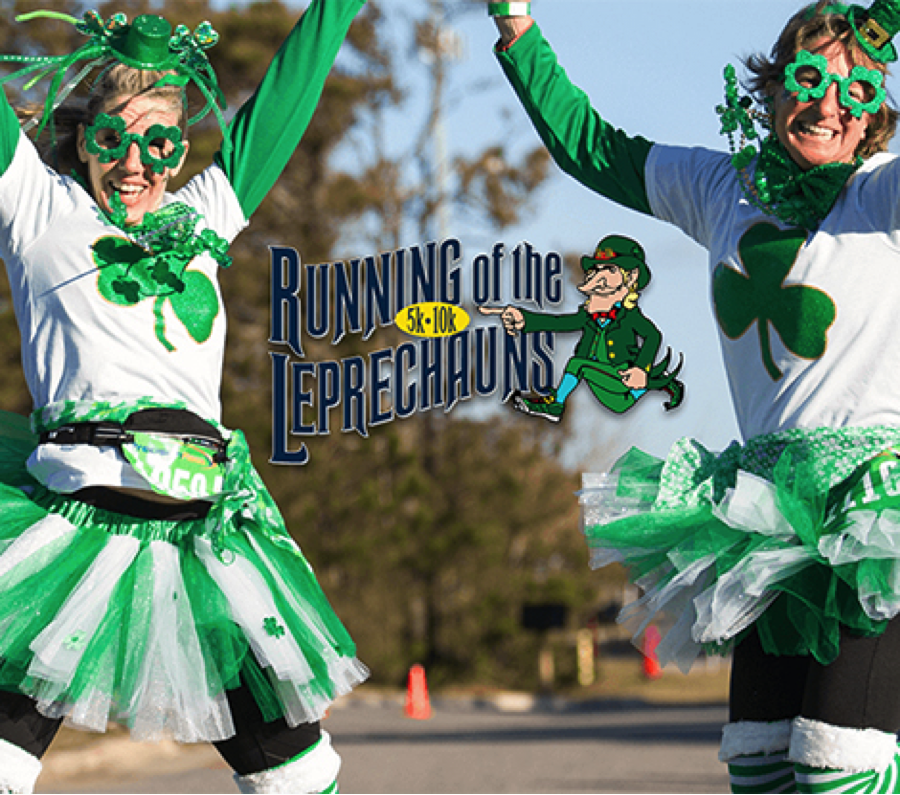 OBSE is excited to add this 5K & 10K race to their line-up of amazing race events. Each finisher will receive a Finishers Medal and an Event Shirt. There will be awards will be presented for the top 3 Male & Female finishers in each of the two distances.
This years' 5K & 10K courses are the same as in the past, just altered slightly to start and finish at nearby Satterfield Soccer Complex. The 10K route includes portions of gravel trail (approx. 2 miles) and is a loop. The 5K is all on the road and is an out-and-back.
Enjoy an Irish-themed after party and the "Get Lucky" Costume Contest! The afterparty at OBSE will have Irish Stew, Sweet Potato Biscuits & Beer. Come for the Run and stay for the St. Patrick's Day Parade on Sunday!
Puppy Yoga
10 am – Duck Town Hall (1200 Duck Rd)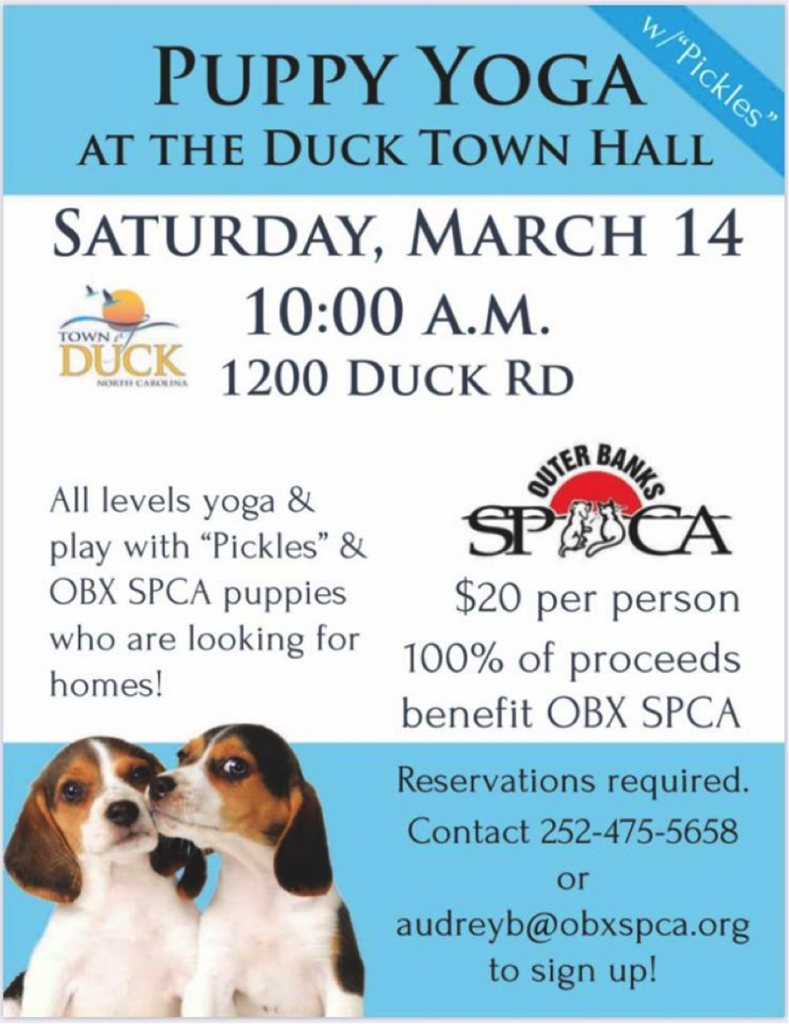 We're back at it! Puppy Yoga last month was such a hit, that we decided to do it again! We currently have to have two litters of ADORABLE puppies that are still nursing and growing with their moms. But they are old enough now to bend and stretch with you!! And we WILL be accepting adoption applications for these babes, too! We hope you'll join this fundraiser to support your local OBX shelter animals at Duck Town Hall featuring Scott Lawlor, aka PICKLES, as the instructor!


4th Annual OBX Beer Mile
2pm – 3pm at the OB Brewing Station (600 S. Croatan Hwy, KDH)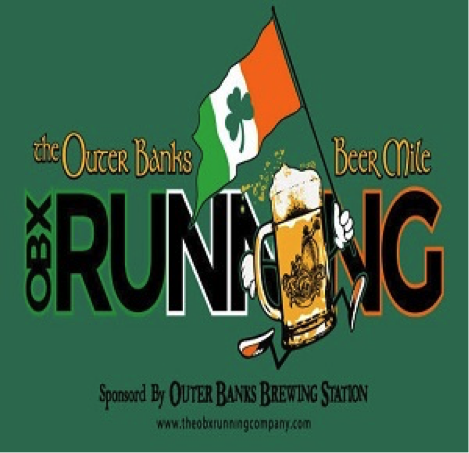 St Patrick's day Weekend Beer Mile 1 Mile Beer Run
Limit 100 participants 2 PM Saturday, March 14th, 2020

Drink, Run, Drink, Run, Drink, Run, Drink, Run, Party

Join the Brewing Station crew for a Leprechaun themed beer mile. Backyard party, chip timing and T-shirt included. ?This is an adult 21 and over only social run.
Prizes to the fastest male and female overall. Wear your Holiday finest, costume contest judging for most creative. Late registration and Check-in from 1PM – 1:45 PM. Saturday March 14th
This is a Mass start event. Beverages are 10 oz and Runs are ¼ mile.

Adult Race entry is $35. Online registration and walk-up is available. For additional information or questions please text 252-489-8239 or email obxrunning@gmail.com
Climb Currituck Light for Free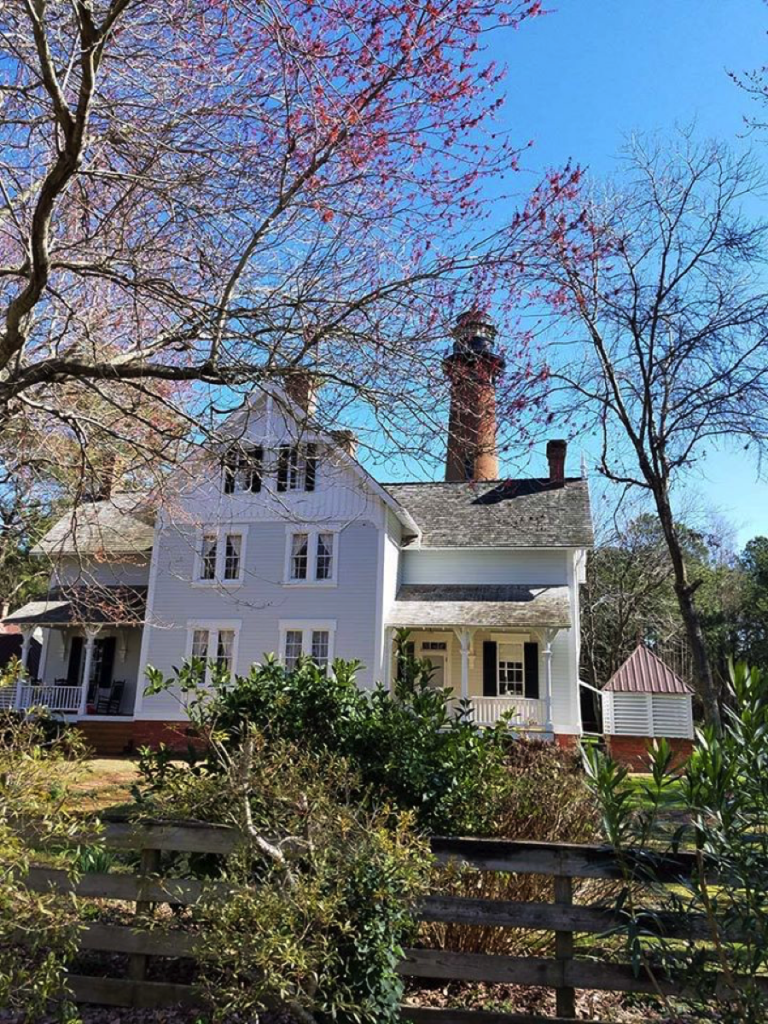 9am – 5pm 1101 Corolla Village Road, Corolla
Climb the Currituck Beach Light, located in Corolla, and take in the lush and beautiful view of Corolla village, the Currituck Sound, and the Atlantic Ocean.


An Evening with Mojo Collins
7pm – 10pm at Roanoke Island Festival Park (1 Festival Park, Manteo)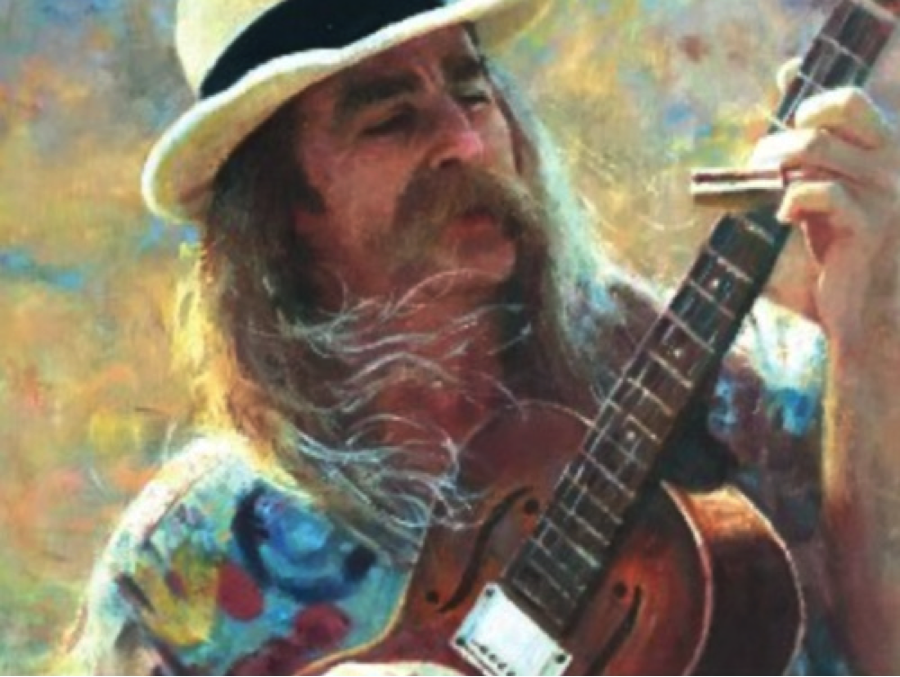 Bearded Face Productions presents an Evening with Mojo Collins featuring special guests Jon Shain, 2019 International Blues Challenge Winner, Ruth Wyand and The Tribe of One, International Blue Challenge Finalist with Mojo's band Triple Vision featuring Bill and Chris Jolly, plus additional special guests. Tickets $20 advanced & $25 at the door Theatre at Roanoke Island Festival Park Saturday, March 14, 2020. Doors open at 6 pm and the show begins at 7 pm. Seating is first come, first serve.
Annual St. Patrick's Day Parade
1pm at 2316 S. Croatan Highway, Nags Head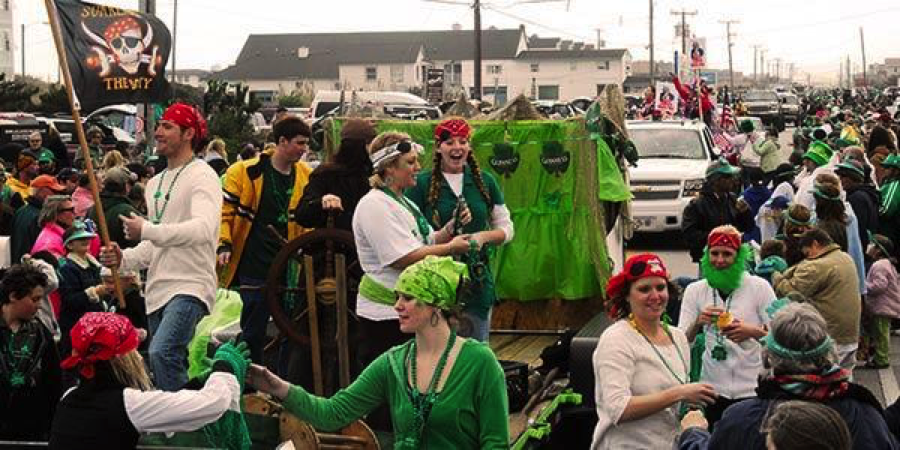 Parade starts at 1 pm at MP 11.5, at the intersection of Bladen St. and Virginia Dare Trail (Beach Road) and continues north to Driftwood St.
Held annually, the St. Patrick's Day parade starts at Mile Post 11.5, at the intersection of Bladen Street and South Virginia Dare Trail and typically continues north to Driftwood Street. However, due to stormwater improvement work in the 2400 block of South Virginia Dare Trail, the parade will terminate at Admiral Street where a traffic light at the street's intersection with South Croatan Highway will provide a safer means of departing the area.
St. Patty's Day Celebration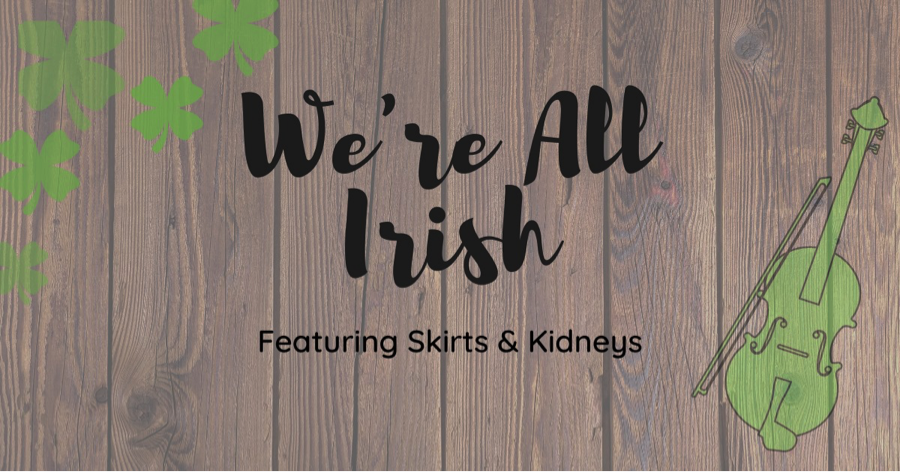 11am – 9pm at The Village Table and Tavern (1314 Duck Rd, Duck)
Join us for The Village Table & Tavern's first annual St. Patrick's weekend celebration. Local supergroup Skirts & Kidneys plays traditional Irish folk music Sunday, March 15 from 5pm – 8pm in our fireside lounge. We'll also be serving authentic Irish flavors on the waterfront all weekend.


Get Buzzed for St. Baldricks
2:30pm- 6pm at Jack Browns (800 S. VA Dare Tr, KDH)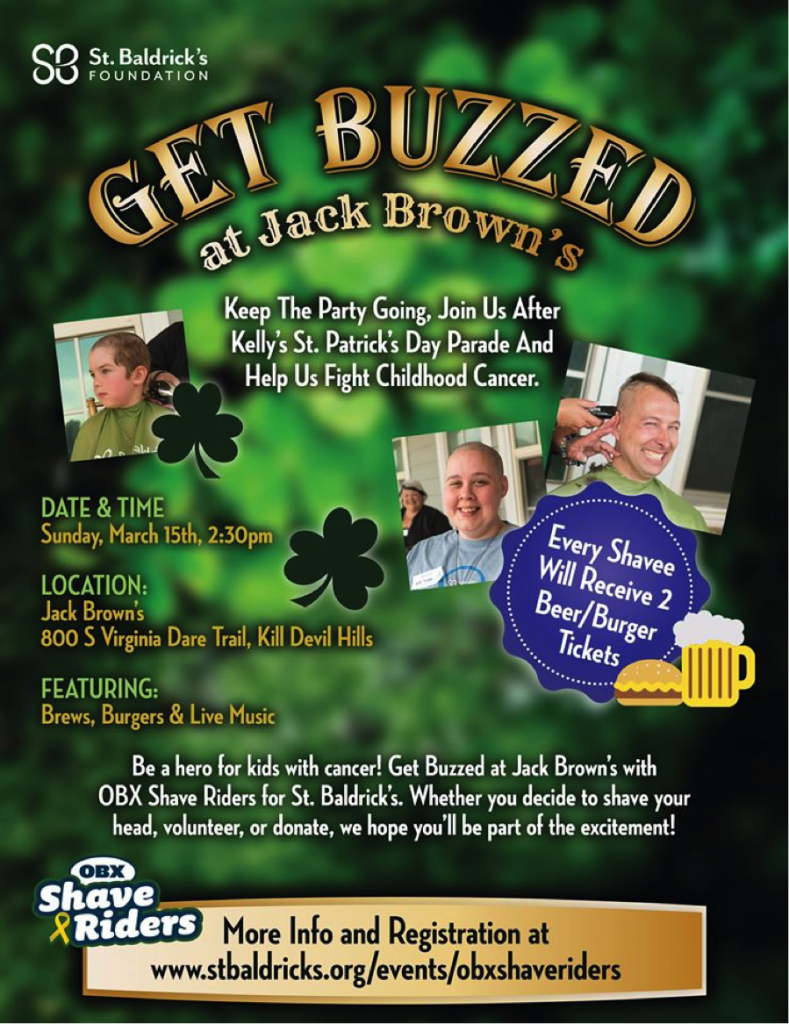 Please join us after the Kelly's St. Patrick's Day Parade at Jack Brown's Beer & Burger Joint KDH Parade and GET BUZZED for a great cause! Shave your head, donate, enjoy a burger and a beverage and help us raise money to find a cure so we can change this statistic. More children are lost to cancer in the U.S. than any other disease—in fact, more than many other childhood diseases combined.
Bearded Face Productions has booked some great, free live music for this event featuring The Ramble and Trick Fly Band.
More info and registration at
www.stbaldricks.org/events/obxshaveriders2020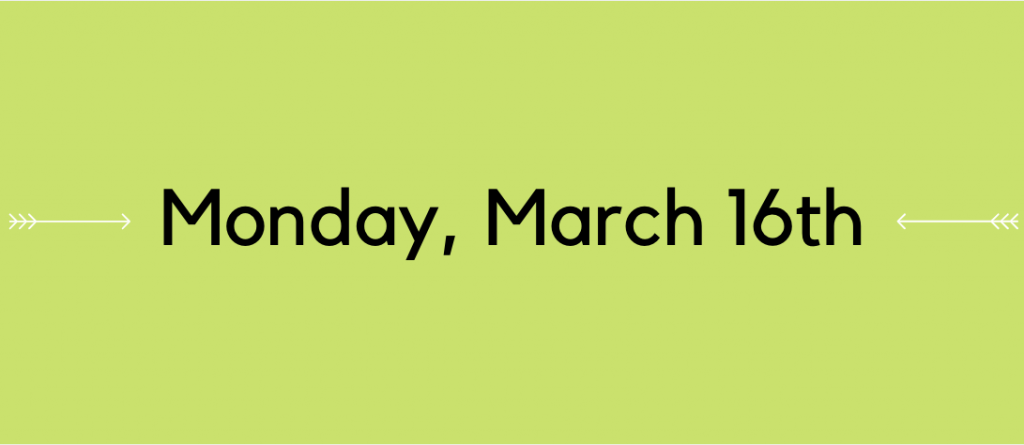 Delta Zeta's 12th Annual Community Spelling Bee
6pm at Kitty Hawk Elementary School Gymnasium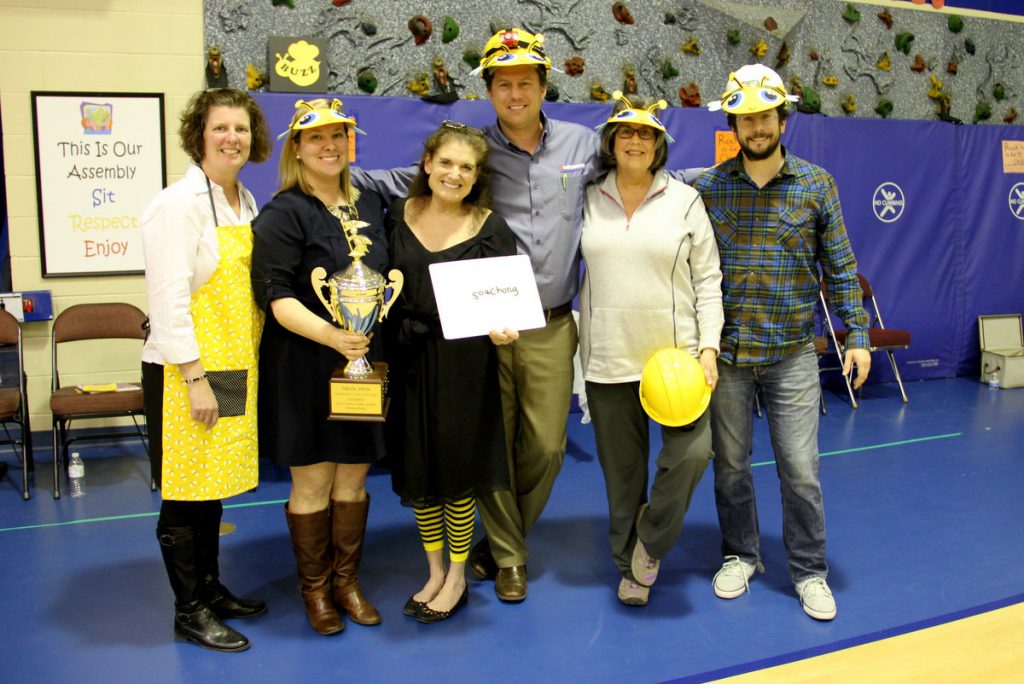 Spelling for a purpose! Sponsored by Southern Shores Realty. Ensure to sign up beforehand.
As women educators sponsoring the 12th Annual Delta Zeta Community Spelling Bee, we invite you to participate in an evening of fun and fellowship in support of the Dare Education Foundation, the Delta Zeta grants-in-aid which provide financial assistance for Dare County students pursuing degrees in education, and the chapter scholarships which provides assistance to chapter members.

On Monday, March 16, 2020, teams sponsored by businesses, schools, civic groups, and individuals will gather at Kitty Hawk Elementary School gymnasium. The rules require that each team work as a unit to spell the called words; no individual is on the spot, or in the spotlight. A spirit of camaraderie in competition prevails as the team leader gives in writing the group's decision, one word at a time and one round after another until a winning team emerges. Teams are eliminated on the fourth miss. Each team will also have an opportunity for "buy back" chances after the fourth miss, allowing the team to continue competing. The winning team will have its team name engraved on a perpetual trophy that it can display until next year's competition. If you are unable to field a team from your business or group, perhaps you would consider becoming an event sponsor by joining our BEEline to Excellence in Education.

Thank you for considering our proposal. We hope you will say "yes" to an enjoyable evening in support of education in Dare County!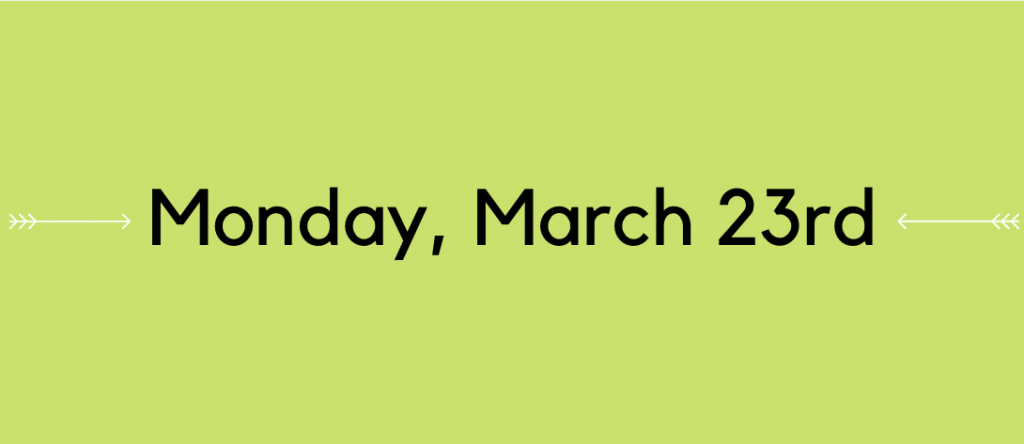 True Girl: Pajama Party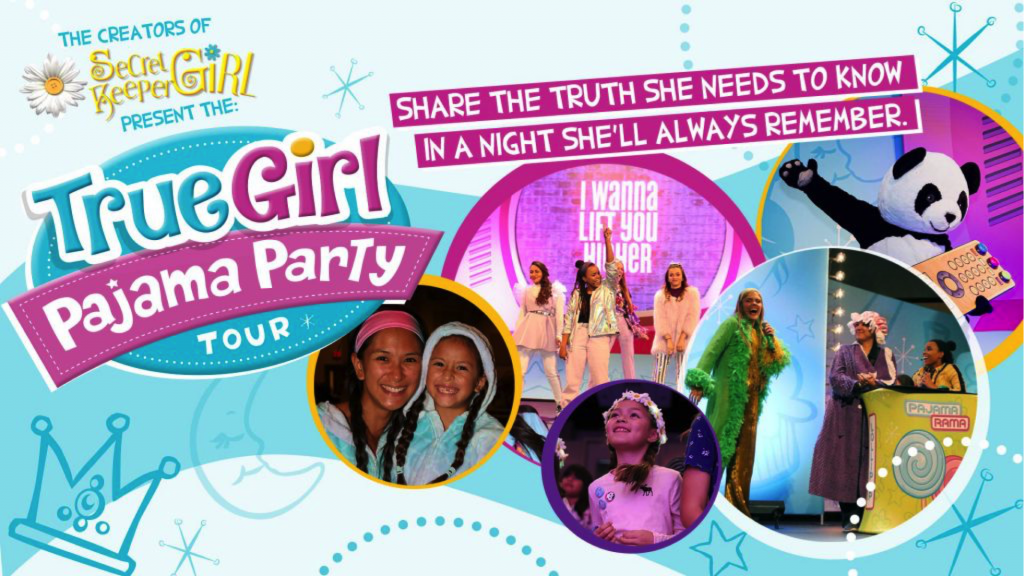 6pm at First Flight High School – Kill Devil Hills, NC
A great excuse to have a mother-daughter date night!
"Come see what over 400,000 moms and daughters have experienced — fun, connection, identity"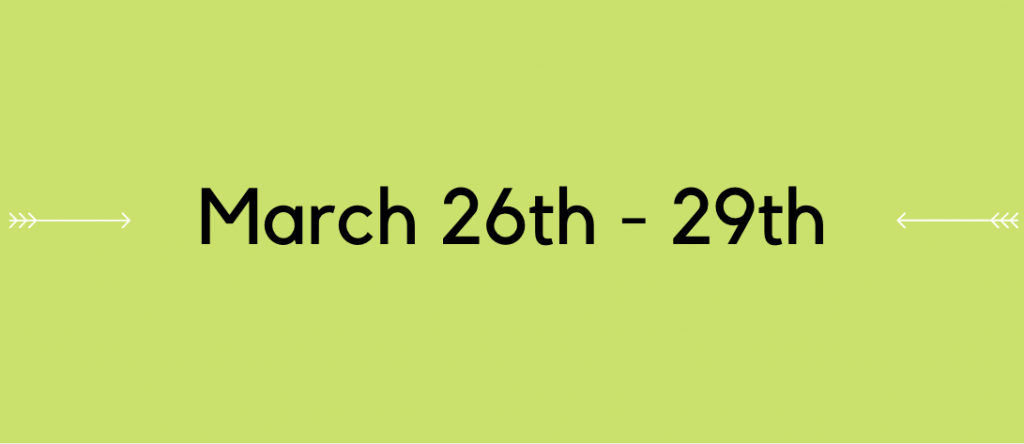 OBX Taste of the Beach
Various times and venues throughout the Outer Banks
There are truly too many events during this weekend, to list them all. We have consolidated them into one group of events, but a breakdown of some great events that still had availability can be found on our previous blog. To view a full list of events and menus check out their website.
The Outer Banks Taste of The Beach Weekend is a fantastic way to sample the fare of many fine restaurants on the Outer Banks in one fun-filled, food-centric weekend! Casual chefs to full-on foodie fanatics will revel in innovative culinary opportunities offered up by members of the Outer Banks Restaurant Association. You can indulge in a fancy wine dinner one night and mix with the masses in an organic farm to fork experience the next. Or maybe an intimate cooking class with one of the area's talented Chefs is more your speed. We offer over 60 events over four days at over 30 different venues.
This fun food festival event features: wine tastings, cooking classes, special multi-course menu presentations, brewery tours, tapas crawls, cook-offs and more. There really is something for everyone! It's four days of foodie heaven and lots of fun activities on the Outer Banks.
This year we are offering over 50 events over the four days at over 25 different venues. Some events have more than one day or time they are offered. Tickets to all days will be listed in every event occurrence so please pay attention to your order and purchase for the correct day and time you wish to attend. Mis-purchased tickets will need to be refunded and purchased again and cannot simply be switched to another session.
Black Beard's Revenge 100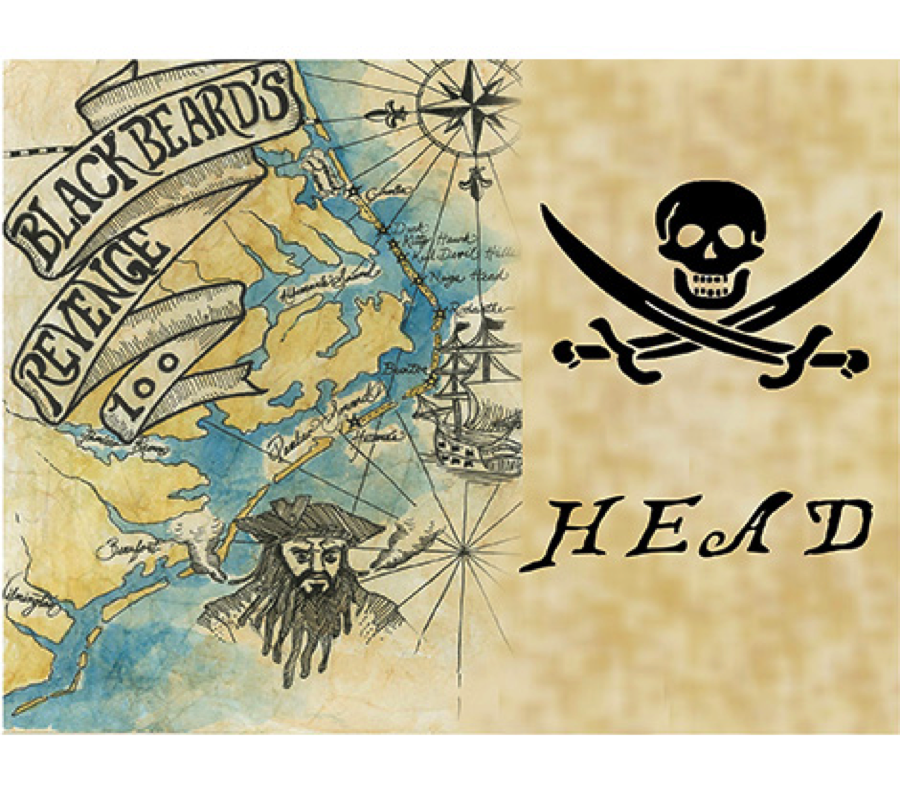 8am at Jennette's Pier (7223 S. VA Dare Tr., Nags Head)
*Registration will close on March 20th. NO registrations will be accepted after this date!
Please make sure you check out the ever-updating athlete guide regarding parking. Athletes will have plenty of spots to park near both start lines. At aid stations and relay exchange zones, make sure you are parked in lots and not illegally on the side of the road or in someone's yard. If you are a part of a crew or a relay please do not hang out in lots for long periods of time, so that others can access their athletes as well.
Key Locations:
Schedule of Events
March 27th:
March 28th :
March 29th:
1:00 pm: finish line closes
2:00 pm: course cleared and clean
Post Race Shuttle
We will be providing limited shuttle service after the race to take runners from the finish line back to either start line for $20 per rider. This will be an additional option to add-on during registration.