July 5, 2012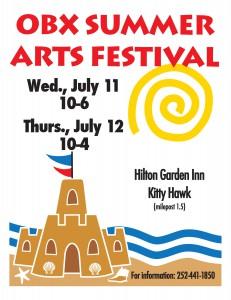 Everyone come out for the OBX Summer Arts Festival!
There will be watercolor, oil, and acrylic art. There will be photography,  jewelry, pottery, wood, fused, stained glass, fabric, baskets, homemade soap. I think my favorite part is the work ofStephanie Kiker.  Her work is not only beautiful, it also captures the essence and feel of the Outer Banks.
There will also be two local non-profit groups present to raise money for their cause: the Hosea House for young women and The Network For Endangered Sea Turtles (which will have turtle skeletons and lots of info).
So if you're renting from Southern Shores Realty, make sure to make this a part of your vacation.  You won't be disappointed!
It's on July 11th and 12th at the Hilton Garden Inn in Kitty Hawk, North Carolina.