March 17, 2014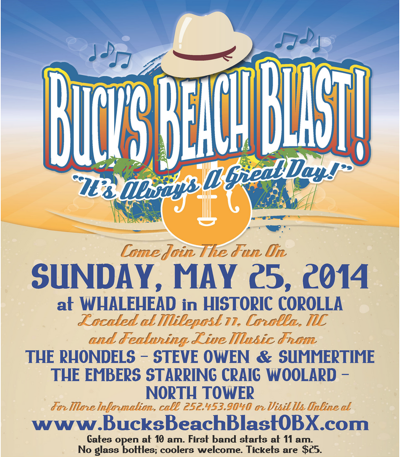 Get ready for a FUN day at the beach… because Sunday, May 25 at the Whalehead Club in Corolla, NC is the 3rd Annual Beach Music Festival!
The gates open up at 10am with the first band kicking off at 11am.  Tickets are $25 each.  Picnics, chairs, and coolers are welcome.  No glass bottles or alcohol is allowed to be brought in.  Beer and wine are available to purchase onsite.  More information can be found here.
Sample songs from the performing bands are below to get you in the mood!  This is sure to be a fantastic day out in the sun enjoying some great tunes!
Formerly Bill Deal & The Rhondels, these guys have kept the beach beats coming since the late 70's!
Good feelings beach music.  Can't beat that!
Today's version of the original 60's crew.  "Beach Music from the West Coast meats the East Coast and it gets a little crazy."
"With the classic style of Ray Charles, the dynamics of Marvin Gaye and Rod Stewart, the Soul of James Brown, the vocal prowess of Steve Perry of Journey, combined with the passion of Sam Cook and Michael McDonald, you have "The Soul Man of Beach Music"."