April 22, 2013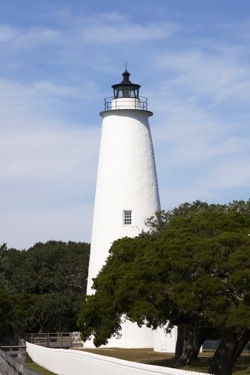 Welcome to our first edition of "Outer Banks Day Planner" – your guide to the best itinerary ideas and ways to explore the Outer Banks!  There is nothing like the feeling of exploration… heck, that's how the Outer Banks started – with the Lost Colony and the explorations of Sir Walter Raleigh.  The sense of adventure and trying new things is what the Day Planner series is all about!  Let's dive right into it.
If you haven't taken a trip to Hatteras and Ocracoke Island, or just need some guidance this will be perfect for you!  Hatteras and Ocracoke Islands offer a unique experience when vacationing from Corolla – Nags Head.  There are vast stretches of highway, national seashore, and nature to be experienced between the few scattered villages.  After crossing the Bonner Bridge to Pea Island you will run the course like this: Rodanthe, Waves, Salvo, Avon, Buxton, Frisco, Hatteras, and finally Ocracoke.  What makes a day trip to Ocracoke so exciting is you get to experience this "stopping" in each village the entire way south!  ***Because of the distance south, I highly recommend you either leave very early in the morning and head right to Ocracoke without stop, OR work your way down and drive straight back afterward.
Before you pack up and leave – make sure to:
Bring a cooler with ice, drinks, snacks, and some space for day trip treasures
Wear your bathing suits, and cover-ups – you're going to have some beach time today
Bring a camera, suntan lotion, towels, coupon book, and anything else you would not want be left without on a full day out
Without further ado, I present to you your fantastic day planner!
The Drive to Ocracoke
Today's going to be a big day – big fun needs lots of time!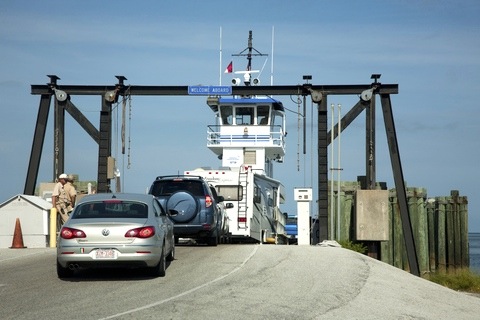 | | | |
| --- | --- | --- |
| 7:00 am | : | Gear up!  Pack up the crew and hit the road!  Start heading south on the beach bypass towards Hatteras Island. |
| TIP | : | As children we always got a good bit of sleep to the start of these days but like mentioned, it is necessary to leave very early in the morning to make the most of your day! |
| | | |
| 8:00 am | : | Assuming you left from Duck, NC., you will be arriving on Pea Island around this time.  When you see the sign for Mirlo Beach you know you are in for the long haul! |
| | | |
| 8:30 am | : | Continue traversing through the villages of Waves, Salvo, and Avon, taking in all that you see and making notes to stop on the way back!  Avon is the largest of these villages thus far and may be a viable spot to stop for breakfast UNLESS you can wait 15 minutes for a fabulous stop ahead! |
| TIP | : | There are MANY great shopping centers, local art galleries, etc. to be found in the small villages here!  Take a snapshot of the tiny post office in Salvo!  It's about the size of a restaurant bathroom and it a great photo opportunity! |
| | | |
| 8:45 am | | If you have been patient enough to wait to eat, you should now be arriving in Buxton, home of the Orange Blossom Bakery & Cafe.  Mentioned in the Top 10 Foods to Try on the Outer Banks, the bakery produces the most fabulous breakfast delicatessen; the apple ugly.  Grab some for everyone and maybe some extra for in the fridge back at the house! |
Keep on Going!
Keep your eyes peeled for cool shops and stops as you make your way south!
| | | |
| --- | --- | --- |
| 9:15 am | : | Now that the stomachs have been filled it's time to rock and roll again!  Pack in the car and keep heading south through Buxton and on towards Frisco & Hatteras village! |
| TIP | : | These are you last villages before the ferry to Ocracoke.  It may be a good time to stop at Hatteras Lighthouse in Buxton for photos and climbing as it opens right at AM!  Remember to keep your eyes open on places to stop "back at" on your return voyage.  The Scotch Bonnet in Frisco is a fantastic gift shop with notoriously delicious fudge!  On the way to Frisco, check out the Alien UFO house on the left side of the road!  It is actually a old model of pre-fabricated homes made around 1968 by Finnish architect Matti Suuronen. |
| | | |
| 10:30 am | : | After some time for sight-seeing in Buxton, you should have meandered your way down now to Hatteras Village.  The southern end of the village at Hatteras Landing, you will find the ferry docks over to Ocracoke Island, and some fantasticshopping! |
| TIP | : | It's a fine art making the decision to stop at shops now vs. later.  I would suggest you take into consideration the size of the ferry line when making the decision to stop and shop or steam on to the next island!  As a general rule of thumb, if you can't turn into the shopping center because the line is too long, you probably should take some down time to shop and relax. |
| | | |
| 11:00  am | : | My recommendation: keep steaming on at this point, this day is just beginning and you need to board the ferry to continue with this day plan!  Hop aboard the ferry and relax on your 40 minute joy ride across the Pamlico Sound! |
| TIP | : | It's easy to enjoy the ferry over to Ocracoke.  It's also easy to desecrate the exterior of other people's vehicles with seagull poop.  I love watching hoards of seagulls being fed on the ferry rides, but make sure you do so at the BACK of the ferry!  Keep your eyes open at the bow of the boat as porpoises will often have fun swimming alongside for the ride! |
Pristine Beach Anyone?
Some of the most beautiful beaches on the east coast now await you!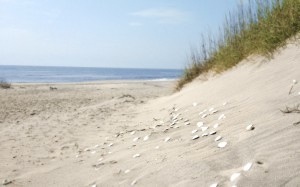 | | | |
| --- | --- | --- |
| 12:15 pm | : | By this time the ferry should be unloading onto Ocracoke Island, and a 12 mile-long stretch of gorgeous beach lies between you and the town!  Are you thinking what I'm thinking?  YES!  Now is the time to kick off your sandals (please wait until off the hot sand), grab your gear, and chillax on the sand. |
| TIP | : | Hunger often strikes when you least expect it.  Lunch is planned for you and coming shortly, but make sure you bring some snacks along for the beach time – you will be craving food at this point; trust me. |
| | | |
| 2:30 pm | : | Why 2:30?  I don't know.  It feels about the time when everyone's had enough of the surf and is ready to nosh on down some delicious foods.  Ocracoke has a nice sampling of eateries.  You will find many in the upcoming hours.  However a long-standing family tradition is to stop at Howard's pub; a can't miss with its location on the edge of town! |
| TIP | : | Howard's is a great place to eat (and drink).  The food and decor are both interesting and fun. Try to pick out the pennant flag of your favorite team/school while enjoying tasty seafood and classic favorites.  Like I said, there are many other great eats IN TOWN, this is just my personal recommendation to you. |
Glorious Meandering…
"The Martha's Vineyard of the Outer Banks…"  – Anon (well I know who, but anon nonetheless)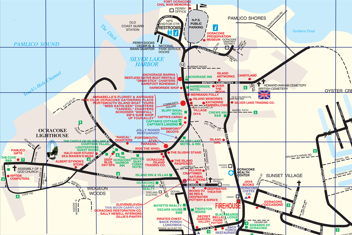 | | | |
| --- | --- | --- |
| 3:45 pm | : | Stomachs filled, faces tanned, emotions relaxed, it's time to meander!  The next few hours should be spent exploring the island!  Use this handy map here to find art galleries, fine foods and wine shops, Ocracoke Island Lighthouse, pirate museums, and more! |
| TIP | : | It's really fun to rent a golf cart downtown and make your way throughout the winding roads and wood lined ways throughout Ocracoke Village.  Try to find Teach's Hole… a favorite hangout of legendary pirate Blackbeard (aka Edward Teach).  Just pay attention to the time, you can get carried away all day here but still need to head back north! |
| 4:30 pm | : | If you haven't found it yet, take time to visit the memorial of the crewman aboard the HMT Bedfordshire; a British naval trawler that sunk during WW2 after being hit by a German U-boat.  The grounds are considered British soil and are cared for by the US Coast guard. |
| | | |
Enjoy the Return Trip
Your day and vacation are not over; enjoy the entire ride back!
| | | |
| --- | --- | --- |
| 6:00 pm | : | Hopefully you have had a nice "taste" of Ocracoke Island at this point.  If you haven't, you can always return OR stay the night, but on this itinerary, you are headed back to your vacation rental! |
| TIP | : | Don't be sad, you could be at work… |
| | | |
| 7:00 pm | : | You should be arriving back on Hatteras Island at this time, which is a GREAT time to shop around at the landing!  Take some time to walk around, and if you'd like grab a bite to eat!  This is where my itinerary ends for you but the adventure should continue!  Take time to make some stops you may have passed on your way down. |
| TIP | : | In the summer months many of the shops will be open until late so no worries!  Enjoy your trip and drive back; the scenery on the Outer Banks is an attraction all its own! |
This is in no means an absolute or complete itinerary… there are hundreds of attractions and places to visit along the way.  Keep your eyes open for more Day Planner trips to come that will include all kinds of plans for you and your crew.  Feel free to comment in the section below and thanks for reading – enjoy your trips!
Image Credits:
"Ocracoke Lighthouse" & "Loading Car Ferry"
© Karen Foley | Dreamstime.com
"Rainbow Doll House Camping Cabins"
© Cvandyke | Dreamstime.com
"Cape Hatteras"
© Jennifer Thompson | Dreamstime.com