June 27, 2013
Welcome to another edition of "Outer Banks Day Planner" – your guide to the best itinerary ideas and ways to explore the Outer Banks!
There are 2 awesome attractions that are very bountiful on the Outer Banks: water & wildlife!  This itinerary gets you out and about combining the two of them!  From water activities to wildlife tours, I think you'll really enjoy this one.
The Outer Banks is home to hundreds of species of wildlife, many of which you don't see at home.  Many of us drive hundreds of miles to reach these barrier islands, and you'd be doing yourself an injustice not to take in the wonders of nature here.  I find myself really being active at encouraging our readers to get out and enjoy the wildlife here.  I'd like to take a split second to thank my awesome parents for that.  Vacations are ALWAYS about more than just the beach, and I think it not only makes me an extremely well-rounded traveler, but I also enjoy the little things in life much more.  Thanks, mom & dad!
---
Anywho, you know the drill!
Before you pack up and leave – make sure to:
Bring drinks, snacks, and SUNSCREEN!
Take your cameras, towels, coupon books, and anything else you would not want be without!
Without further ado, I present to you another fantastic day planner:
Rise and Shine
The early bird gets the worm…. but in this case, you get birds…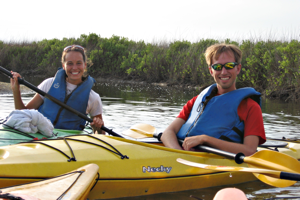 | | | |
| --- | --- | --- |
| 7:00 am | : | Wake up and get yourself ready for an excellent adventure!  Today is going to start off driving towards Pea Island. |
| TIP | : | Pea Island is right across the Oregon Inlet bridge heading south over the Pamlico sound.  You will pass right by Bodie Island Lighthouse as well, so snap some photos on the drive down! |
| | | |
| 8:00 am | : | Assuming you left near Duck, NC. you will be arriving on Pea Island around this time. |
| | | |
| ACTIVITY 1 | : | Your first adventure: Pea Island Wildlife Kayak Tour!  The tour starts at "New Inlet", which closed in the 1930′s. You kayak under the old wooden bridge which was (at the time) built to allow car traffic to cross the inlet. Ironically, due to the wonders of nature and weather on the Outer Banks, the inlet actually closed shut before its completion. Today, the remains of this structure provide a resting spot for brown pelican, osprey, cormorants and royal tern.  You will navigate in and around the many of the hundreds of marsh islands and talk about the migrating wildlife of the Outer Banks.  This area will have the clearest water and it great for stopping to walk through the shallows!  Make sure to visit Outer Banks Kayak Tours for complete information. |
| 11:00 am | : | The kayak wildlife tour should be wrapping up at this time, and I suggest taking at least a 30 minute walk on the beautiful Cape Hatteras National Seashore beaches!  Don't fret – you're already there, but seize this opportunity to walk much more secluded beaches and enjoy the shorebirds that flock there for the same seclusion! |
Learn & Love Our Environment
One of my favorite traditions…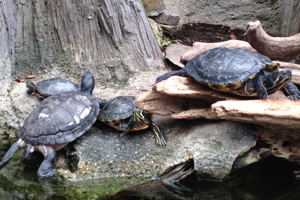 | | | |
| --- | --- | --- |
| 12:00 pm | : | It's time to clean up and hit the road again!  We're now headed over to Roanoke Island for your next water and wildlife activity. |
| LUNCH TIME | : | Make time to stop for a full lunch after your kayak adventure!  It seems like eating schedules get all kinds of messed up while out and about on vacation, so don't forget to nourish yourself.  Manteo is home to many great restaurants, several right off route 64. |
| ACTIVITY 2 | : | One of the best places to take a tour of the aquatic wildlife here on the Outer Banks, your next destination is the North Carolina Aquarium on Roanoke Island!  The aquarium is one of the coolest spots for the whole family to spend some quality time together and learn about the natural wonders here at the beach. The displays and exhibits are just as diverse as the ecosystems on the Outer Banks.  From the swamps to the sharks, they have it covered!  One of my favorite stops (besides the enormous shark tank) is the walk up skate tank where you can touch and interact with them.  The aquarium is truly a unique experience.  It's both educational and entertaining! |
| | | |
| --- | --- | --- |
| 4:00 pm | : | By this time you should have seen and interacted with all you could at the aquarium! |
Down Time
Today's been busy, so let's take time to relax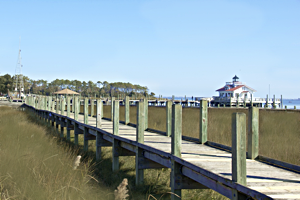 | | | |
| --- | --- | --- |
| 4:00 pm | : | Just a short drive from the aquarium, let's head on over to the Manteo waterfront!  Take some time now to enjoy the boardwalk over the marsh, and walking about the docked boats.  You'll have plenty of scenic views plus the chance to spot more wildlife in these natural environments. |
| | | |
| 5:00 pm | : | On your stroll, make sure you make your way over towards the docks behind Poor Richard's Sandwich Shop.  You're not here to eat, you're here to cruise! |
Time to Cruise
You've done enough navigating today… time for a break
| | | |
| --- | --- | --- |
| 6:00 pm | : | What could be better at the end of a long day than a relaxing sunset dolphin cruise?  I'm really not sure! |
| TIP | : | I highly, highly, highly, highly, highly recommend that you make reservations ahead of time before your trip.  These cruises are very popular and fill up fast last minute. |
| ACTIVITY 3 | : | It's time to set sail, relax, and enjoy the scenic sunset views on an Outer Banks Dolphin Tour!  As mentioned in the Outer Banks Top 10 Tours, Captain Stuart Wescott, aboard the "Captain Johnny", has lead his tours to see dolphin on the last 230 of 235 tours in 2012.  That's a record worth braggin about!  You will cruise for just over 2 hours, enjoying the sunset, water, and wildlife! |
This itinerary is far from the only way to enjoy the natural wonders of the Outer Banks.  It's really a guide to getting you out and about to try new experiences!  If you try ANY of our Day Planners – please leave me some comments below!  I'd love to hear from our readers and those who give these a shot.
Feel free to also leave comments on any other day trip ideas you would like planned out for you.  It's fun being free at the beach, but having a set plan for one day during your week is exciting, and I have plenty of experience to help you out.  Until next time, enjoy our beaches!