June 17, 2015
It is almost America's birthday, and you know what that means….. FIREWORKS!  There's no better place to enjoy the sights and sounds of 4th of July pyrotechnic masterpieces than on the beaches of the Outer Banks.  Take a look at the list below of the July 4th fireworks celebrations on the Outer Banks from north to south:

Corolla Fireworks 2015
23rd ANNUAL FESTIVAL OF FIREWORKS – WHALEHEAD CLUB. – FRIDAY, JULY 3, 2015
CLICK HERE TO VIEW INTERACTIVE MAP
The 23rd Annual Festival of Fireworks – July 4th Celebration will take place on the Currituck Heritage Park lawn (where the Whalehead Club is). Arrive early and bring the whole family to enjoy all of the fun activities, music and entertainment. Local food vendors will also be on site.  Find a place for your blanket or chair and settle in for a fun Currituck Outer Banks evening and the best fireworks show on the Outer Banks! The boat ramp will be closed on this day.  This event will be held on the grounds of Currituck Heritage Park located at 1100 Club Road, Corolla, NC. Also note no alcohol is allowed on the park grounds. For more information please visit The Currituck County Tourism website.
Duck 4th of July Parade 2015
11TH ANNUAL 4TH OF JULY PARADE – DUCK, NC. – FRIDAY, JULY 3RD, 2015
CLICK HERE TO VIEW INTERACTIVE MAP
The Fourth of July Parade in Duck, NC is a traditional favorite and an event not to miss!  It's been acclaimed as one of the best small town celebrations in the country and I can see why!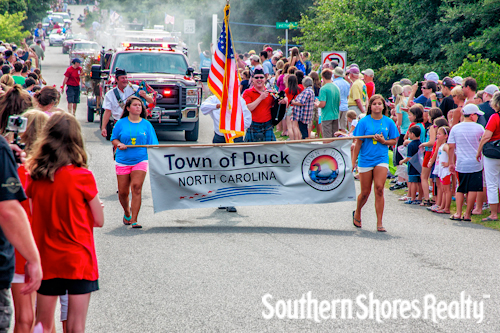 The route follows Scarborough Lane towards the ocean, turns left onto Ocean Way, and then heads down Christopher Drive ending back at Duck Road (NC 12). If you are attending the parade next year, please arrive early so you can get a good spot on the parade route. Remember, no part of the parade is on Duck Road (Highway 12), and parking in Town is at a premium, so please plan to walk or ride your bicycle and be in Town well in advance of the parade start time of 9:00 a.m. For more information check out our Duck Parade photos and The Town of Duck's website.  Immediately following the parade will be a concert held at the Town Green, featuring music from Just Playn' Dixieland and refreshments!
Kill Devil Hills Fireworks 2015
AVALON PIER 4TH OF JULY FIREWORKS – SECOND TIME SINCE 2009 – SATURDAY, JULY 4, 2015
CLICK HERE TO VIEW INTERACTIVE MAP
Held Saturday July 4, 2015 on the Avalon Pier, these Independence Day fireworks were once absent in Kill Devil Hills.  In 2009, there was a terrible fireworks accident that occurred on Ocracoke Island which prompted statewide regulation changes and a hault to some of the most popular firework shows on the Outer Banks.
The show is now back on and is a great addition to the 4th of July on the Outer Banks.  It also relieves congestion for some of the other displays.  This show is also being put on by the world-renowned pyrotechnic masters of  Zambelli Fireworks (a New Castle, PA company – shout out!).  The Kill Devil Hills fireworks are a great option for anyone staying in the KDH or Kitty Hawk areas.  You can hop right onto the beach and get a great view of the show.
Manteo / Roanoke Island Fireworks 2015
ROANOKE ISLAND FESTIVAL PARK FIREWORKS 2015 – TOWN OF MANTEO – SATURDAY JULY 4, 2015
CLICK HERE TO VIEW INTERACTIVE MAP
The July 4th Celebration with music and fireworks in Manteo, NC is a traditional favorite for visitors and locals alike.  It's a fun celebration and you can see the fireworks from across the sound if you can't attend.
Held at the park's pavilion in Manteo, the celebration is free and open to the public. Gates open to the public at 6 p.m. and parking is available at the park until it is full, then feel free to park downtown.  Handicap parkers are encouraged to use the park's lot.
The night starts off at 8pm with a concert from over 40 airman-musicians performing orchestral pieces and patriotic songs.  The fireworks themselves are due to set the sky ablaze at 9:30pm (at dark).  Due to the large crowds for this event and the loudness of the fireworks, pets are discouraged.  Please note that once the fireworks begin, the pavilion gates will be closed to create a safety zone, until the fireworks are complete.  During this time, for your safety, no one will be allowed to enter or exit the Pavilion. For more information check out the Roanoke Island Festival Park website and Town of Manteo's website for more community events like this!
Nags Head Fireworks 2015
18TH ANNUAL FIREWORKS SPECTACULAR – NAGS HEAD FISHING PIER – SATURDAY, JULY 4, 2015
CLICK HERE TO VIEW INTERACTIVE MAP
A crowd favorite in Nags Head!  The sky will light up starting at 9:25 pm at the Nags Head Fishing Pier at Milepost 11.  The show is being put on by Zambelli Fireworks (like the KDH fireworks) and is a personal favorite of mine.  This show is great as there are several awesome vantage points including: both north and south of the pier, Curlew Street, Bladen Street, Hollowell Street, Bittern Street, Conch Street, Bonnett Street, Blackman Street and Barnes Street.  A Local tradition for the best seat in the house is Jockey's Ridge State Park, where the enormous sand dunes and open sky make for an unforgettable viewing experience!  Visit NagsHeadNC.gov for more info!
Avon Fireworks 2015
4TH OF JULY FIREWORKS CELEBRATION – AVON, NC. – SATURDAY, JULY 4, 2015
CLICK HERE TO VIEW INTERACTIVE MAP
If your holiday plans have you traveling to Hatteras Island there will be a fireworks display this year again at the Avon Fishing Pier! The show starts at dusk (right around 9:15pm) and is going to be a great one!  The Avon Fishing Pier Fireworks are a fantastic show to watch from the beach and the only fireworks taking place on Hatteras Island this year.
No matter what fireworks display you end up at on the Outer Banks, don't forget the reason for the celebration.  This year, 2015, marks the 239th birthday of the United States of America.  It was a monumental undertaking that lead to such a grand annual celebration and it certainly merits a moment or two of reflection to consider the gravity of the day.  Enjoy your 4th of July with friends, family, or whoever may be with you.  Southern Shores Realty offers over 600 beach homes and some may still have availability for July 4th OBX Vacations!
Thanks for reading and getting the scoop on the OBX fireworks shows this year.  Pass it on to a friend using the sharing buttons at the top and bottom of this article or drop us a comment below and let us know what show you'll be at.  See you at the fireworks!