October 28, 2013
The Greatness
Ever hear the saying "the greatest thing since sliced bread"?  That pretty much describes the aura of awesomeness that surrounds Southern Shores Realty's OBX Marathon Cowbells.
Making their official debut in 2012, the SSR Cowbell was an instant crowd pleaser.  Distributed through an entertaining game of chance, visitors and runners alike had their opportunity to win a shiny blue bell last year during the OBX marathon expo.  The Southern Shores Realty sponsor booth drew massive attention from the entire Dare County Rec Park gymnasium and the cowbell supply had no chance against the enormous demand.  Although numerous other prizes existed, including area gift cards and a runner's gift bag with a new iPod, the cowbells truly owned the spotlight.
Function Meets Form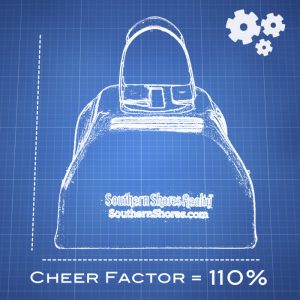 When faced with the decision of what awesome giveaways to provide, it was ultimately determined that a noise making device would sure fit the bill for a marathon in need of cheering.  Many products were considered including new-age "thunder sticks", whistles, clappers and more.  In the end, cowbells proved to be the clear cut choice for ultimate appeal, functionality, and not to mention they are just plain sweet!
The bells are a convenient size and can easily be transported in any bag.  They also come pre-installed with a comfort grip "finger ringer" and are layered in a weather-resistant paint that will hold up marvelously to the elements.
Cowbell Mania
Our distribution of noise proved to be more widespread than initial reports.  The cowbells could be heard projecting their glorious chimes from mile marker 1 in the Kitty Hawk woods the whole way to the finish line miles away on Roanoke Island.
This candid photograph (source unknown) depicts a model year 2012 blue bell in perfect form, ringing on dedicated marathon runners.
The definition of class, sportsmanship, and grace… you have the chance to get your hands on a 2013 Silver Edition Southern Shores Realty Cowbell (shown below) at this years OBX Marathon Expo held Friday – Saturday, November 8th & 9th.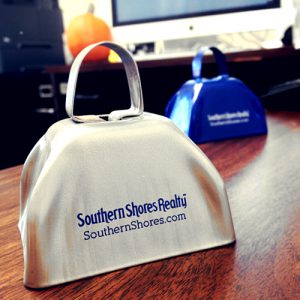 Join in on the fun and excitement that is the COWBELL!  All years are limited production and color.  Make sure to give us a high-five while we all ring our bells at our traditional mile marker #1 in Kitty Hawk woods!
Love our cowbells too?  Send us a photo of you and your bell to RKissell@SouthernShores.com