July 1, 2013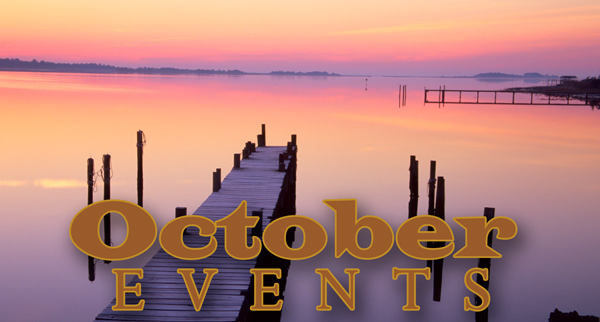 FIRST FRIDAY ON MANTEO'S HISTORIC WATERFRONT
OCTOBER 04, 2013
Manteo's Historic Waterfront, Manteo, NC 27954 – MAP
Shop unique boutiques, browse our galleries! Pick your next great read! Sip a gourmet coffee! Savor a glass of wine! Dine at one of our many wonderful restaurants! Visit our attrcations! Discover Manteo on the First Friday of each month, April through December – 4 p.m. to 8 p.m.
EASTERN SURF KAYAK ASSOCIATION CONTEST
OCTOBER 03, 2013 – OCTOBER 06, 2013
Jennette's Pier, Nags Head, NC 27959 – MAP
The second event in the Interference event series, The Tournament of Champions, will take place October 3-6, 2013 in Nags Head at Jennette's Pier, site of the 2011 World Surf Kayaking Championships. This event will feature a standard competition format in addition to the Battle for Nags Head comp and the 3rd annual Iron Wave Contest. More details will be announced soon. Awesome prize packages for the top placing teams from Sea Kayak Carolina, ASTRAL, IR, Shred Ready, Accent and more.
OUTER BANKS BLUEGRASS FESTIVAL
OCTOBER 04, 2013 – OCTOBER 06, 2013
One Festival Park, Manteo, NC 27954 – MAP
The 2nd annual Outer Banks Bluegrass Festival is coming this October! Come hear that old familiar twang, in the tradition of Bill Monroe, Lester Flatt and Earl Scruggs and so many other legendary performers. Come hear today's Bluegrass stars, such as Rhonda Vincent, The Grascals, Russell Moore & IIIrd Tyme Out, Doyle Lawson, Dailey & Vincent and dozens more picking their strings outside, under crisp October skies. We're bringing 'em in from all over the country for three days of down home cookin' and good ole Southern pickin'. Join us for a fun filled family weekend with the music of our roots, the music of our grandfathers, the music of America ……. Bluegrass!
"PRE-DUCK JAZZ FESTIVAL" MUSIC EVENT AT SCARBOROUGH FAIRE SHOPPING VILLAGE IN DUCK
OCTOBER 04, 2013
1177 Duck Rd, Duck, NC 27949 – MAP
Scarborough Faire Shopping Village in Duck NC is proudly kicking off Duck's Annual Jazz Festival Week with its own Special Free Live Concert scheduled from 2 to 7 pm on Friday, October 4, 2013, Rain or Shine, as a "warm-up" before Sunday's Main Festival Events! Join us in the Courtyard for the amazing & smooth sliding sounds of local favorite son, Mojo Collins with his band Triple Vision for Jazzy Blues surrounded by our fine Shops & Eateries under the cool shade of Elms & Live Oaks, as we usher-in Duck Jazz Fest 2013! ( Mojo Collins is an NC Arts Council Fellowship for Songwriting recipient with an international following ). Appetizers, Wine & Cocktail Beverages will be available for purchase at Elizabeth's Café.
ISLAND FARM'S PUMPKIN PATCH
OCTOBER 05, 2013; OCTOBER 12, 2013; OCTOBER 19, 2013; OCTOBER 26, 2013
1140 US Highway 64, Manteo, NC 27954 – MAP
10am – 4pm. Saturdays in October, come to the farm and take an ox-drawn wagon ride to the farm's pumpkin patch and find your perfect pumpkin to take home. This event is reoccurring, taking place on October 5, 12, 19 and last day is on the 26th. Admission is $6; children ages 5 and under are free. Take home a pumpkin for an additional $4. Other activities included are make your own corn husk doll, candle making, children's 19th-century toys and games, stuff a scarecrow, scarecrow photo booth for taking your own photos, and interacting with the farms animals. On the last day of this event, October 26th, wear your Halloween costume and receive a surprise. Wagon hay rides take place from 10:30am – 12:30pm and again at 1:30pm -3:30pm.
FREE FALL SATURDAY RED WOLF HOWLINGS
OCTOBER 12, 2013
Creef Cut Wildlife Trail, Manteo, NC 27954 – MAP
Phone: 252-216-9464
Alligator River National Wildlife Refuge and the Red Wolf Recovery Program offer you the opportunity to learn more about red wolves at the only place in the world where they still exist in the wild! Meet at the designated time at the Creef Cut Wildlife Trail parking lot for a chance to hear the harmonious howl of this endangered species.
Free Fall Saturday Howlings: No Registration Required
October 12 – Wolf Awareness Week – 6:00-7:30 pm
November 16 – Full Moon Howl – 5:00-6:30 pm
December 7 – Holiday Howl – 5:00-6:30 pm
Important things to remember: Programs typically last about 2 hours. Bring a flashlight & bug repellent. Dress for the weather; howling will occur except with lightning, heavy rain, or wind or impassable roads. Decision to cancel will be made at least 1.5 hours prior to the scheduled program. Plan ahead! Creef Cut Wildlife Trail is about a 20 minute drive from Manteo! Do NOT bring pets.
7TH ANNUAL DUCK JAZZ FESTIVAL
OCTOBER 13, 2013
Duck Town Park, Duck, NC 27949 – MAP
Enjoy a variety of talent with world-class musicians at the 7th Annual Duck Festival. Featuring: The Delfeayo Marsalis Octet presents "Sweet Thunder"; Lavay Smith &Her Red Hot Skillet Lickers; Peter Lamb and The Wolves. The event will be held at the Duck Town Park, 1200 Duck Road, Duck, North Carolina. This free, all-day event is open to the public and will begin at 11:00 a.m., with gates set to open at 10:00 a.m. The Duck Jazz Festival showcases national, regional, and local jazz musicians. Attendees are welcome to brings chairs, food, coolers, blankets, and pets. No beach umbrellas or tents are permitted at the event. Food and drinks will be available to purchase from various Town eateries and chairs to rent. Visit duckjazzfestival.com for more information!
INAUGURAL OUTER BANKS DUATHLON
OCTOBER 13, 2013
7223 So. Virginia Dare Trail Oceanfront, Nags Head, NC 27959 – MAP
Get ready for the Inaugural Outer Banks Duathlon presented by Runcations. We've got an Amazing Kick-off event in store for you this year at one of the best Oceanside locations in Eastern North Carolina, a great catered post race party and unique Finisher Awards and items for all participants. This is a family, young adult and spectator event for all ages and skill levels. The run course takes you through the quaint ocean side town of South Nags Head & its beaches, and is set-up against a challenging fast 23 mile ride through the Pea Island Wildlife Refuge which includes crossing the Bonner Bridge at Oregon Inlet. As an added feature the second 5K run, to finish this event, is held on the beach at the newly restored Jennette's Pier.
OUTER BANKS SEAFOOD FESTIVAL
OCTOBER 19, 2013
Outer Banks Event Site, Nags Head, NC 27959 – MAP
Seafood Festival celebrating our local fisherman and seafood heritage. It's all about fresh, local Outer Banks seafood! Admission to festival is $3 includes kids zone, live music all day, cooking demonstrations, boat exhibits, and storytelling. "Sea Bucks" are $1 each and required for food and beverage purchases.
EVENING LANTERN TOURS: DRAPED IN BLACK; VICTORIAN DEATH RITUALS
OCTOBER 25, 2013 – OCTOBER 26, 2013
1140 US Highway 64, Manteo, NC 27954 – MAP
7pm – 9:30pm. Join costumed interpreters on a night-time tour into the home of a grieving widow. Experience unique and peculiar ways Victorian families mourned the loss of a loved one. Listen to stories of the farm's former residents and travel by lantern light to their final resting place in the family graveyard.