August 21, 2012
Food!  Oh how I love food.  And not just any food.  I'm always on the search of something that makes my taste buds dance, whether it be with ingredients I've never had, or combinations I've never experienced.  Of course, when I find something I love I'm likely to repeat that selection for quite some time, yet I love variety and new things. So this passion drove me to contact Terry Bell the owner and operator of Outer Banks Restaurant Tours.  We at Southern Shores Realty have a many rewards for staying with us, and one of those rewards is a special with the Outer Banks Restaurant Tours that allows our guests a discount on their Kitty Hawk tour. And I both wanted to inform our readers and guests about this awesome reward, but I also, admittedly selfishly, wanted to sample all of the great places this tour goes. But what I didn't realize is that I was in for a lot more than just good food!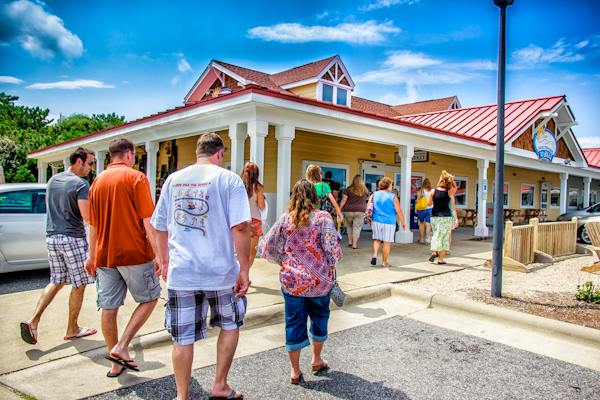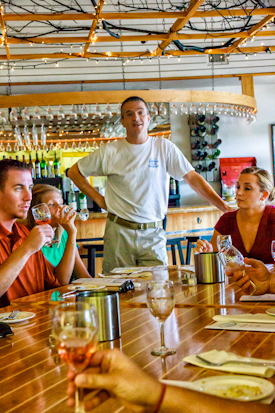 So I met Terry around 2PM at Coastal Provision's Market where our tour began.  There I met my fellow tour takers and we were off!  We were seated at a large rectangular table with empty wine glasses and were greeted by Dan Lewis, one of the owners and chef.  He shared with us a little bit about the restaurant and market, how they have live music every Monday evening, and about their other locations. And then he said "we make the best crab cakes in town".  But he didn't just make the statement and then move on, rather we were then served a plate with a crab cake and escargot.  I haven't had everyone's crab cake on the Outer Banks, but there is no doubt in my mind that these crab cakes would give anyone a run for their money in a competition.  They were loaded with crab meat; as I cut into it crab meat just spilled out.  They were crispy with a light crunch, mildly sweet, perfectly prepared!
But then I stared at the escargot.  I've had escargot before from well respected restaurants and it just never appealed to me both in taste and texture.  One of my fellow tour takers looked at me, seeing my reluctance, and said "you've got to try it".  Her obvious expression of enjoyment lured me in.  I mean, even if I didn't like it, it's only a moment of discomfort.  I was more than pleasantly surprised.  Even more so, I would happily order these again and again. While I was sampling these fantastic seafood delicacies, Dan was sharing with us some of his knowledge of wine.  He shared how the people in southern France really know their wine with respect to pairing it with seafood.  He proceeded to fill our glasses and shared with us how to "taste" the wine and how to sample it with the crab cake. Now, as much as I would love to give you all the details, I really shouldn't.  See this is where I began to realize this wasn't just a "progressive dinner", but an experience. I really don't want to ruin the experience by giving away too much of what an Outer Banks Restaurant Tour offers but let me put it like this, it's one thing to come to a restaurant, take a seat, and have a meal; it's an entirely different thing to receive personal attention from food experts. This is the major draw to this tour.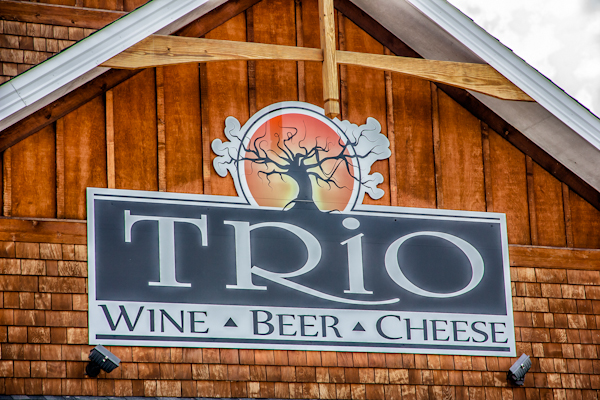 Our second stop was to Trio.  Right away we were greeted downstairs by Jennifer Minnich, one of the three owners.  She proceeded to take us on a tour around the store and restaurant, sharing with us the uniqueness of Trio.  We saw a large selection of wine and cheese, but then she pointed us to draft handles that were all along the window sill to, what seemed like, a hundred different beers, all of which they serve in rotation.  They were from all over theworld and too numerous to name.We were then led upstairs where we met Tony for a wine tasting.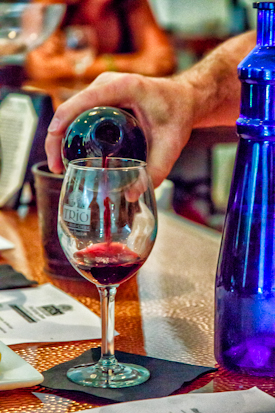 Tony shared with us many tasting tips and great pairing advice (what foods go well with what types of wine).  We sampled many different North Carolina wines and were given a little history and education on what made these wines different. We began  comparing wines as a group, which was really interesting.  We saw the variety of preferences in our group and then learned how to articulate those differences, likes and dislikes, to one another.  After a little while Jennifer and Tony had us all laughing and carrying on, and no, it wasn't just because we had a little too much wine, but because they were such great hosts. We were then given time to look around, browse the various wines and awesome cheeses.  Did I forget to say that we were given a sample of cheese and it was very tasty?  I love cheese and I usually prefer imported cheese because the texture and taste exceeds what you would typically find in a grocery store. Trio specializes in quality cheeses both domestic and international. Jennifer and Tony were available for questions and conversation, so I started to talk with Tony about cooking and he shared some great tips with me.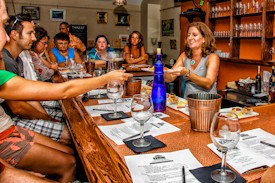 In fact, I'm going to go back to talk cheese, wine, and cooking steak some more. What they provided was so revealing and their knowledge so helpful and informative that I felt like I wanted to ask more and more.  Again, I don't want to give away secrets from the tour, but as a lover of good food, this was thoroughly enjoyable!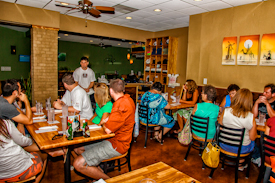 Our next stop was Bad Bean Baja Grill.  Because of where it's located many people don't seem to notice it, know it exists, or give it a try.  It's surrounded by stores that don't generate a lot of traffic and its view from the road is blocked by a bank.  But this place was a shocking surprise.  Outwardly this place doesn't look like much, but I soon found that it was nothing short of amazing.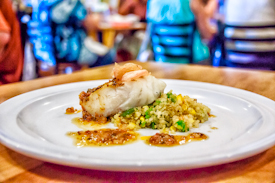 We were introduced to Matt Payne, the executive chef, and he began sharing with us a little bit about the background as to how they became a restaurant. At the same time we were being served a margarita, chips, and freshly made guacamole dip. I heard one of my tour-mates say they "love it when margaritas just come to you, especially when you didn't ask for it." Bad Bean Baja Grill takes pride in their use of fresh ingredients and the guacamole dip was no exception.  You could tell it had no fillers or extras, but was the real deal.  Their chips are cut fresh daily and their margaritas have a special twist that make themincredible.  I could have easily filled up on this, but then we were brought a dish plated with tilefish on couscous.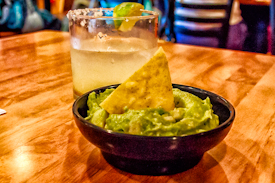 Two quick thoughts I had.  The first, Bad Bean Baja Grill isn't a run of the mill "Taco Bell"-ish restaurant.  They do Mexican with a California twist and they do it right!  The other thought was that as I saw other people walk into the restaurant I knew they were going to get great food, but they were totally missing the experience we were getting.  We were total strangers enjoying each others company over great food and even better highlights on the Outer Banks.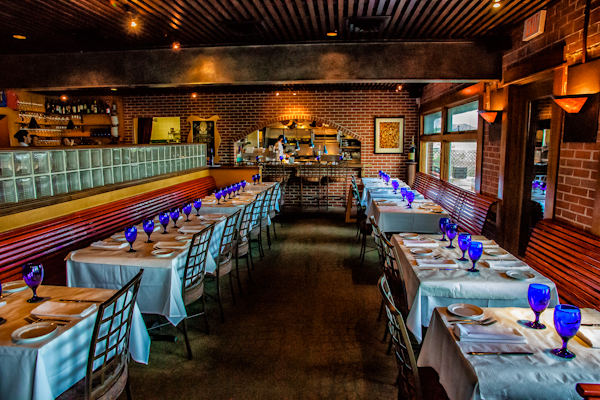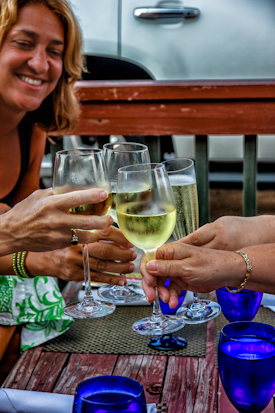 Our next stop was Ocean Boulevard Bistro & Martini Bar.  It was such a beautiful day that we sat on the patio, which included awesome views of the ocean, since the restaurant is located on Virginia Dare Trail (what locals call "the beach road"). We were greeted by owner and executive chef Donny King.  He proceeded to tell us to take a look at their menu and to select a drink of our choice, which included a large assortment of wines, martinis, and other drinks.
Donny shared with us some of the uniqueness to their menu.  Apparently, what you get one day may not be cooked exactly the same way the next day, for an excellent reason.  Every day they go to the market and purchase fresh fruits and vegetables and they only cook with what they can find.  If a certain vegetable is out of stock, they're not going with anything less than fresh.  Another way of saying is the beans you had today might be a different kind of bean tomorrow. We were then served various appetizers, which were good, but what really stole the show was a summer vegetable succotash with crab meat.  The sauce in itwas light, creamy, and had just the right amount of sweetness.  And you could really taste the difference fresh ingredients make.
Donny then shared with us the uniqueness of his place, but again, this is something you get to learn because you're on the tour, something you would never learn just by attending the restaurant, so I won't ruin it for you.  But I will say the Ocean Boulevard Bistro & Martini Bar has a very unique atmosphere with ties to history.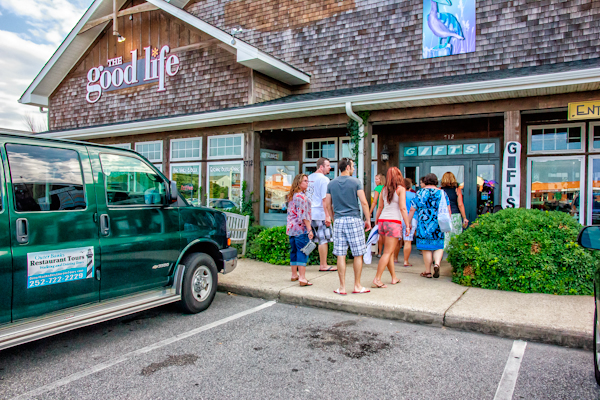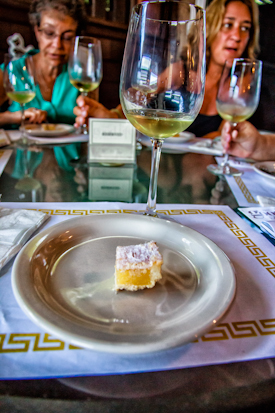 Out next stop was The Good Life Gourmet.  This is where dessert began.  We were given more wine and a lemon square, which was yummy.  We were told a little about the restaurant, what they offer, and some of their specialties, and how they serve food in a frying pan.  Sadly we didn't get to experience this, we were there for dessert after all. I'll have to come back to experience this.  After our square we were given some time to browse the deli. Last, there was a special treat for us that wasn't on the agenda!  Terry Bell has added something new.  As a tasty treat you get to visitThe Good Karma Kitchen which three separate businesses share to make their delicious goodies: Zen Pops, Brynn & Amie Good Karma Foods, andSweaterbox Confections.  While there, we got to hear a little bit about their stories, especially how they manage to share one kitchen.  These wonderful ladies added a lot to the finale of the tour, but left me with a sweet tooth wanting more.  Hmmm, perhaps that's their secret agenda. I'm sure that once you go on theKitty Hawk Outer Banks Restaurant Tour you'll fall in love with these places as you not only experience the food and beverages, but also the passion and heart behind the experience.  In conclusion, yes, anyone could go to each one of these restaurants individually and pick something off the menu, but you would be missing the experience of laughing with others and hearing the heart of fellow epicureans.  It felt a lot like being on a show of Diner, Drive-Ins, and Dives, but with a local Outer Banks feel and you get to be front and center.  Terry Bell keeps the tour groups small so that this feel isn't lost. Great job Terry Bell,and thank you for sharing your dream with us at Southern Shores Realty!  If you're a guest with us in one of our Outer Banks rentals be sure to visit Terry's website for Outer Banks Restaurant Tours (http://www.outerbanksrestauranttours.com) and be sure to tell her who sent you!  Oh, and you better do so soon because the season for these tours is ending soon!