July 3, 2012
Coming from a long time Outer Banks vacationer, I can tell you that learning about the area you are staying in and developing "favorite" spots is one of my natural pastimes. Whether it be a favorite beach access, the family's favorite ice cream stand, or the gift shop you must stop at each visit, these favorites become part of your Outer Banks traditions that will carry on much longer than you can imagine. When I was just an infant, my parents began bringing me to the beach here with them. It was discovered by my father in his teenage years when his family did the very same thing. Although air conditioning and a large bypass were not there at the time, there were still the elements of tradition that would bring families back year after year. One of my personal favorite traditions to hold when vacationing to The Outer Banks is that of having a favorite restaurant to visit. To put into clear words; if my family does not visit (a restaurant which shall remain nameless for now), at least once during our trips, the entire drive back home would be full of discussions about our regrets. These sentimental stops are what many of us come to remember about The Outer Banks in our minds as we reflect hundreds or even thousands of miles away. I can't tell you how many days were spent at work in Pennsylvania when all of a sudden, I needed an escape and would drift back mentally, to that time, that place… you get the idea. The point is that whether you are reading this never having set foot on these barrier islands or are a seasoned veteran visitor, part of what The Outer Banks is – is the special places we all remember. I have since moved to the area in the past weeks and am gathering more and more from a local's perspective. My life has not totally revolutionized yet and I'm still sending out the first round of new bills. However, a unique change is occurring. I am noting more than ever the little stops, shops, and stores that I was never exposed to as a visitor living just two weeks out of the whole year. I was noticing that there is more to the area and offerings than I expected. I also noticed a unique service to The Outer Banks that seemed like it should have been around forever. What I had found was a "restaurant tour" being offered in unique towns and communities on The Outer Banks.Southern Shores Realty offers a rewards program to its vacationers and they included this in their discount offerings. I thought to myself, "What a really neat idea!" I had never been exposed to this before and had to learn more; not only for myself but to see if I could recommend it to my family. A little background research on the company: "Outer Banks Restaurant Tours", showed me it was owned and operated locally, by a lady named Terry Bell. I contacted Terry informing her I was new to living in the area and was intrigued by the thought of going on a "tour" of restaurants in one of our towns here. This is Terry's second year in business here and she has grown annually, now expanding to offer additional tours such as a Beer and Wine experiences. I expressed my interest to her to go along on the Town of Duck's Walking Tour that she offers. We set our schedule, meeting place, and I grabbed the camera and headed north.
It was right around 1:00pm on Tuesday, the sky was blue, the wind was cool, and hundreds of tourists were flocking to the area (if you have not visited Duck yet you must – it's a very quaint and close shopping community). I met Terry at the Duck Waterfront Shop's parking lot and waited for our other adventurers to arrive. It was a really unique experience just waiting to see who would show up, where they were from, and what the tour would be composed of. After all, parties arrived we were given our agendas for the excursion and headed off. (On a side note, your tour guide can make or break any experience. Even though I have no authorization to post a photograph of her, Terry is a remarkably comfortable person to be around and could not be friendlier to work with).
Our first stop of our Duck Walking Tour was Tommy's Gourmet Market & Wine Emporium. On first thought, I was a little bit skeptical – why would we kick off a restaurant tour to some market? I soon discovered this was no ordinary market. Besides being a one-stop shop in the area, Tommy's Market proved to be a top-notch establishment that offered unique tastes and products you'd be hard pressed to find anywhere else on the island. For those of you who have been to TheOuter Banks before, I'm sure you've visited market-style groceries that have a pretty wine selection and offer a deli, etc. This was not the case. Tommy's opened my eyes to the attention to detail that should be paid to what you are placing on your shelves and why put your name on the sign outside. For example, one of the highlights of our taste tour inside the market was a "Chocolate Balsamic Vinaigrette" that was served on either crackers, or my secret love; blue cheese. There was an impressive selection of fresh produce and unique beer's and wine. Tommy's also boasts a meat and seafood selection that even the most discerning palette could find appetizing, such as dry aged Certified Angus Beef and domestic, natural seafood. There is more to Tommy's that I could talk about but quite frankly, I cannot leave now to go eat more so I shall cut myself off – go give them a try yourself!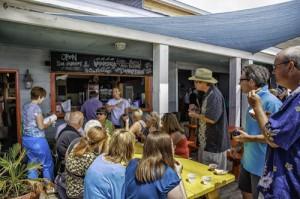 We all funneled out of Tommy's; most of us having shopping baskets to return to after the tour was complete. Terry guided us along the scenic section of Route 12 to our next destination; Coastal Cantina. Coastal Cantina is nestled in along the sound at the Duck Waterfront Shops. We all gathered in at a table set aside for us and most of the group was now taking time to appreciate the gorgeous views of the sound. A frozen margarita or sangria was a welcomed friend to everyone and we all enjoyed a very delicious sampling of the #2 best-seller : the chicken quesadillas (I have a trip planned to go back for the #1). The combination of the view, atmosphere and food was enough to make me want to stay and eat more – but the tour had to continue.
The path now lead us along what seemed to be an infinite length of boardwalk that weaved in and out of different shopping destinations and scenic wildlife. We passed families out on the platforms fishing and crabbing for whatever the water would bring. We walked along sound front marshes and saw wild deer that had made the woods their home. It was at this point I realized the beauty of the walking tour; there was just as much to be enjoyed in the journey along the way to our destinations as much as there was when we got there. But, enough about paraphrasing a popular quote from history, it was time to eat again! We traversed onto the other side of the street to try out the cuisine at the Red Sky Cafe.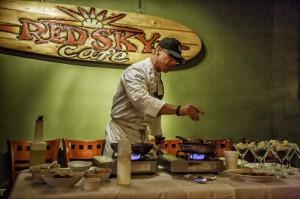 The Red Sky Cafe is located in the Duck Landing plaza and was another location I had never ventured to. When we walked in the door it was hard to miss the ambiance and charm that the cafe gave off. Strings of lights and unique wall decor really set the mood for the cuisine we were about to experience. Chef Wes welcomed us to his establishment and gave a brief background of his history, as well as the business's. It was great to hear a little about the person behind the food so you could really understand where their influences came from and what they wanted to come through with each dish. Chef Wes fired up two burners and gave a fantastic live presentation of what he has dubbed "Redneck Risotto" and shrimp. For those of you that have not dined at Red Sky before – this is a must try dish – and it's not risotto. Wes has put a clever spin on shrimp 'n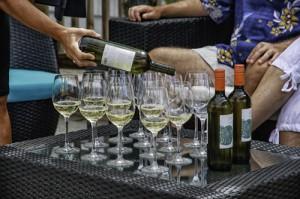 grits and rebuilt it from the ground up; from asiago cheesed grits to fire roasted tomatoes. Wes, much like myself, understands people first taste with their eyes. Using food as his medium, Chef Wes creates beautiful pieces that you need to try out yourself! The stop at Red Sky ended before my second helping, but that was the beauty of the tour. Aqua Restaurant & Spa. The building was absolutely beautiful and once again had sound front location on it's side! We were greeted at the new patio and bar area being constructed and were seated to enjoy a wine tasting. The drink – a delicious Pinot Grigio greeted the tour goers. We all sat and enjoyed the beautiful sun scape and pleasant surroundings of the deck while going over a brief how-to on wine tasting. It was at this point on the tour where everybody started feeling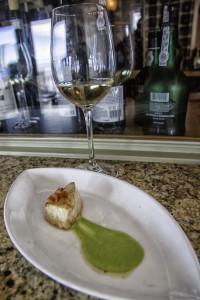 a sense of belonging. Not necessarily knowing each other's middle name, but the fun of "the group" had definitely kicked in. It was interesting to hear that there were travelers from as far as Colorado, and New Jersey amongst us. Everybody started to laugh and chat together which in all honesty, made the entire day more enjoyable. The tour (and wine) moved to inside the building and we were shown the actual spa section of the building as well as the kitchen area. The spa was quite impressive and offered beautiful views of the sound, as well as a spa shop suitable to even the chicest traveler! After returning back from the upper levels of the building we sat and were served a petite sampling of tuna steak. The tuna was cooked perfectly, served with mascarpone remoulade, and was a good pair when serving the tour white wine. Overall it was a "wowing" experience and was a great addition to the tour to offer a classy duo in the Aqua Restaurant & Spa.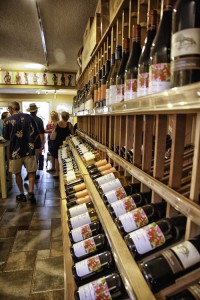 The direction changed back to the north when we headed towardsElizabeth's Cafe & Winery at Scarborough Faire. The twists and turns of the wooded walkways while passing shop after shop was a great prelude to eventually arriving at our destination; tucked towards the rear of the walks. We entered into the cafe and all settled in near a fabulous selection of art; hung and presented in the same are as the delicious vino offerings. It only took a brief tour of the cafe to realize this is a great place to stop back and try a several course dining experience. The rooms were comfortable, the settings were polished, and the entire feel of the restaurant made you relaxed and ready for great food! We sampled some tasty quiche and the tour was tempted with more wine (common theme). Before leaving we were introduced to Chef Brad and also informed all of the artwork gracing the walls were his creations as well. Elizabeth's was a great find and unless you were in Scarborough Faire you may not have stumbled upon it.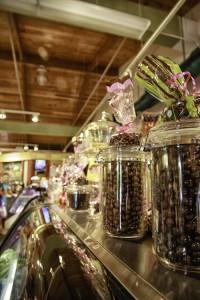 We had one last stop to go on the tour. Thanks to Duck being a great place to walk and enjoy the entire community, it didn't take long to arrive at Scarborough Lane, where The Sweet Duck is located. Part bake shop, part gelato stand, part unique gift shop, my mind had gone on several tangents when I first entered The Sweet Duck. Although feeling like a child in a candy store, I managed to follow the rest of the tour over to help ourselves to a sampling of the gelato that The Sweet Duck offers. I had to choose from one of many flavors -which was difficult given the fact I wanted all of them in a single dish. The flavor I did pick however was delicious! It was great to find gelato on the beach when most of my exposure had been to ice cream and shaved ice. There was time as well to take in the rest that the store offered. It was a breathe of fresh air as well discovering a unique variety of items for sale; from micro-brewed beer to eclectic jewelry. The Sweet Duck showed itself as a purveyor of good times and I will be back for a full bowl of gelato (favorite flavor still left undeclared)!
This, as stated, was the last stop on the tour and it was time to say goodbye. Most of the participants, thanks to the tour, had more plans now for the upcoming days than anticipated. Everyone took the time to say their goodbyes (remember now we were all "tour buddies"). The couples and families dispersed, all heading back to catch up on what they had seen along the way. As for me, it was time to gather myself, my photos, and my experience to be bundled, sorted, edited and lavishly laid out as to tell the tale of a great time. I hope what you (the person reading this in my voice) take away from this all is that this tour is a great way to get out and learn more about the area you are vacationing in. Even if you do it just one week, one visit, it will surely be an experience to remember. I can tell you that it will definitely be a time that I will remember, and half of the fun will be backtracking to the places I toured and the sights that were seen. Terry also offers beer and wine specific tours, as well as a restaurant tour for the town of Kitty Hawk (if you book an Outer Banks Vacation Rental with Southern Shores Realty you are eligible for a nice discount here, as well as other local attractions). Terry is growing in what I hope is a very successful venture for her. I'd like to see her tours grow and have many repeat visitors. She certainly showed our tour to a great time, meaningful destinations, and fantastic food. -Here's to you!
-Bob