February 21, 2014

It's almost upon us… four days of food, drink, and fun on the Outer Banks!  I'm talking about the 2014 OBX Taste of the Beach celebration!
Each year, some of the finest eateries on the Outer Banks team up to prepare amazing dishes and culinary experiences for out-of-towners and locals alike to indulge in.  This year is no different.  Featuring over 50 events and 35 restaurants, the 2014 Taste of the Beach is going to be an event for the ages!  From multi-course dinners to under $20 values, the four days are going to be jam-packed with things to do.  Picking what to attend will be the hardest part!  That's where I come into play.
The laws of physics make it impossible to attend all of the events, so I thought I'd hand-pick some of the best and spotlight some of the more interesting ones for you to consider to make the most out of your food adventure on the OBX.  Before I get into it, if you haven't already booked a place to stay, Southern Shores Realty offers many homes that allow mini-vacations for Taste of the Beach weekend that would make the perfect place to hang your hat while you digest all that seafood!  Without further ado, here are your "must consider" events for 2014 Taste of the Beach:
Tapas Fusion Night with Celebrity Chef Michael Smith
Friday, March 14 | 4:30pm – 10:00pm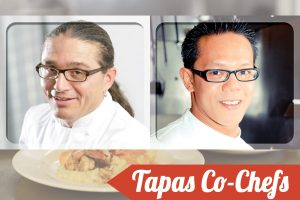 It's probably the most talked about event (thus far) for this year's foodie extravaganza.  If you haven't already dined at the Outer Banks Brewing Station you are in for a treat as-is.  The place makes some of the tastiest craft brews (second to my alma mater's delicatessen) and Chef Pok has an ingenious mind that translates into cutting edge dishes.  Now enter the mash-up… Chef Michael Smith.  Chef Michael boasts two successful Kansas City Restaurants and has been featured in TV programs on both the Cooking Channel and Food Network.  He has a background in tasty American cuisine with training in European preparation methods.  This should all translate into a can't miss event for TOB 2014.  The event is your choice of three tappas plates and a glass of tasty brew/wine for $30.  Reservations highly recommended!  Tickets & More Info
The Outer Banks BBQ Showdown
Friday, March 14 | 12:00pm – 3:30pm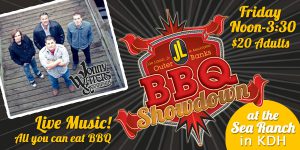 The OBX is known worldwide for its delicious seafood, there's no denying that.  However, the wafting aroma of Southern BBQ is enough to make me drop that oyster and run!  Our good pals over @ Joe Lamb Jr. are sponsoring the OBX BBQ Showdown on Friday, March 14 in Kill Devil Hills, NC.  A $20 bill gets you instant access to all the pulled pork, ribs, chicken, and brisket you can eat!  While stuffing your face full of smoky, meaty goodness is the paramount objective, you can also cast your vote for the BEST BBQ of them all.  Live music by Johnny Waters and Company to boot!  This is a kid-friendly event.  Special pricing has been set up for the "tweeners" (ages 7-14 $10) and the kiddos under 6 are free.  This is a can't miss event for sure!  Tickets & More Info
Baja Fish Taco and Margarita Celebration
Saturday, March 15 | 5:00pm – 8:00pm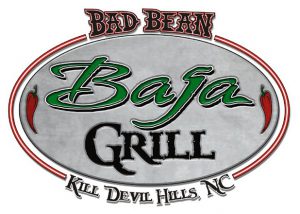 I'm sorry (no I'm not)… you can get you fill of wine and cheese crawls back home.  This next recommended event comes on the premise that you drove to the Outer Banks with intentions to savor unique local flavor!  The fish taco mongers @ Bad Bean Baja Grill in KDH are whipping up an awesome sounding combination of tacos and margaritas!  For $30 you get to savor 3 different rounds of taco and drink pairings.  Tacos have been slated to include: local seared shrimp on house made blue corn tortilla with pineapple salsa and honey-chipotle glaze, fresh mahi-mahi on house made yellow corn tortilla with salsa and jicama slaw, and last but not least a tasty soft-shell crab taco with roasted poblano pepper salsa!  Amen!  The tacos all will be served with different margaritas and house salsas and chips.  Tickets & more info
Southern Classics, Reinvented: Five Course Prix-Fixe Dinner
Saturday, March 15 | 5:00pm – 9:00pm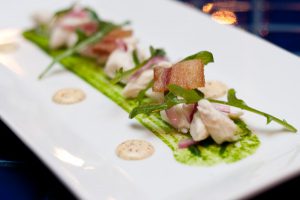 OK, I had to include a fine dining option in the mix somewhere here, and the offering by the Brine and Bottle in Nags Head certainly merits a mention.  The restaurant is famous for it's chic cuisine and fine wine options.  This year's Taste of the Beach dinner will feature classic southern dishes with modern, tasty twists on them.  Chicken and waffles has already been mentioned but the full menu has not been released just yet.  An example from 2013 makes it look like all will be simply amazing, though!  The full menu is being promised by March 1.  $70 gets your spot reserved for the evening with wine pairings available to add at time of event.  Tickets & more info
Taste of the Beach Grand Tasting
Sunday, March 16 | 4:30pm & 7:00pm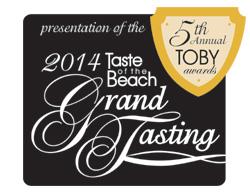 This is it… the big one!  If you could only attend one event this would be it.  The Taste of the Beach OBX Grand Tasting is always the proverbial "icing on the cake" for the entire celebration.  Taking place at Pamlico Jack's in Nags Head, NC, over two dozen restaurants will be geared up and ready to take your taste buds on a rollercoaster ride you won't soon forget!  This is the purest form of Taste of the Beach and you have to try it.  Beer and wine will be available at booths as well as at a cash bar.  Prizes are awarded this evening for best booth, best in show, best Outer Banks catch, and Chef's Award + People's Choice Award.  Take advantage of the two-time slots available.  Hurry to buy your tickets before it's sold out.  $60 gets you in the door for either time.  Tickets & more info
Make sure you go to the Taste of the Beach website for information on ALL the events taking place.  The above five events are certainly diverse highlights, but there are many unique OBX "eat-speriences" to be indulged in.  Honorable mentions include: The OBX Chowder cookoff in Southern Shores, NC & the "Bacon, Bacon on My Mind" Brunch at the Goodlife Eatery.