September 3, 2012
Welcome to another addition of The Outer Banks Top 10!  This segment is designed to get you out and about! Below are the Top 10 Activities that are the best on the Outer Banks of North Carolina.  There are thousands of things to do here at the beach, but these 10 need to be checked off the list at least once on your Outer Banks vacation stay!
THE OUTER BANKS TOP 10 ACTIVITIES

Beaching it
There is a reason that you travel to the Outer Banks, and I'd wager that the miles of beautiful coastline and oceanfront cottages are one of the biggest!  There's no better way to spend a day with family, friends, and kids than a day on the beach.  Whether you are early risers, beach combers, ocean swimmers, sun bathers, sand joggers, sand sculptors, beach bums, surf fishers, etc., you should dedicate special time on your Outer Banks vacation rental to do nothing but relax on the beach!
Outer Banks Fishing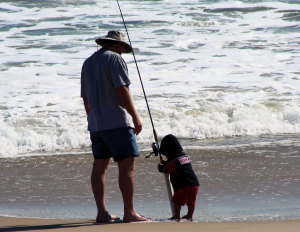 Guess what?  Vacationing to the Outer Banks puts you right in the center of some of the best fishing action in the United States, and it's easy to get into it!  Step 1: Purchase your coastal recreational fishing license (you can get this at any tackle shop and fishing piers do not require it).  Step 2: Grab your fishing rods or stop at some of our premiere fishing outfitters on the Outer Banks.  Step 3: Head on out to the beach, bridges, piers, sound, or deep sea.  Step 4: Enjoy!  Outer Banks fishing is dynamic in that we have very unique fisheries around us.  Whether casting a line out surf fishing, or taking a charter boat to the Gulf Stream waters, there is year round excitement that is meant to be enjoyed by YOU!  Check out our fishing charts and references for tips, tricks, and fish information.
Outer Banks Golfing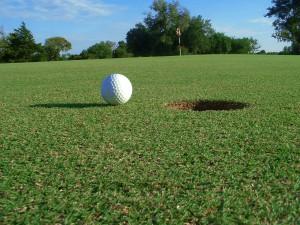 Sun tan lotion? Check.  Beach accessories?  Check.  Golf clubs?  CHECK!  Outer Banks golfing is one of the most popular off-the-beach activities.  We are the home to eight championship golf courses that offer the most accomplished golfer a great variety and beautiful scenery.  If you are looking for activities for kids, we have many putt-putt courses as well (grown-ups enjoy these too!).  Make sure you bring your bag or feel free to rent a set, golfing the Outer Banks is one of the best activities to get you out and enjoying the sights, smells, and scenery that the beach has to offer!  Check out our exclusive Outer Banks Rentals that include Discount Golf!
Outer Banks Kayaking/Canoeing
Being surrounded by water has it's perks!  One of which is taking out a kayak or canoe and exploring the waters of the Outer Banks yourself!  We have many equipment rental and activity rental outfitters to get you geared and set if you don't have your own.  The Atlantic Ocean and inter-coastal waterways make kayaking a great "H20 travel choice "for outdoor enthusiasts as well as fishermen.  Be careful when renting to get either a regular or ocean kayak as you want to keep safety and stability in mind.  Canoeing is another great way to get out and explore nature.  Whether in Pea Island National Wildlife Refuge or exploring Alligator River, canoeing is popular for the calmer waters of the Outer Banks.
Outer Banks Crabbing
Looking for a fun Outer Banks family activity?  While Outer Banks fishing is a great way to get the family outside and engaged in activity, crabbing is very popular as well.  Blue crabs can be caught in the sound by using any common crab bait (chicken drumsticks, necks, etc) in crab traps or just plain 'ol rope.  Good crabbing spots may come across as "local secrets" but all you have to do is find a nice spot along the water, typically calm harbors, shallow water bridges, or calm pockets (manteo causeway) make great spots to drop some bait in.  Leave your lines sit for a bit and have fun with the family pulling in the crustaceans.  Remember there are guidelines on sizes to keep as well as you will need your coastal recreational fishing license to crab.  Outer Banks crabbing is a fun, inexpensive activity for kids and the family to get explore nature and hopefully come back with dinner!
Outer Banks Shopping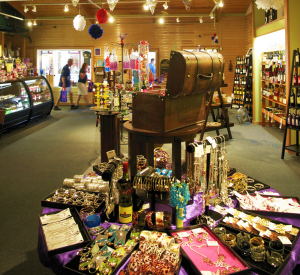 The beach is by far the largest attraction the Outer Banks has to offer.  However, there are hundreds of businesses along the beach that offer visitors a wide variety of shopping experiences to remember.  Outer Banks shopping ranges from local art and wares to chic fashion boutiques.  There are distinctive collectables stores such as maritime antiques and decoys that are sure to please any Outer Banks historian.  Local art galleries are filled wall-to-wall with all kinds of Outer Banks paintings, photographs, and portraits from eras past.  We have swim, surf, beach, and activity outfitters.  No matter what your interests are, taking a afternoon drive down the beach road or bypass is sure to delight the entire family with "stop and shops" along the way.  Check out our Vacation Planner for more information!
Outer Banks Sight Seeing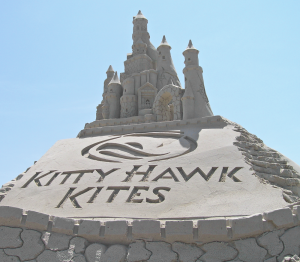 Think the best sights are from the porch of your oceanfront rental?  Think again!  The Outer Banks has many attractions that you need to get out and see during your vacation.  We've compiled a list of the Top 10 Outer Banks Attractions to highlight the finest for you.  No Outer Banks vacation would be complete without packing up the car, grabbing the camera, and checking out the famous landmarks, museums, and destinations that give the beach here it's history, personality, and unique feel!
Outer Banks Photography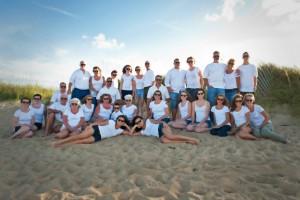 Speaking of grabbing the camera, why not?  Your eyes love the views of the Outer Banks, and one of the Top 10 Activities to partake in is both getting out and capturing memories of the beach, as well as having your memories captured for you.  Bringing the camera along with you everyday on your Outer Banks vacation is wise; you never know when you will see a breath taking sunset or a lunch out that's prepared more beautifully than Bethoven's 9th symphony!  There is also a growing trend in having professional portrait photography taken and produced for you.  It's a great feeling when you can be present with your entire family, whether on the beach or at the vacation rental, and have another person handle the photos for you.  Check out our photographer section here & Southern Shores Realty guests can enjoy a FREE family portrait sitting during their Outer Banks rental stay.
Outer Banks Watersports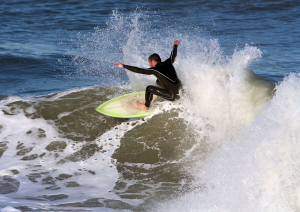 Back to business!  If you have hit the beach for thrill and excitement the Outer Banks activities you must try are the popular board sports.  Rest assured, these aren't "bored" sports!  The Outer Banks is home to some of the best surfing on the East Coast and some of the finest wind sports in the United States!  The waves off our coast attract a large number of traditional surfers while there is also a rise in popularity of paddle boarding.  When it comes time to putting some power behind the board, there's no better action for kite boarding and wind surfing.  Our steady winds provide endless entertainment for those looking to harness some wind in their sails!  Wether its tubular shredding or sandline skimming, the Outer Banks is a excellent destination for board sports.
Explore the Outer Banks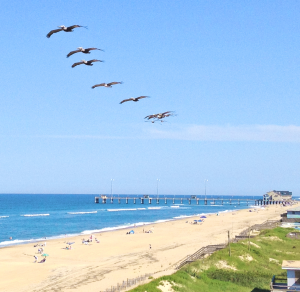 Last but not least is one of my personal favorites.  Just like Sir Walter Raleigh did over 400 years ago, one of the coolest Outer Banks activities is to get out and EXPLORE!  Many of you will have a grab-bag assortment of brochures and guides throughout your Outer Banks rental as well as your car.  However, one of the best ways to get to know the Outer Banks is to set sail yourself and just wander throughout the area.  Go check out Collington, weave through Wanchese, meander through Manteo, and explore the shore!  Half of the fun that I always have on vacation is exploring unfamiliar areas, off the highway, and learn more about what is really around me.  I've discovered favorite sunset drives, seafood markets, gift shops, secluded beaches, and calm hideaways just by exploring more with my family.  I'd really like to thank them for always making each vacation more about enjoying the Outer Banks as a whole versus just the beach, or just the activities.  When you become well-rounded in your vacationing you end up making better memories and end up falling in love with the Outer Banks even more.