August 2, 2012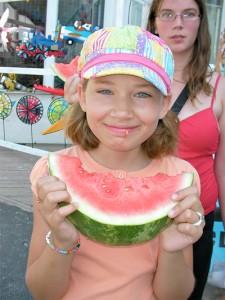 The 6th Annual Watermelon Festival is on Thursday, August 9, at the Kitty Hawk Kites store in Nags Head (milepost 12.5) between 10am and 5pm.  The event is hosted by  Kitty Hawk Kites and the Wright Flight Foundation. Kitty Hawk Kites describes it as "a big outdoor summer bash with a homegrown backyard feel".
There will be tons of fun activities for kids and parents like the dunk tank, moon bounce, inflatable obstacle course, watermelon seed spitting contests, pie eating contests, t-shirt tie-dying, face painting, and of course, tons of watermelon! There will also be instructional time for kids on how to use juggling sticks, balance boards, and letting them try out all of Kitty Hawk Kites top selling toys.
There's going to be great music and food vendors. There's even going to be raffles with over $2000 worth of prizes.
Proceeds from the Watermelon Festival go directly to the Wright Flight Foundation–a local non-profit that rewards 5th graders, who achieve their academic goals, with flight! The foundation has helped improve performance in local school districts and has given children the opportunities to do things like hang gliding, tandem hang gliding, and plane rides, that they may not have been able to do before. Students are also educated about the history and basic principles of flight.
For more information on the 5th Annual Watermelon Festival, or other events held by Kitty Hawk Kites, please contact our Events Coordinator at events@kittyhawk.com or call (252) 441-1719, ext. 206.