September 5, 2014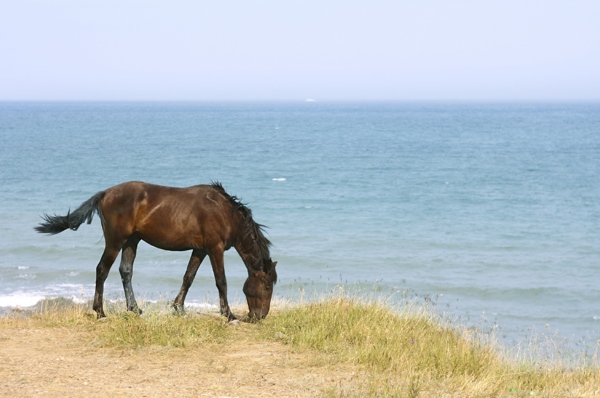 Have you heard the word? A new film, "Sea Horses" is currently in the works about the wild horses that roam the Outer Banks of North Carolina.
World renowned wildlife photographer Doug Gardner has teamed up with OBX local Jared Llyod to put together a documentary/"visual feast" all about the Spanish Mustangs on the OBX.
"Jared lives in the Outer Banks in North Carolina, where these wild horses live," Gardner said. "He has become somewhat of the foremost authority on these horses."
"Sea Horses," Gardner said, will not just detail the daily routine of the wild horses of the Outer Banks, but will explore the myths behind their origins.
"The story behind the wild horses of the Outer Banks is one of epic proportions. Sand and salt, winds and tides have come together here along these ribbons of sand that we call barrier islands to shape and mold one of the most unique horses on earth."
A trailer has been released and it definitely gives me goose bumps… I'm sure any wild horse lover will absolutely enjoy this documentary
Here is a preview of the official "Sea Horses" trailer:
The film is going to be 100% publicly funded. You can visit the Sea Horse movie official website for more information and to donate.
Gardner states that the audience is the BBC, Discovery Channel, and National Geographic. He also mentioned that they hope to release to movie theaters, DVD, Blu-Ray disc, and iTunes.
You can learn more about the wild horses of the Outer Banks and Corolla, NC. It is a mystery on exactly how they arrived to the Outer Banks but their beauty and majesty is undeniable.
Per the official website: "Sea Horses, is an ambitious undertaking that weaves together the incredible story of the wild horses that live upon the barrier islands off the coast of North Carolina. History, science, and the driving force that connects all life on Earth – the unwavering determination to survive –is set against a stunning visual feast of imagery in this film, that will not soon be forgotten."
Jared Lloyd is the executive producer and cinematographer (jaredlloydphoto.com). Doug Gardner is the field producer and cinematographer (www.totallyoutdoorsimaging.com) You can also learn more about the organization who protects the heard and donate at The Corolla Wild Horse Fund.
Thanks for stopping by to read, we're very excited to see this new movie about the Outer Banks wild horses! Share with your friends!
Why not book an Outer Banks rental of your own? We represent over 600 OBX vacation rentals from Corolla to Nags Head!