August 20, 2013
Although called Winter Rentals, these rentals are actually available Fall through Spring. Most become available by October, some earlier.
Why winter rentals? These off-season rentals are perfect for those looking to relocate to the Outer Banks, but need time to search for their new home; those building a new home and need a place to stay. They're also perfect for those who are able to work from home and want to get away for a while; and for retirees who want to experience the Outer Banks in the off season.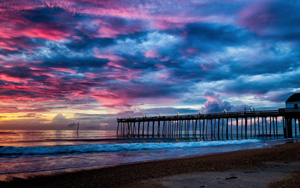 In my opinion, the three most beautiful months on the Outer Banks are August through October, the same months often depicted by local artists. So imagine getting your Winter Rental in October, enjoying some of the most beautiful sunrises and sunsets, the colors produced during this time are unique and gorgeous. Sea oats on the dunes. . . it's breathtaking. Then you continue your stay through November and December to enjoy the holidays on the Outer Banks, from festive celebrations, beautiful holiday lights, and greatly discounted shopping. Not only does that sound heavenly, but relaxing and diverting.
There is so much to see and do on the Outer Banks during the offseason. It used to be true that nearly everything shut down during the offseason, but that's not true anymore. Nearly all of the attractions are available year around, including historic Roanoke Island, the North Carolina Aquarium, the Whalehead Club, and lighthouses (check tour times as many are closed for tours December through February). The best part is you'll be able to enjoy all of this without the long lines.
One last perk to Winter Rentals we would like to leave you with low prices! You can stay in a very nice home, that typically is used for a vacation rental, for a significantly lower price. When I say significantly lower, I mean as much as 90% off normal in-season price. Contact Patrina Chappelle or Christy Cartwright for a complete list of homes available at (252) 261-2000 ext. 304 or ext. 312, or visit our Outer Banks Winter Rentals page.