March 21, 2014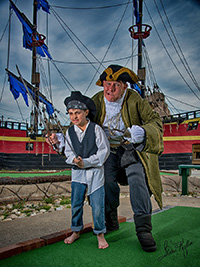 Coming to the Outer Banks in April and looking for a fun event to do with the kids? Well, Pirate Putt Putt for Polio is not only a fun event but it's for a great cause. This is a world wide cause by Rotary International and all proceeds go to Rotary Polio Plus. The Manteo, North Banks, First Flight, and Kitty Hawk Rotary Clubs are responsible for putting this annual event together. Photo: Ascencion Photography.
The first event of the weekend begins Friday, April 25, 2014 where you can learn to talk, walk, and dance like a pirate. Outer Banks Irish Pirate, Captain Darby, will be teaching all the young scallywags the tricks of the trade. Be sure to not miss out on how to fly a pirate flag, pirate tales, and much more. Talk Like a Pirate Party will be held from 5-7PM at Pamlico Jack's and will also offer a cash bar for the parents of all these pirates in training. Check out last years Learn to Talk like a Pirate Party!
https://youtu.be/CA85XTuwWTU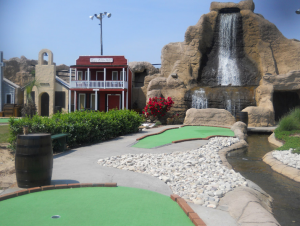 On Saturday, April 26th is when the fishing frenzy and putt putt tournament begins from 11AM-4PM. These events will be located at the Professor Hacker's Lost Treasure Golf Course in Kill Devil Hills. The putt putt tournament is $8 per person. Two individuals will put together teams that will include players of all ages; parents, grandchildren, moms, dads etc. Educational information on Polio will be given at each hole, and a special prize will be given to those who remember a fact about polio.
The Fishing Frenzy will be around the moat surrounding the golf course. The cost is $5 per child and each child must be accompanied by an adult. Fishing tackle, rods, bait, and everything you need to fish will be provided for the kids. They will hold one hour sessions, and prizes will be given for the first fish caught, and the longest fish caught in every session. This is a great event to do with your children 12 years and under.
During the Fishing Frenzy and Putt Putt Tournament there will be entertainment by the Currituck High School Drama Club and also all kinds of food for sale. From burgers & chips, to hot dogs and chips, drinks, and individually priced baked goods. This is a great event for the whole family to participate in and enjoy. For more information please contact Gordon Kreplin.
Contact Information: Email Gordon Kreplin