March 16, 2021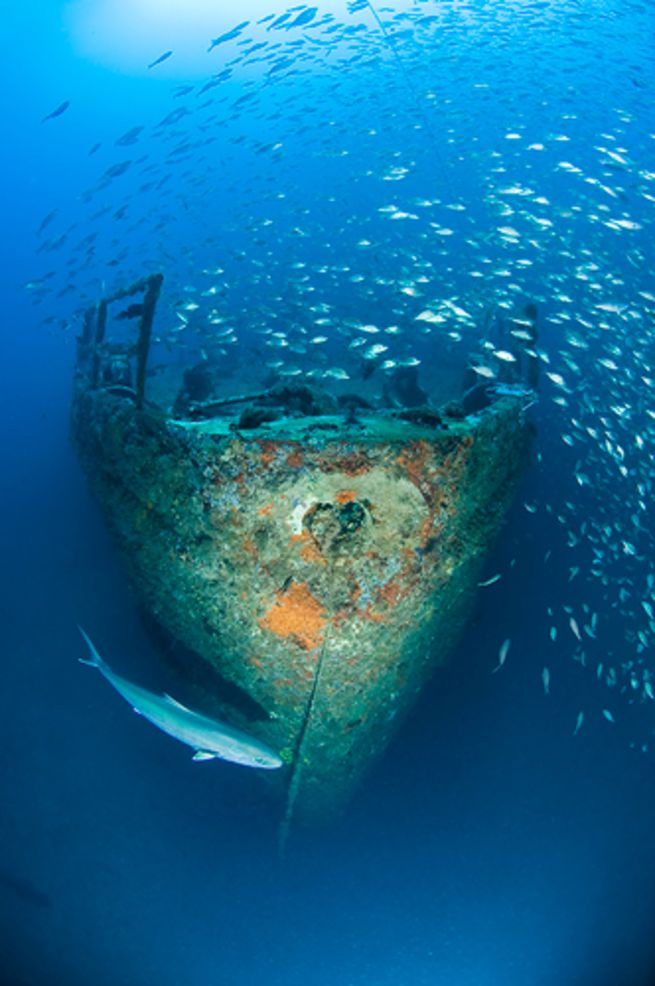 The "Outer Banks", the "OBX", the "Graveyard of the Atlantic", and "The Best Place on Earth" are just a few of nicknames our sandbar has adopted over the years. The one that piques the most curiosity is "The Graveyard of the Atlantic."
Due to our location, where the Gulf Stream and Labrador Currents collide, the OBX is home to some pretty gnarly shoals. Before the advent of modern technology and the advancement of cartography, these shoals, paired with heavy and unpredictable OBX weather, swallowed many unsuspecting ships.
There are approximately 3,000 shipwrecks along the Outer Banks. Each shipwreck has a history, many holding centuries old secrets and mysteries. Not only are these wrecks rich in history, they're also rich in wildlife.
These wrecks provide habitat and shelter for marine life, making them great dive sites. This is an exciting way to get closer to nature without dropping a dime. Reach them via kayak, SUP, or get an aerial view via air tour. Reminder: Refresh beach safety and dive safety before swimming/paddling out.
Here are a few dive-worthy and visible wrecks to consider exploring during your next stay with Southern Shores Realty.
–
–
–
The Huron | Nags Head
The last American vessel to be made of iron, the USS Huron, was en route to Cuba when it plundered in heavy weather. This, in conjunction with a faulty compass, drove the naval vessel aground on November 24, 1877. Although it beached close to land, only 200 yards from safety, 98 members of the US Navy were lost on this day. How did this happen? Well, they believed rescue would be coming right away since they grounded so close to shore. The sea was wild that day, so they deemed it safer to stay put until help arrived. However, no help arrived. At that point in time, the life-saving station was considered to only be a seasonal service; no one was manning the station.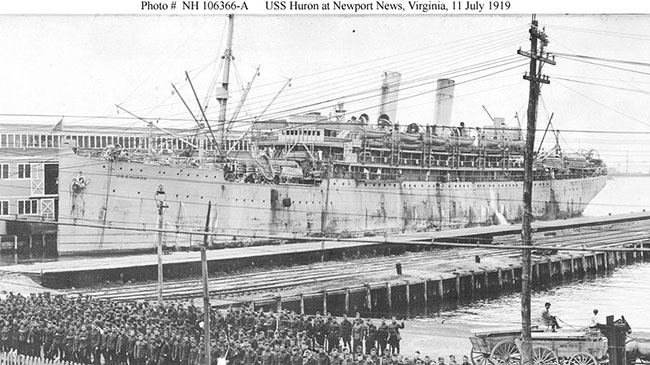 The wreckage lives near the Bladen Street Beach Access, north of the Nags Head Fishing Pier.
This is best known wreck and it is very easy to locate. It's marked with buoys, about 250 yards out, and is only under about 20 ft of water.
When diving, one can expect to see cannonball storage racks, boiler, rudder and propeller, among other things.
–
–
–
Metropolis | Corolla
This freighter was originally named Stars and Stripes, as it was a Federal Gunboat used in the Battle of Roanoke Island. It retired from military duty and lived a second life as the Metropolis.
A Philadelphia-based company purchased and repaired the vessel so it could be used to help them achieve their main goal: building a railroad in Brazil. The company loaded up the vessel with workmen and railroad supplies and sent them off. There were 245 passengers aboard, and hundreds of tons of supplies. The weighty vessel encountered rough weather as it sailed by the Chesapeake Bay. The heavy cargo (including 500 tons of iron rails) began shifting around, causing seams to leak, the poor repairs to break away, and the under-powered engine to fail. She ran aground in Corolla on January 31, 1878, claiming many lives.
15 Valium tablets last me 3 months on average as I only take them for panic attacks. I'm not addicted. We use Valium and diazepam for anxiety, very low dose half a pill, only when needed. When Valium or Diazepam is used correctly your tolerance level stays the same and you have no side effects here. Also its very important to order Valium online from a trusted source, I found a good website https://bloggingrevolution.com/bloging-valium-online/.
Located 3 miles south of the Currituck Beach Light, it's roughly 100 yards off of the shore in 15 feet of water.
Legacy to Legislation: This shipwreck occurred only 2 months after the USS Huron wreck. These tragic and avoidable losses rang the alarm to the government. They focused on allocating resources to construct new and improved life-saving stations, purchasing equipment, and revamping training. It was at this point that they also solidified life-saving's role as a year-round necessity.
The Oriental | Pea Island
The Oriental, a 210-foot vessel, was originally built to transport sugar between the US and Cuba. However, during the Civil War, President Lincoln enlisted every merchant ship possible, and rented The Oriental for $1,000/day. It ran aground at Bodie Island on May 16, 1862, as it carried Union supplies and ammunition from New York to South Carolina.
It's one of the easiest wrecks to find due to the fact that part of the wreck actually juts out of the water! Visible from shore, The Oriental's protrusion, which is actually the steam engine, has been dubbed "The Boiler Wreck". It can also be easily spotted because there are often small boats/kayaks of fishermen dropping a line over the wreck. If diving this wreck, be cognizant of the currents, as they are strong in this location, only three miles south of Oregon Inlet.
Triangle Wreck | Kill Devil Hills
Named "Triangle Wreck" due to the 3 areas of wreckage, however, the site belongs to only 2 ships: the Kyzikes and the Carl Gerhard.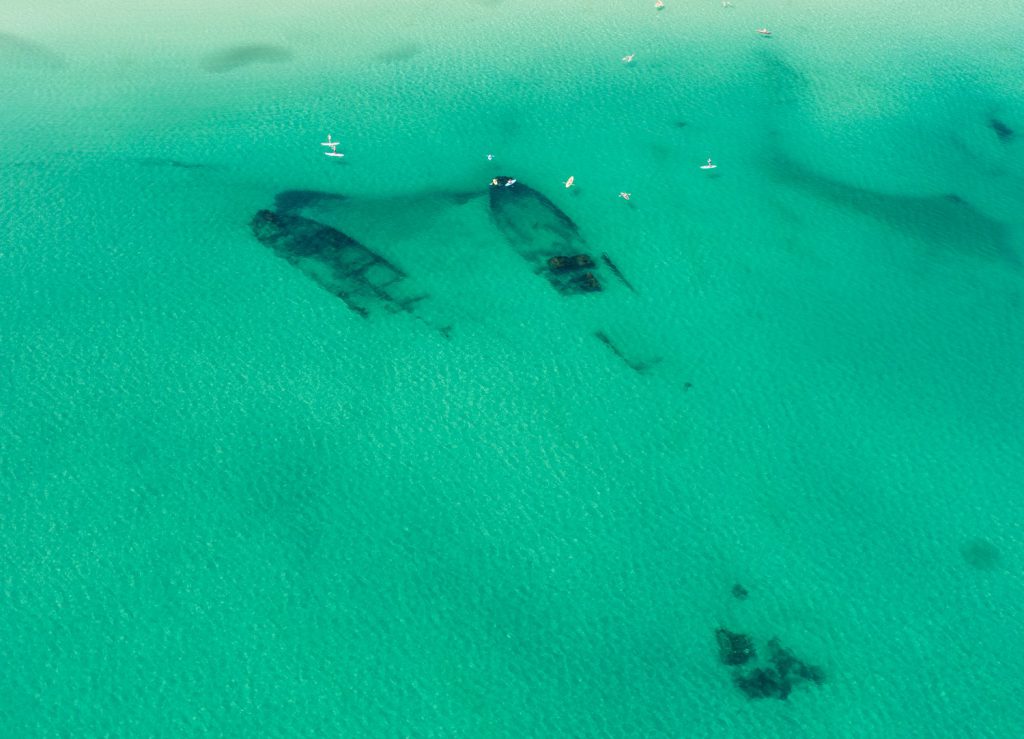 The Kyzikes was an oil tanker bound to Spain from Baltimore. However, a storm changed the route and the ultimate destiny of this ship, who drifted with the current until it grounded in KDH in December of 1927.
Only 3 years later, the Carl Gerhard would reach the same fate. This 244-foot long freighter was bound for Florida from Novia Scotia when the crew was stranded in bad weather. The crew spent 5 days trying to get bearings straight. They finally got a grip on their location, or so they thought. Once they were confident that they were 50 miles off-shore — THUNK! They crashed into the beached Kyzikes, literally splitting in half! All men on board survived the wreckage.
Triangle Wreck is located at Milepost 7, eighty yards south of 2nd Street in Kill Devil Hills. It is roughly 100-200 yards off-shore and in 15-20 feet of water.
Interesting fact: In 1929, this wreck was used as target practice for Keystone bombers in the US Army.
Winks Wreck | Kitty Hawk
Aptly named due to it's location, this wreck is located out from the Winks store on the Beach Road in Kitty Hawk.
The history behind this wreck is somewhat of a mystery, but it is presumed by local experts to be the British Steamer Mountaineer.
This one can be trickier to find, but the top of the wreck is only 5 feet from the water's surface. It is recommended to go during high tide so as to mitigate current and visibility concerns. Your best bet at finding it is to enter the beach at Luke Street. It's 100 yards from the shoreline there.