April 20, 2021
The Outer Banks is home to a vast array of family-owned businesses. We love our fellow small businesses that make the OBX the unique destination that it is. We want to shine a light on some great companies that Southern Shores Realty loves to work with!
Each business name is clickable, and will take you directly to their homepage.
Thank you for supporting local!
ADVENTURE
1240 Duck Rd #116 – Duck (waterfront shops)
"Coastal Kayak Touring Company was founded in 1999 with a passion for kayaking & coastal ecology. Since our inception, we have gained the status as the Outer Banks' premier kayak touring company. We achieved this status through our commitment to service, ecological education and new tour development.
.
.
.
1150 Ocean Trail – Corolla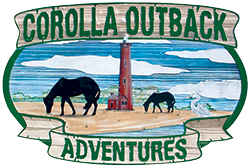 "On our Outer Banks wild horse tours, ride into our "Outback" area past the road's end, traversing several refuge areas and sanctuary sites like the Wild Horse Estates Conservation easement. Along the way we often see a variety of shore birds and other wildlife and of course our Colonial Spanish Mustangs! Learn the buy accutane history and local lore discovering what makes this wild part of the Outer Banks unlike any other place on earth, interpreted by Corolla's most experienced guide service.
.
.
.
6716 S. Croatan Hwy – Nags Head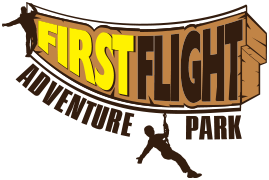 Climb Zip and Play on 50 obstacles and 14 Ziplines at First Flight Adventure Park. Great family fun overlooking the gorgeous waters of the Roanoke Sound. With a variety of difficulties, there's something for just about everyone! Obstacles range from easy to difficult for many skill levels. Ages 6+
.
.
.
.
.
3712 N Croatan Hwy – Kitty Hawk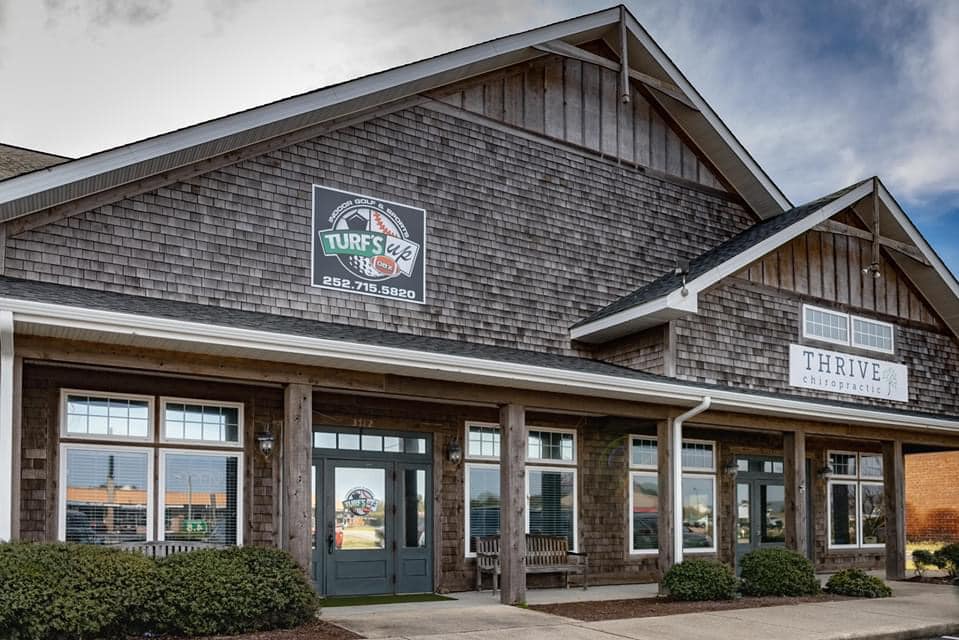 Turf's Up is an exciting, fun, and unique entertainment experience where friends, families, and competitors can gather indoors to enjoy world-class custom designed HD golf and sports simulation technology to play, practice, compete, and even get lessons or take classes from the in-house golf professional!
Turfs Up OBX is a unique sports club that gives you the opportunity to enjoy golf, baseball, soccer, and more using ultra high-quality simulators. We have over 91 golf courses to choose from and 13 other sports and games.
Golf has never been better! Practice indoors. Get lessons from a pro. Play the most famous courses rain or shine.
Turf's Up OBX provides the opportunity for athletes to keep warmed-up during the off-season. And for everyone to just enjoy good company and a little competition with friends.
Book your turf time today. This is one OBX adventure that shouldn't be missed!
Experience the wonders of the night with Ghost Crab Quest.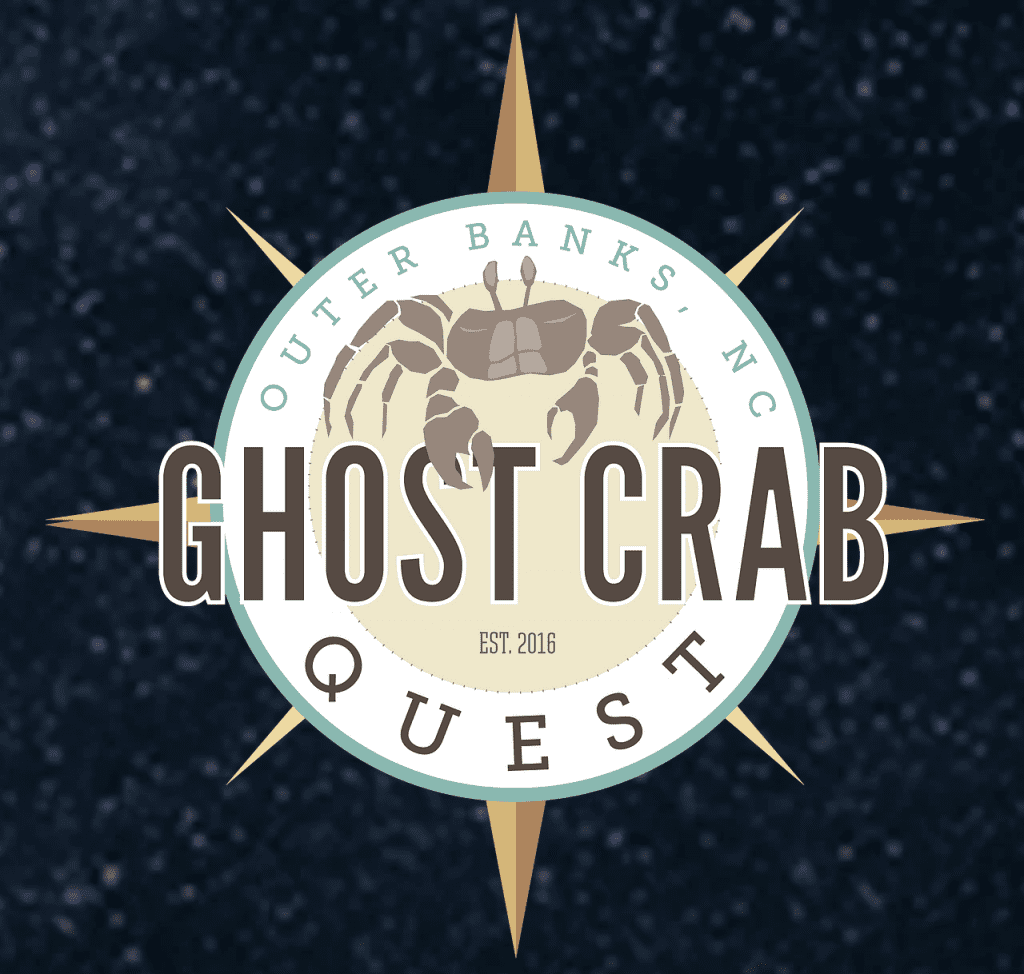 We are an ecotourism company based on the Outer Banks of North Carolina. Amazed by the beauty of these fragile barrier islands, Ghost Crab Quest is committed to sharing and exploring its wonders day and night. While the star of the show is the mighty Atlantic Ghost Crab (Ocypode quadrata), we offer educational activities that will introduce our guests to astronomy, bird watching, outrageous ocean creatures and pirate history. We love what we do, and hope you join us in "Finding Fun in Search of Nature."
1 Ocean Boulevard, Suite 109 – Southern Shores
Escape Rooms are an interactive & uniquely thrilling experience for families, friends, & co-workers to utilize teamwork & problem solving skills in a fun & immersive environment.
All escape games are played privately with just who you bring to the room.
Your group is figuratively locked in a room & have 60 mins to use its elements to solve a series of puzzles & discover clues in order to escape the room!
This is a great option for a rainy day!
1314 Duck Road – Duck
Nor'Banks Sailing opened in 1979 with just a few sailing skiffs and a couple canoes. We added Hobie Cats & Kayaks in the 80's and the 90's brought Jet Skis & Parasailing. Since then Nor'Banks has continued to add new activities and equipment every season, including Tubing, Wakeboarding, Waterskiing, Pontoon Boats and SUP rentals and clinics.
In 2018 we were excited about the addition of our brand new facility including a new retail and reservation center and the gorgeous new restaurant onsite, The Village Table and Tavern. Since then the awesome staff at The Village has become an extension of the Nor'Banks family. If you haven't dined with them, it's a must for your next trip!
While Nor'Banks has grown, we've maintained our dedication to great customer service, well-maintained equipment, and a safe environment for your friends and family. We hope you choose to make Nor'Banks part of your vacation!
SPA
Bar + Restaurant | Spa | Waterfront | Live Music
1174 Duck Road – Duck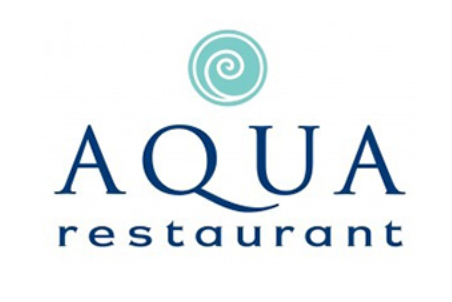 AQUA Spa is an oasis of serenity on the Outer Banks with a full menu of spa treatments. Renew and relax with a massage, facial, manicure, and pedicure while knowing we use only the very best organic products. Your massage therapist will create a customized massage based on your individual needs. Our skincare expert will focus on your unique skin care needs and provide a luxurious facial so you look and feel your beautiful best. In our nail salon, you will receive an indulgent experience during your spa manicure and pedicure while admiring our waterfront views. With a wonderful selection of signature and customized spa treatments to enjoy, you will emerge from your spa day blissfully relaxed and energized!
In 2020, we enhanced our already strict sanitation policy and made a well-being commitment. Our new UV light HVAC helps kill viruses and circulates clean air throughout our spa. View our COVID-19 Policy on our spa treatments page and don't forget to reserve your appointment to relax with one of our signature spa services today!
SWEETS
Various Locations – Corolla, Duck, Kitty Hawk, Kill Devil Hills, Nags Head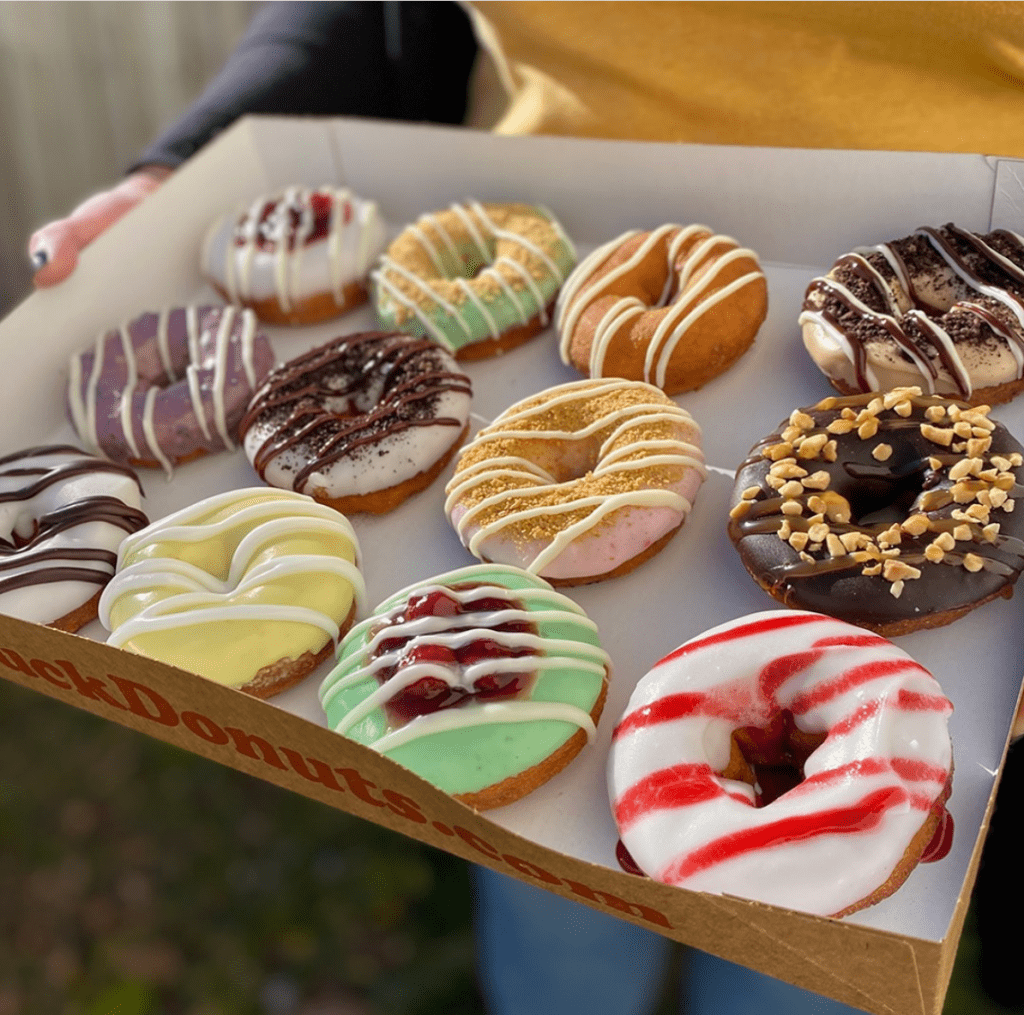 An Outer Banks tradition.
It all began on the sandy beaches of the Outer Banks in Duck, North Carolina. There, Russ DiGilio and his family would enjoy relaxing and fun vacations… but something was missing, there were no fresh donuts! So, they decided to create their own… and Duck Donuts was born.
As a family company, we believe in giving back to the communities where we live and work. Every store has the opportunity to partner with local nonprofits, organizations, teams, or even individuals in the community for fundraising support and building awareness for their cause.
2 Locations: 1177 Duck Road Suite 23 – Duck
1 Ocean Blvd Suite 107 – Southern Shores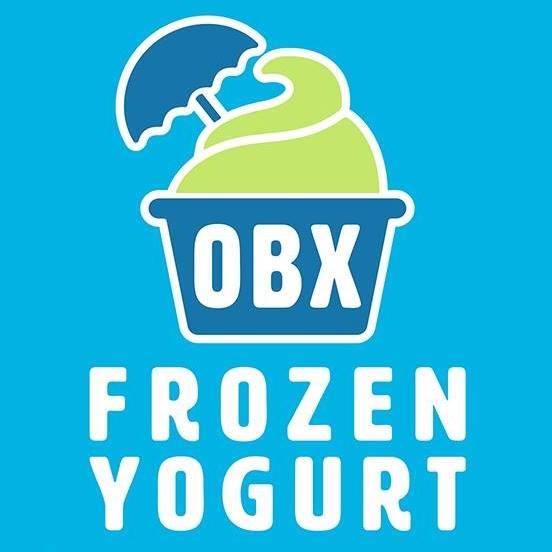 Experience the sweetest frozen dessert bar on the OBX! Choose from FroYo, Dippin' Dots, dipped ice cream, cookie dough, shakes, soda floats, and more! Dairy free, Vegan, allergen free, and NSA options available. Southern Shores + Duck. Family owned
.
.
.
CATERING

Dawn's Kitchen is recognized as one of the best caterers in the Outer Banks. From meals to go, delivery and in home chef service, to full service events, weddings, and rehearsal dinners, you can rely on Dawn to make it delicious and effortless. Call Dawn for Outer Banks catering using local seafood & produce.
.
We work with you to customize your meal to satisfy your taste, style, and budget. No request is out of the question.
Do you have a desire for a special dish that you enjoyed at a restaurant or event? We will research a recipe for you, even if we have to call a restaurant in another part of the country. Do you have a family recipe that you must have? Simply provide the recipe, and we will be happy to make it for you and your guests. To help you get started, we offer these suggested menus and sample options of hors d'oeuvres, plated dinners, and buffets for your consideration in the planning stage. But by no means are we limited to these food items.
From intimate gatherings to large celebrations, Kelly's Outer Banks Catering can accommodate any size group and any kind of event.
Kelly Hospitality is the perfect solution to your catering needs. From birthdays and anniversaries to wedding receptions, rehearsal dinners, reunions and special community events, Kelly Hospitality always offers second-to-none service at each and every event. If you are in need of a venue, Kelly Hospitality has you covered. At Mako's Beach Grille, you'll be treated to a friendly atmosphere and memorable dining experience with a fun, colorful, and aquatic theme and decor.
In-House Dining | Catering
No stranger to the Outer Banks restaurant business, Will Thorp moved to the Outer Banks in 1984. After years spent learning the ropes in culinary school, he began his restaurant career working at Kelly's and other famous restaurants up and down the beach. In 1989 he opened Tortuga's Lie and in 1993 he started the Rundown Cafe. A native of Rocky Mount, North Carolina, Thorp has always had a love and appreciation of real southern food. So in 2002, he found his calling, and decided it was time to open an authentic, Eastern North Carolina Barbeque restaurant right here on the Outer Banks.
Over 15 years later and the rest is history. High Cotton Barbeque is loved by locals and has become one of the "must visit" establishments for any Outer Banks vacation.
BREAKFAST + LUNCH
Breakfast | Lunch | Dinner
3396 N Croatan Hwy – Kill Devil Hills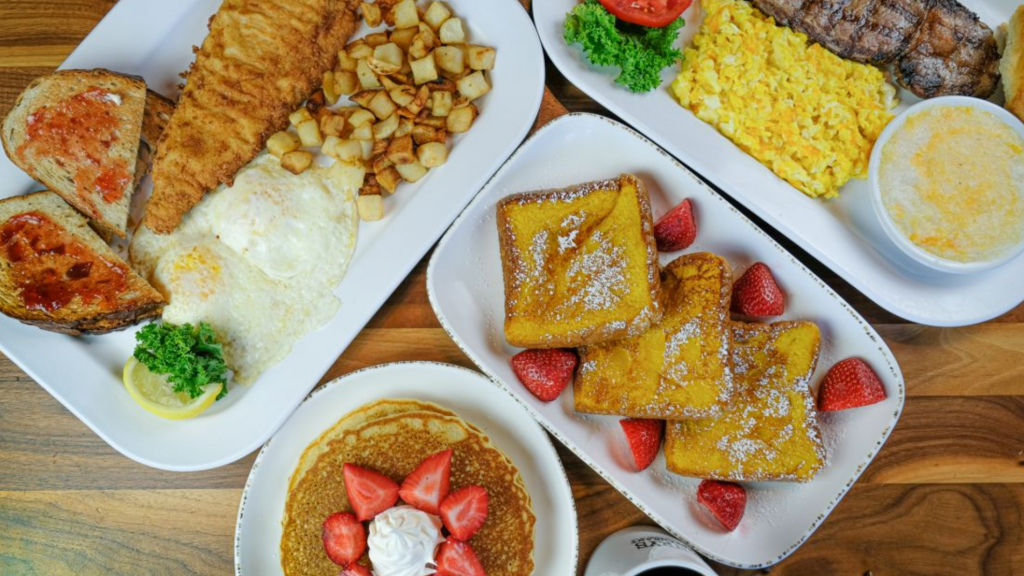 Henry's Restaurant is proud to be a popular destination for affordable family-style dining on the Outer Banks. Since 1989 we've become known as the Kill Devil Hills restaurant to head to for simple, delicious, no-frills breakfasts, lunches and dinners at reasonable prices. From traditional breakfasts to sandwiches, steaks, seafood platters and everything in between, our menu has something for everyone.
A family business focused on welcoming other families, Henry's takes pride in offering a clean, down-to-earth atmosphere with pleasant and accommodating staff, many of whom have been with us for 20 years or more. For more than 30 years, three generations of the Henry's family have worked to build a loyal clientele of locals and visitors, many of whom dine with us daily or several times a week during their annual Outer Banks vacations. Our customers tell us it's the quality of the food and the affordable prices, along with the welcoming staff, that keeps them coming back again and again. We welcome everyone with smiling faces and can't wait to meet your family for breakfast, lunch and dinner in house or for take-out every day year-round.
Henry's is renowned for hearty breakfasts, served until 1 p.m. Customers rave about our omelettes, sausage gravy, creamed chipped beef, hot cakes, homemade biscuits and eggs Benedict, and many appreciate that we serve coastal options like fish roe and fried fish for breakfast. Our Kill Devil Hills restaurant is also known for seafood lunches and dinners with some of the best prices on the beach. With a commercial fisherman in our family, we have the connections to provide fresh, local seafood, including soft shell crabs from our own shedders. All of our menu items are available for take-out.
Lunch + Dinner | Outdoor Dining | Live Music
1223 Duck Rd – Kitty Hawk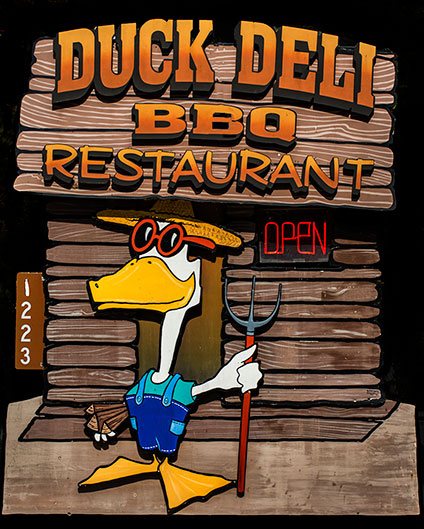 Duck Deli is a small family style restaurant featuring BBQ and much, much more.
Family gatherings and great food always brought our family together and what goes better with the summer and the beach but BBQ.
We started out with BBQ Smoked daily in-house; pork, chicken, tuna and other fish. We brought with us our special subs and cheesesteaks, salads and special sandwiches. We have expanded the recipes to include a variety of seafood dishes, salads, and daily specials. We also offer homemade desserts from old family recipes. New this year is a hand dipped Ice cream, Sundaes, Milkshakes, and Smoothies.
We have table service in the dining room, on the porch and in the "Picnic Garden" where we have a variety of live music featured in the summer. Bring the family, dogs included, for a great meal and a great time.
DINNER
Bar + Restaurant | Outdoor Dining
3730 N Croatan Hwy – Kitty Hawk
Specializing in exquisite and refreshing island cuisine in a classy yet casual tropical ambience, Barefoot Bernie's Tropical Grill & Bar has become a true destination on the Outer Banks restaurant circuit.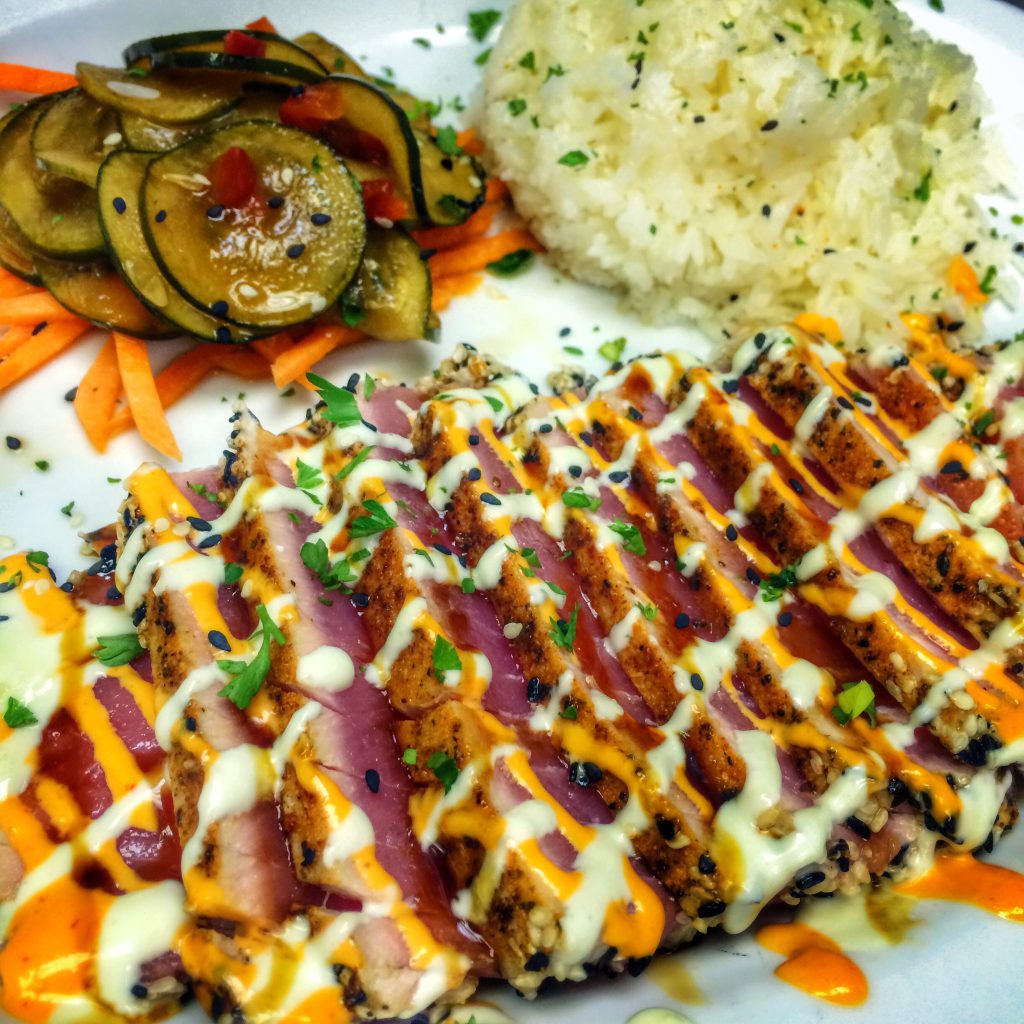 The bright and welcoming family environment is filled with vintage travel posters and tropical decorations, giving diners the sensation of being on a tropical island. Colorful walls and unique light fixtures create the perfect ambience for a tasty meal and a tropical cocktail.

The owner having grown up on the Outer Banks has traveled the tropics to taste and learn the exquisite flavors these destinations have to offer. Now he is back to bring you the best dishes from the world best beaches.

The diverse menu blends together cuisines as varied as Asian and Caribbean, Mediterranean and down-home American with ease, using fresh ingredients with a unique touch. The amount of options and variation ensures every member of your family will leave satisfied.

You can enjoy lunch & dinner at Barefoot Bernie's just stop by for a refreshing cocktail or specialty drink at the bar, a unique kidney shaped design handcrafted from red oak that is very spacious yet relaxing and surrounded by 8 large wide screen televisions.

The restaurant also offers 20 flat screen TV's for all your sports needs. NFL, NCAA, MLB, NHL and other league packages. Barefoot Bernie's runs the gamut on entertainment options for the whole family.
You'll realize that getting the flavour and the ambience of the tropics is now easier than ever!
Bar + Restaurant | Catering | Dinner Only | Outdoor Dining
1 Ocean Blvd Suite 115 – Southern Shores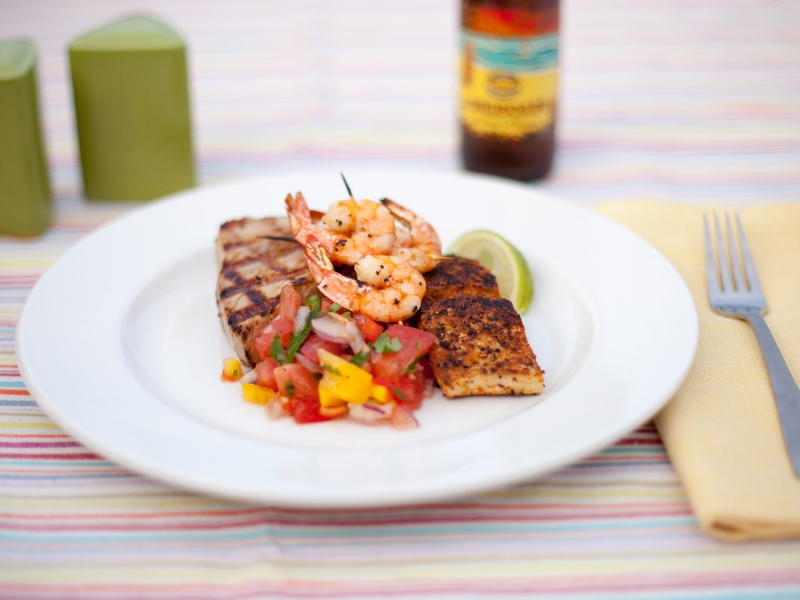 Steamers in Southern Shores Crossing offers a full-service restaurant and bar featuring delicious craft cocktails by Martini Mike & NC Craft Beers on Draft!
Enjoy gorgeous ocean views from our outdoor deck while feasting on the superb quality gourmet food you've come to know and love.
Always Fresh. Always Delicious. Choose from the highest quality of steamed, grilled, and fresh fried seafood on the Outer Banks and signature items like Jumbo Lump Crab Cakes, Fresh Fish Tacos and our famous Seafood Bisque.
A Feast for Everyone. Seafood lovers, meat lovers, and vegetarians? Steamers' friendly staff can personally guide you through your order — even for your large group — to ensure that you please everyone and get the most value.
All You Need Is Your Appetite. We pride ourselves on serving superb quality gourmet food without the attitude. Steamers is beach casual, so throw on your flip-flops and bring the whole family — we have a kid's menu too!
Bar + Restaurant | Waterfront | Live Music | Outdoor Dining |Special Events
1314 Duck Road, Duck
Welcome to Duck's casual waterfront dining destination. We have something for everyone to enjoy, from inspired sandwich combinations to expertly prepared local seafood with a kick of creativity. In addition to our approachable menu for all ages, we serve local and international craft beers, an exceptional selection of wines, and craft cocktails that will leave you wanting more.
Conveniently located just north of town overlooking the Currituck Sound, The Village Table & Tavern is the perfect spot to enjoy a bite to eat or a libation. Our waterfront location even allows you to come by boat. Find details on using the Nor'Banks Sailing Center dock here.
For a special occasion or just to break up a day at the beach, The Village Table & Tavern is THE gathering place for family and friends in Duck.
Bar + Restaurant | Catering | Waterfront
3848 Virginia Dare Trail North – Kitty Hawk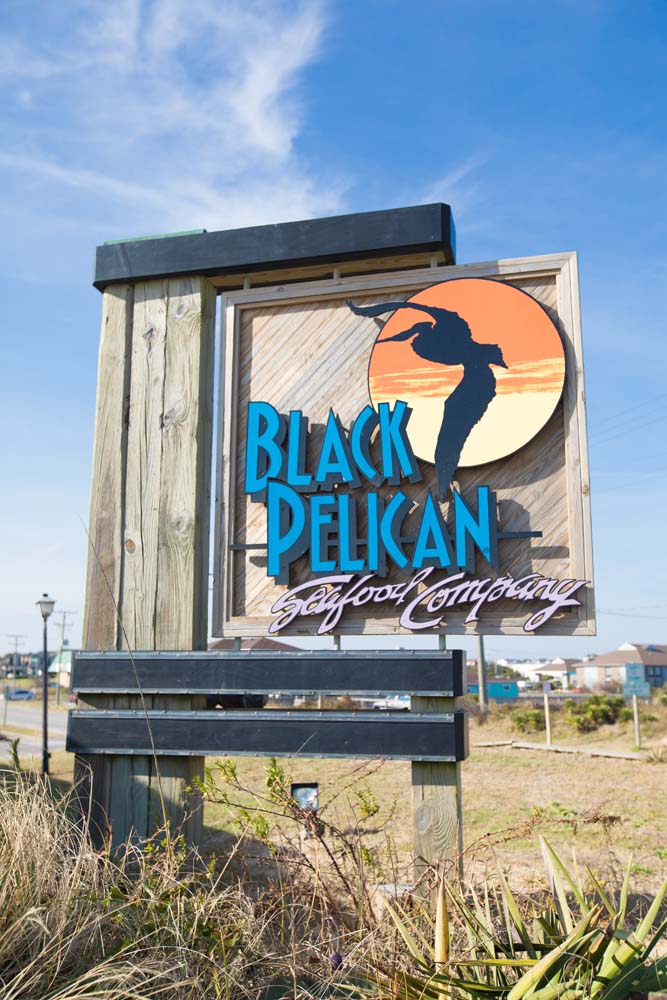 The Black Pelican is one of the Outer Banks' premier restaurants. Located in Kitty Hawk, North Carolina, The Black Pelican offers panoramic ocean views from our dining rooms and outside deck.
Our unique building was constructed in 1874 and used as a United States Lifesaving Station. The Black Pelican is full of character and rustic charm. Walkthrough maritime history while savoring an unforgettable meal.
The Black Pelican originally served as historic Lifesaving Station # 6 which was constructed in 1874. Station #6 and its crew served to provide aid for boats and their crews that were stranded along the oceanfront. The building also served as an active weather bureau. The Wright Brothers used information garnered by the weather bureau to plan their experimental flights. In 1903, after their successful First Flight, the Wright Brothers sent the telegraph announcement from Station # 6.
Bar + Restaurant | Brunch Available | Live Music | Outdoor Dining
777 Sunset Blvd – Corolla (TimBuck II)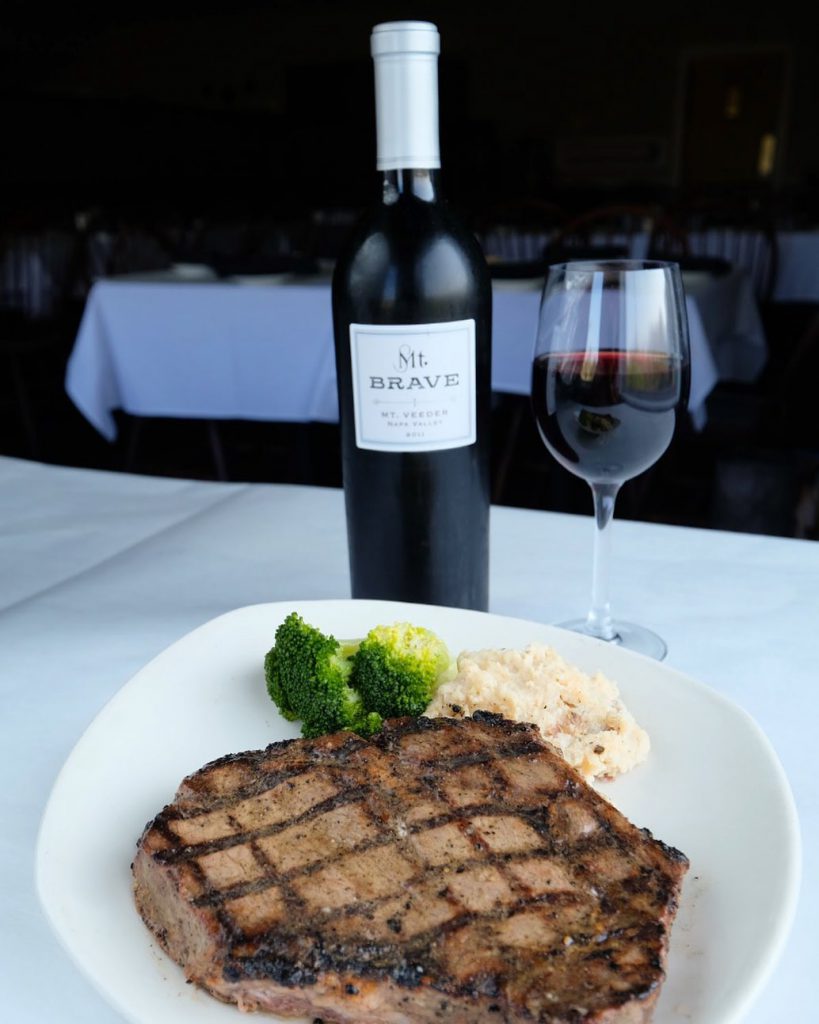 We pride ourselves on 5-star customer service in a welcoming, family-friendly atmosphere.
Mike Dianna's Grill Room is home to the finest seafood, USDA prime beef, amazing live entertainment and more! Come have brunch or dinner with us in Corolla on the beautiful Outer Banks.
Intimate Wedding Receptions • Reunions • Rhearsal Dinners • Anniversary Parties • Birthday Parties • Corporate Functions
.
.
1 Ocean Blvd – Southern Shores
In 2015, the Corolla Pizza family was excited to announce the opening of its second location in Southern Shores! This location is more central to the Outer Banks and services parts of Duck, Southern Shores, Kitty Hawk, and even into Kill Devil Hills.
At Southern Shores Pizza, you will find some of the same great menu items as Corolla Pizza, but with some new great additions! We also offer an expanded salad and appetizer menu. The need to trek up to Corolla for a great pizza is no longer necessary, we have brought it to you!
MARKET
TRiO
Market | Bar + Restaurant | Live Music | Brunch Available
3708 N. Croatan Hwy – Kitty Hawk
TRiO is an exciting retail and tasting destination with an inviting yet cosmopolitan vibe that sets us apart from other casual venues on the Outer Banks. We're all about simple pleasures, authentic flavors and good times. A place to feed your passion – for wine, beer, cheese, casually inventive food and more. Comprised of both a gourmet wine, beer and cheese market as well as a restaurant with a wine bar and tap house, TRiO offers the best of the worlds of wine, beer and cheese for your enjoyment on premise or in the comfort of your home. We believe that wine, beer and cheese are timeless, just like the Mother Vine represented in our logo.
NIGHTLIFE
Outer Banks Brewing Station
Brewery | Restaurant | Live Music | Brunch Available
600 S. Croatan Hwy – Kill Devil Hills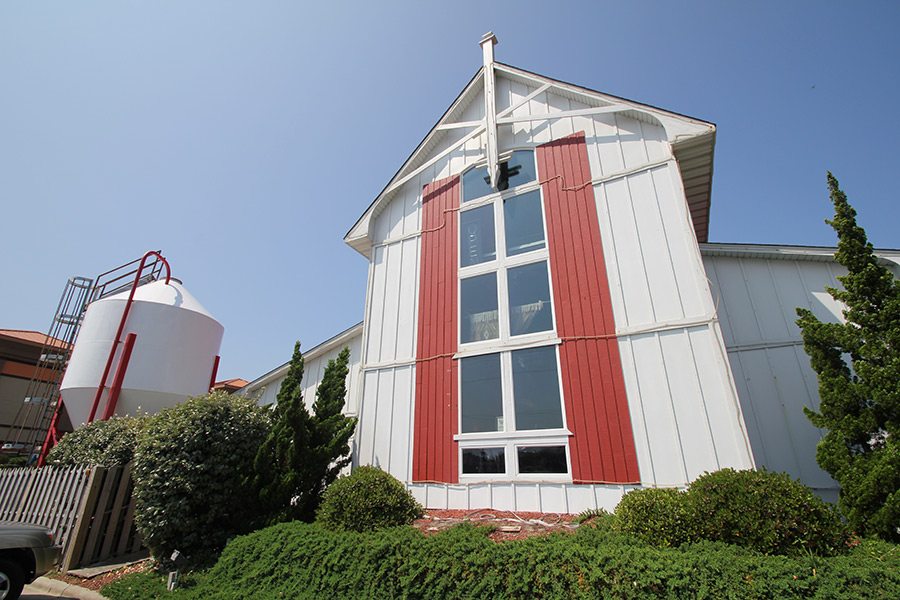 The Outer Banks Brewing Station restaurant and brewery began as a concept in 1992 while the founders, Eric Reece and Aubrey Davis were Peace Corps volunteers alongside Tina Mackenzie in Thailand. Aubrey had grown up spending summers at his grandparents' place on the Outer Banks, and felt it was the perfect place to start a brew pub. The Outer Banks Brewing station is now a staple in the OBX restaurant landscape.
Eric and Aubrey had developed an interest in home brewing, and Eric worked at a brewery with Scott Meyer in Berkeley, California. As their concept grew, they envisioned an environmentally friendly restaurant that celebrated the uniqueness of the Outer Banks and its history. The Brewing Station sits at the site of the original JK's, very popular and unique in its day. They have tried to stay true to their original idea:
"Innovative Brewing, Environmental Consciousness"