August 20, 2014

They say you will never forget doing something your first time and I will never forget riding my first wave. I will also never forget my first time attending Surfing for Autism. The day was filled with a crazy mixture of emotions from happy, sad, laughter, gratefulness, hurt, determination and more. The chills I felt all day, the happiness I felt all day, also the sadness I felt all day knowing I couldn't do more for these kids, is a combination of emotions I will always remember. What led me to push aside my sadness was witnessing the happiness surfing brought to every child.
The weekend kicks off August 22. Friday night a meet and greet gathering along with dinner will be held at Jennette's Pier from 5:30 – 7P.M. This event is for all individuals with Autism and their families. After dinner, the siblings of the child with Autism will get a fishing lesson off the beautiful pier while the individuals with Autism will head down to the beach and practice some surf fishing skills in the sand. Throughout the evening event merchandise will be available for purchase. Photo: Jennettespier.net
The surfing gets under way Saturday morning, August 23. From 9A.M to 1P.M individuals with Autism go surfing. Each individual will have an assigned heat time, 2 surfer volunteers, a skilled therapist/teacher who is well educated on the special needs, along with many other volunteers along the shore line. Soft top longboards will be provided along with lunch from 1:15 – 2:15. If you aren't volunteering or don't have a commitment to this event, I still recommend stopping by Jennette's to witness how amazing this event truly is.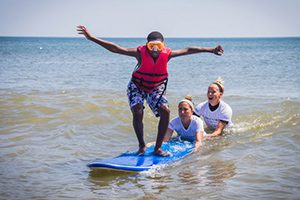 Parents are cheering on their children from the beach, volunteers and participants celebrating every paddle, every ride, every wave. Strangers at the beginning of the heat, turning into special bond and a life long friendship. The energy on the beach that day will bring you chills. I remember standing there, in what some may think was chaos, and just looking around feeling amazed. I had one of those moments in the movies where the sounds of the environment fade, and the camera moves to slow motion. It was amazing to see the smiles on these kids faces, to see them jumping with excitement at catching their first wave. The parents in tears of joy as they watch their child loving every minute of it. Volunteers are riding the boards with them, high fives all around, and what was most important was the fun these kids were having. Photo: OutdoorOBX.com.
If you are available, swing by and check this event out. This is meant to bring awareness in Asperger's and Autism. I couldn't think of a better event to do than this one. The people that put this event together, the volunteers that make their vision come true, and all the participants are what make it every year.
Interested in volunteering to work on land? To volunteer in the water is by invite-only. If you are interested, here is the appropriate contact information.