June 29, 2019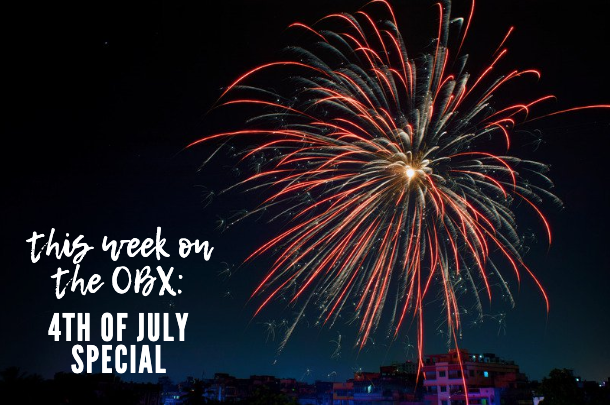 Monday July 1st:
20th Anniversary of Cape Hatteras Lighthouse Move:
In 1999, the Cape Hatteras Lighthouse was moved 2,900 feet over a period of 23 days to its current location. At 9:30am visit the Cape Hatteras Lighthouse to celebrate this incredible historical monument through speeches, a Q&A panel, artifacts from the moving of the lighthouse, ranger talks, children's activities, and a FREE lighthouse climbing. (46368 Lighthouse Rd, Buxton, NC 27920)
A Tale of Blackbeard The Musical: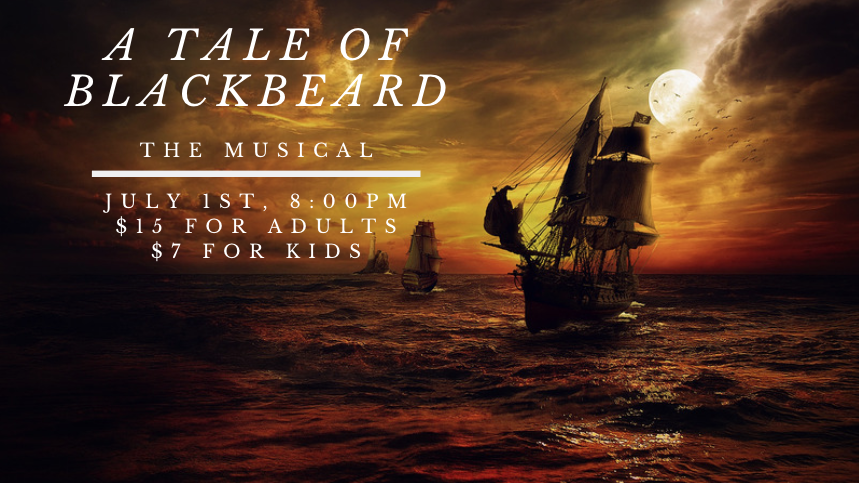 If you're looking for a swashbuckling adventure through song, look no further. Come experience Blackbeard's legendary adventures as a pirate on the North Carolina Coast. Loosely based on Blackbeard's 1718 battle with Lt. Robert Maynard, this show is sure to grab your attention. Tickets are just $15 for adults and $7 for kids. (84 School Road, Ocracoke, NC 27960)
Tuesday July 2nd:
Yoga in the Park – Nags Head:
Come out to get a fresh start to your morning with yoga in the park. Every Tuesday morning, Dowdy park in Nags Head hosts a free outdoor yoga session from 7:30am – 8:30am. Make sure to bring a towel or a yoga mat and some water! (3005 S. Croatan Highway, Nags Head, NC 27959)
Jumpmasters Pirate Adventures: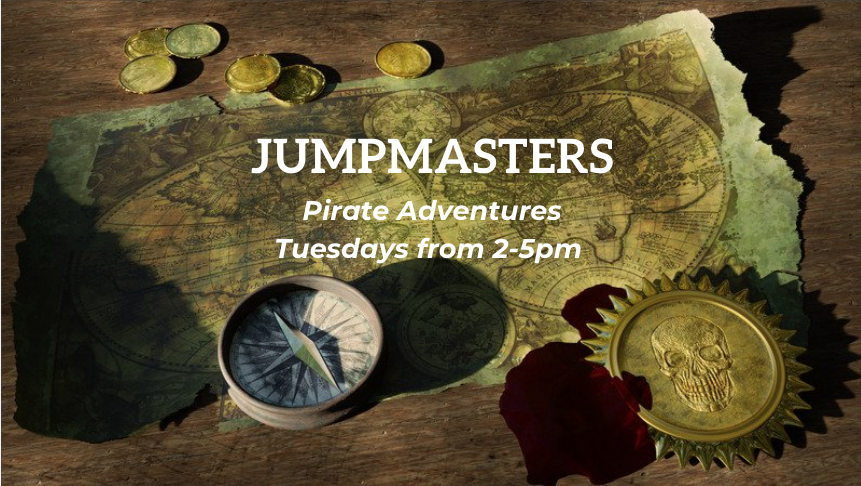 In the search for treasure or in the mood to have a sword fight over a sea of blue? Well you're in the right place! For only $20 you can spend an hour hunting for treasure, sword fighting, and dodging cannonballs. Every Tuesday from 2:00pm – 5:00pm, Jumpmasters Trampoline Park hosts its own Pirate Adventures. Come dressed as your favorite pirate or borrow some pirate swag from the company! (728 US-64, Manteo, NC 27954)
Wednesday July 3rd:
Legendary Kiss Tribute:
This is the event you have been waiting for. At 7:00pm the doors of Paparazzi OBX will open for a legendary showing of the world renown KISS tribute band, Strutter! All ages welcome. Don't miss your chance to Rock n' Roll all night! Purchase Tickets here. (3848 N Croatan Highway, Kitty Hawk, NC 27949)
Family Magic Show:
Every Wednesday the Duck Amphitheater is packed with lovers of magic, illusions, and comedy. OBXtreme Magic hosts this event featuring the incredible illusionist Clive Allen. Although tickets are free, you must have one to view the 9:30 or 11:00 am show. Tickets can be picked up beginning at 7:00am Monday the week of the show at Kellogg's Supply Co. in Duck. (1201 Duck Road) All attendees (regardless of age) must have a ticket to enter the performance. (1200 Duck Road, Duck, NC 27949)
Thursday July 4th:
4th of July Fireworks Celebrations:
Manteo – Manteo Waterfront:
Come out for 4th of July fun in Manteo. The fun includes live music, contests, food, and fireworks! At 3:00pm enjoy music featuring The Lost Colony Choir. Following the choir, let your competitive side run wild by competing in the Wacky Hat Contest, the Decorated Bike Contest, or the Apple Pie Contest. Later, enjoy live music from Songs From The Road Band. At 6:30pm folk rock act DRIVIN N CRYIN will perform live on the Boathouse stage. Fireworks can be seen over the water beginning around 9:30pm. It is sure to be a day of fun! (Budleigh Street, Manteo, NC 27954)
Nags Head – Ocean Pier Milepost 11.5:
The Annual Independence Day Fireworks Spectacular in Nags Head will be hosted on July 4th at 9:25pm. Parking at and near the firework display will be directed by the Nags Head Police Department. Recommended public beach accesses South of Nags Head Pier include Curlew, Hollowell, and Conch Street. Recommended beach accesses North of Nags Head Pier include Bladen, Bittern, Bonnett, Barnes, and Blackman Street. Jockey's Ridge State Park will also be open as a viewing spot for the fireworks.
Avon and Hatteras Island – Avon Fishing Pier
The annual Independence Day celebration, "Fireworks on the Beach" will be hosted on Avon Fishing Pier. The show will begin around 9:15pm and should last around 20 minutes. The show will run by award-winning firework company, Pryotecnico. (41001 Hwy 12, Avon, NC 27915)
Corolla – Whalehead Club:
The Historic Corolla Park will be hosting its 26th Annual Festival of Fireworks on July 4th from 3:00pm to 9:00pm. Come out for a day full of fun activities including a cornhole tournament, watermelon eating contest, and children's games. Be sure to check out the various food vendors on site. Admission and parking are both free. The fireworks are set to begin at dusk. (Historic Corolla Park, 1100 Club Road, Corolla, NC 27927)
Kill Devil Hills – Avalon Pier:
The Town of Kill Devil Hills is excited to invite Pyrotechnico, an award-winning firework company to host the 4th of July Celebration this year. The fireworks show will begin at 8:00pm. The pier will not be open for viewing the fireworks. However, the surrounding beach areas have a spectacular view. Make sure to bring a chair, towel, or blanket with you! (2111 N Virginia Dare Trail, Kill Devil Hills, NC 27948)
Other 4th of July Celebrations:
15th Annual Duck 4th of July Parade: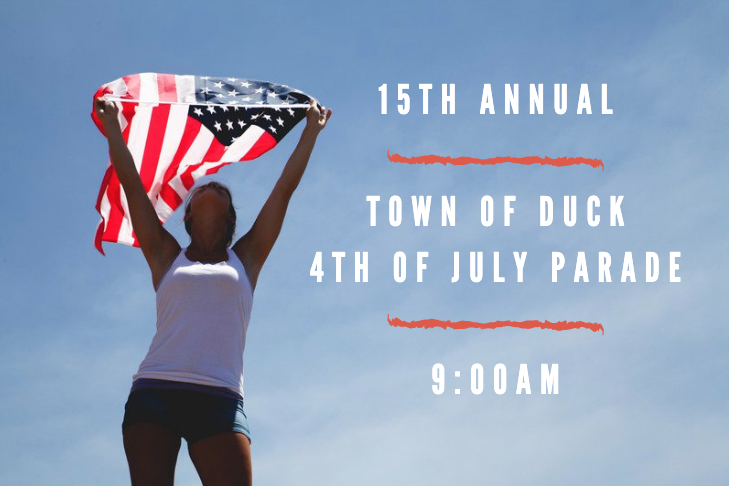 The Town of Duck's 15th Annual 4th of July Parade is set to begin at 9:00am Wednesday morning. The parade will be followed by a Community Celebration at Duck Town Park. The parade starts on Scarborough Lane and heads towards the ocean, then turns left on to Ocean Way before turning down Christopher Drive and ending at Duck Road. After the parade, head to 1200 Duck Road for live music and cold refreshments.
Independence Day 1850 at Island Farm:
Come celebrate Independence day like our forefathers would have done in 1850 at Manteo's Island Farm. Bring a picnic lunch to eat on the vast lawn as Island Farm commemorates the birth of the United States with musket-fire, games, and a reading of the Declaration of Independence. Admission is $8 per person and children under 5 years old are admitted for free. (1140 US Highway 64, Manteo, NC 27954)
Roanoke Island Festival Park's July 4th Kids Show:
Bring your kids to Roanoke Island's Festival park for a free show which gives kids the opportunity to learn more about the instruments in the band. Of course there will be singing and dancing to popular patriotic songs to celebrate Independence day. Doors open at 10:00am and the show begins at 10:30pm. (1 Festival Park, Manteo, NC 27954)
8th Annual Freedom 5k: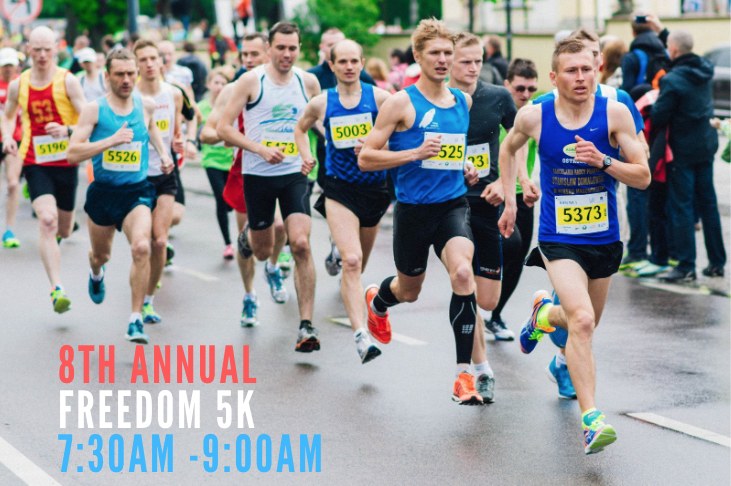 Join The OBX Running Company and SUN Realty for the 8th annual Freedom 5K this 4th of July. The race includes three races. Sign up for the Freedom 5K, the Veteran's Drive Mile, or the Fun Run! Tickets are $40 for adults, $35 for active duty individuals or veterans, and $30 for those under 12 years old. Click here for more information. (102 Town Hall Dr, Kill Devil Hills, NC 27948)
July 4th Concert : 208th Army Reserve Band:
Visit the Festival Park on Roanoke Island for a free Independence Day concert by the 208th Army Reserve Band. Grab some food from local vendors as you listen to patriotic music. Gates to the park open at 6:00pm and the concert begins at 8:00pm. Stay in the park after the concert for a perfect view of the Town of Manteo's Fireworks. (1 Festival Park, Manteo, NC 27954)
Friday July 5th:
Island Art Show: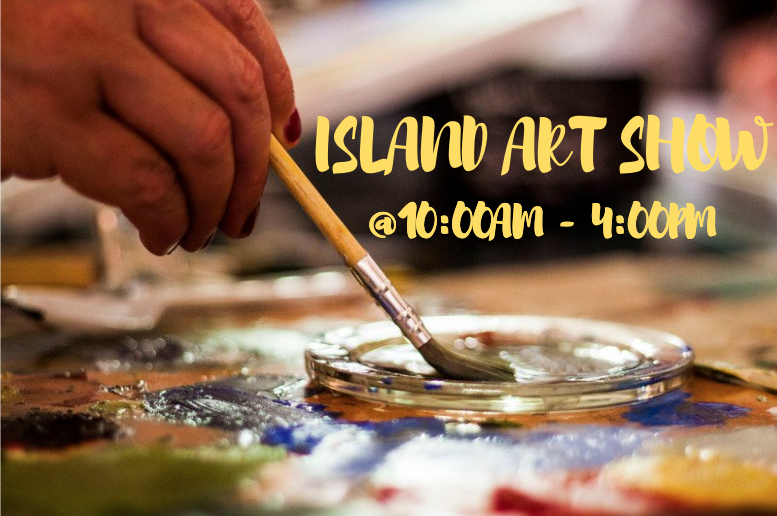 The Island Art Show will host over 20 local artisans on Friday July 5th from 10:00am to 4:00pm. Admission to the show is FREE. Save your money to support the local artisans at the art show. Products for sale at the show include but are not limited to phone cases, T-shirts, seaglass jewelry, handmade soaps, beach art, and upcycled art. Island Snowball Company will be there to help satisfy your afternoon sweet tooth and Rory Kelleher will provide live music. (Rodanthe Waves Salvo Community Center, 23186 Myrna Peters Road, Rodanthe, NC 27968)
Manteo First Friday:
First Friday is a family oriented street festival hosted in Manteo on the first Friday of every month, April through December, from 6:00pm to 8:00pm. The festival includes live music, magic, artisans, period-dressed actors, a rock wall, and many local eateries! (Historic Downtown Manteo along the Waterfront)
Saturday July 6th:
Red Stapler rocks Fish Heads:
Come out for dinner and music at Red Stapler rocks Fish Heads. Fish Heads Bar and Grill will be hosting the Red Stapler Duo for a night of lively music. The Red Stapler Duo is based out of Norfolk, VA and describes itself as a modern variety band, playing across several genres and eras of music. Come out for a night of great food and music. (8901 S Old Oregon Inlet Rd, Nags Head, NC 27959)