March 9, 2020
Situated on a barrier island, smack dab in the middle of the East Coast, lies a melting pot of flavors. Attracting hundreds of thousands of visitors from all over the world every year, the Outer Banks has landed a spot in "foodie" heaven. We've drawn in the likes of Guy Fieri, Food Network features, and so much more. Nestled between the sea, sounds, and sprawling farmlands allots for the ultimate fresh, homegrown flavors. Our roots run deep with southern tradition, and that, in combination with multi-cultured tourist influence, have given this sandbar some bites worth writing home about.
Truthfully, it's nearly impossible to fully encompass the total flavor of this beach in a 10-item list, but we'll "shorely" try!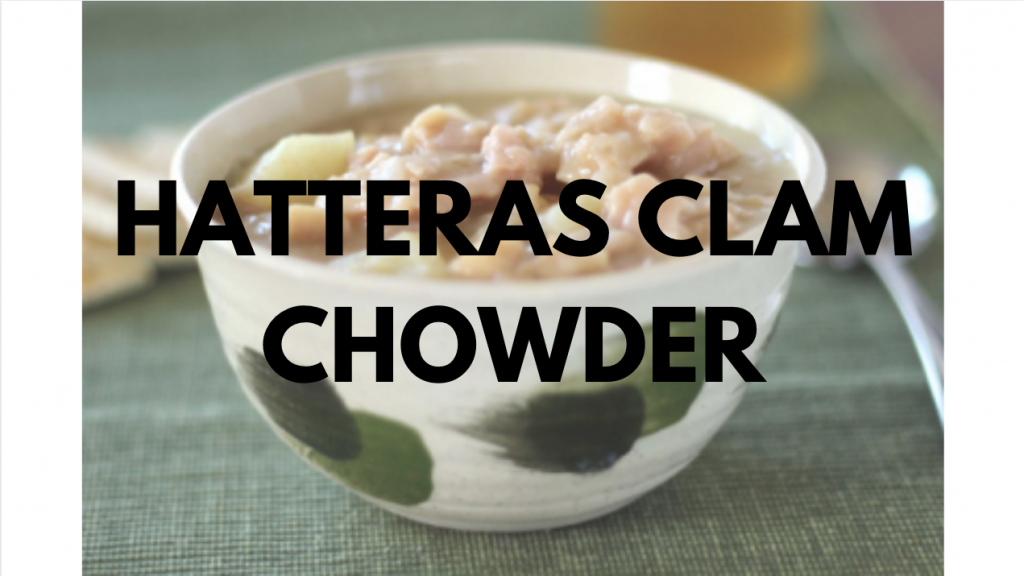 Hatteras Clam Chowder
The winters on this barrier can be understandably cold, windy, and wearing as storms sweep over our coast. For hundreds of years, our beach-dwellers have found warmth and nutrition in our hearty chowder. Certainly, you've heard of clam chowders, probably with varying descriptors. But we're talking good ole fashioned Hatteras Chowder. Recipes passed down for generations finding their way into our soupspoons today.
This isn't your New England "chowdah" based in heavy creams, or Manhattan tomato-based chowder. This is simplicity and this is tradition. Nix the cream, the tomato, and the anything-that-will-detract-from-the-clams. The focus on this chowder is the locally loved mollusks. In this area we harvest Little Neck Clams, which are known for their sweetness and tenderness.
Why does traditional Hatteras Chowder forgo cream and tomatoes? Historically, it was just not realistic. The sandbar wasn't fertile enough for an abundance of grazing animals like dairy cows. Milk and cream was scarcely, if ever, available. It is a similar story for tomatoes as well, they were not frequently found in the area. Take into consideration that refrigeration was also not a commonplace – as this area was the state's poorest region. Not to mention, the watermen who fueled up on chowder, didn't need heavy creams bogging them down. Due to lack of facilities, staying healthy was very important, and this chowder is perhaps the healthiest of all 3 styles.
Whatever was available at the time is what went in the chowder. Clams were, and still are, easy to harvest on the beach and let me tell you, this chowder is chock full of them. Potatoes, onions, and salted pork (bacon) could be amassed in bulk. In the pot they went, boiling down in clam juice and deliciousness. Finish off with some pepper for seasoning and, voilà; Traditional Hatteras Chowder is ready for eating. Today, many will add their own spices and personal flairs to this salty and modest recipe.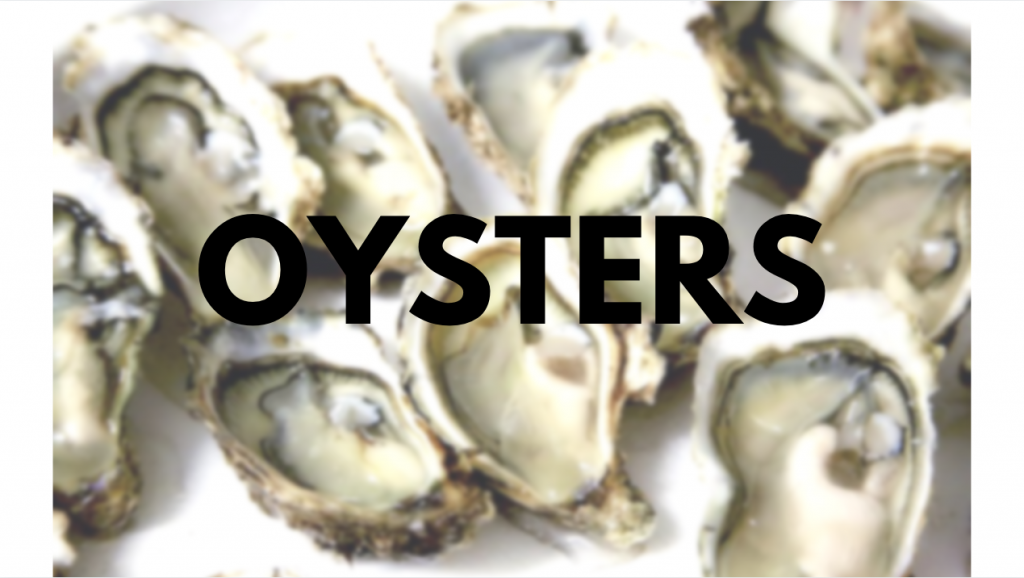 Oysters
Anyway ya can get 'em – raw, roasted, Rockefeller. Though they do have a season, they can still be found year-round in OBX restaurants. Harvested similarly to the aforementioned clams, oysters and their beautiful shells are ubiquitous in this area. If you find an oyster, shuck it open, and find a tiny crab, then congratulations! You just found yourself some good luck! Folklore suggests the fortune of finding such an oyster. The juvenile crab has sought out the oyster for protection, and has called its shell home.
These mollusks are harvested from the soundside of the islands in the brackish, shallower waters. Each bay will give way to different levels of brine, saltiness, and size. What's your favorite way to take in the flavors?
Raw on the half-shell. Recommended pairing with a mignonette, horseradish, lemon, or cocktail sauce.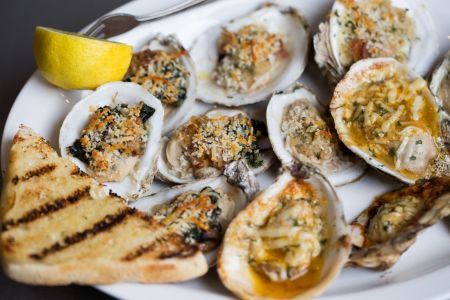 Rockefeller. Very popular and mouth-watering. Served with butter, scallions, parsley, bread crumbs, Pernod, and baked or broiled on the half shell.
Roasted. Toss them on the grill or pop them in the oven and serve on grilled garlic crostini.
Stew. If you're looking for another hearty way to warm up on a cold night, and you've already given Hatteras Clam Chowder a go, then let us recommend an oyster stew. There are varieties of way to serve this dish up, but we love it most with a creamy and buttery base.
Fried. Drop them in the deep fryer and serve them up with fries or plop them a roll and make a sandwich!
Shooter. Not for the faint of heart. We're not joking around about our love for oysters. Yep, you can have your oysters and drink them too.
Oyster Shooters
In a shot glass combine:
Raw, shucked oyster
Vodka
Cocktail Sauce
Lemon Wedge
Optional hot sauce & celery salt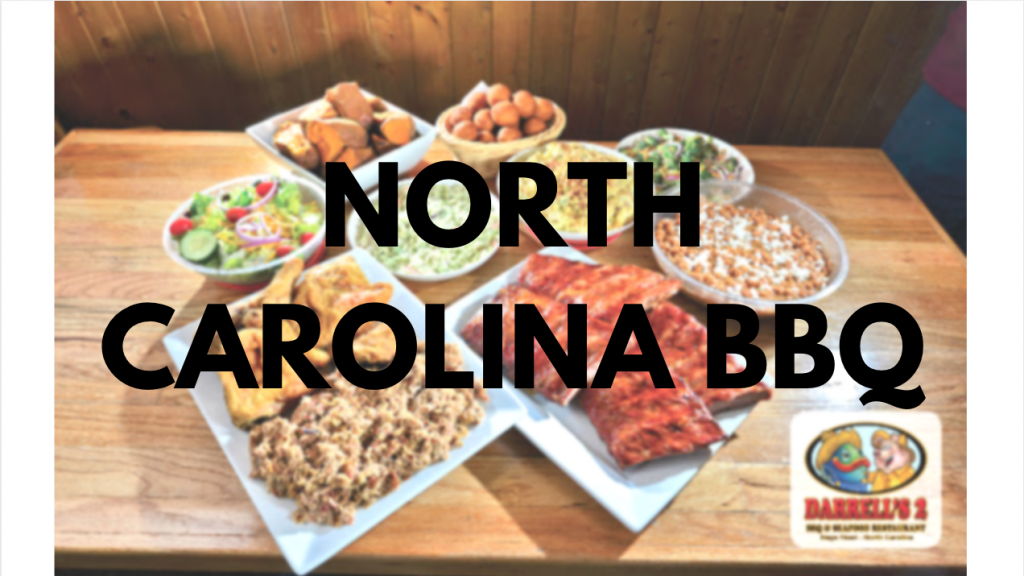 North Carolina BBQ
What divides North Carolina goes further than which blue you sport (UNC or Duke). The real rivalry is rooted in BBQ – are you East or West?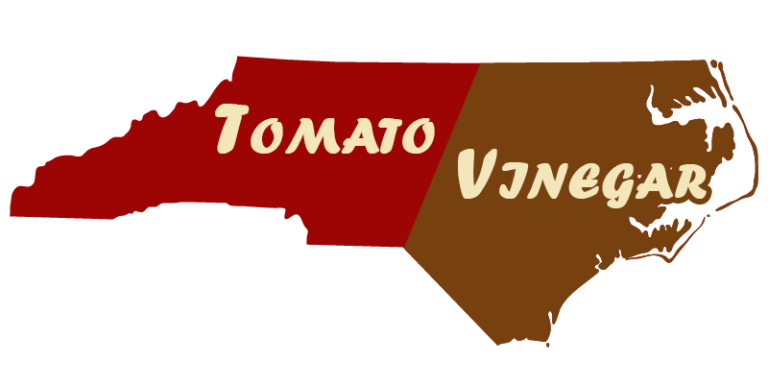 The difference between Eastern NC BBQ and Western (Lexington) BBQ is the sauce. The east uses a vinegar-based sauce. Tangy vinegar is spiced up and served over pulled pork — or often times the whole pig. Lexington style adds tomato into the mix, the more traditional idea of BBQ. No matter which style of sauce you use, it cannot be denied: Carolina's got it going on!
Both styles know that excellent BBQ takes time, lowly and slowly smoking all their meats. We'll tell you what, no matter east or west, it isn't a true North Carolina BBQ if it isn't topped with coleslaw. Don't forget your hushpuppies, collard greens and sweet potato casserole! Wash it all down with some ice cold sweet tea for a true Carolina feast.
The Outer Banks has a myriad of BBQ joints. Check them out and see for yourself why Eastern NC BBQ is king.
Soft Shell Crab
We love, and I mean love, our blue crabs on the outer banks. Who can blame us? I mean, have you ever experienced the slightly sweet meat of fresh blue crab? We like our crabs in all forms, and one of our favorites is the soft shell crab.
What makes these crabs so special? Well, much like humans outgrowing their clothes as they get older, crab will outgrow their shell. So they shed their hard exterior and start growing a new one. That interim, between their molting of the old shell, and the development of a new one, is prime time for harvest!
We'll snag up those "naked" soft crabs and call it a delicacy. Find them at most locales fried up and put on a fresh bun with lettuce and tomato. The great thing about trying these crustaceans on the Outer Banks is that they are fresher and more affordable than trying them somewhere on the mainland. They are to be eaten within 4 days of harvest, but many inland areas will order soft shell crab to be shipped. Because they're best if kept alive until cooking, they will ship them frozen on ice and can cost 5x as much as getting them locally. —- Its appearance may be a little intimidating to some eaters, but they truly are a phenomenal "must-try" of the area.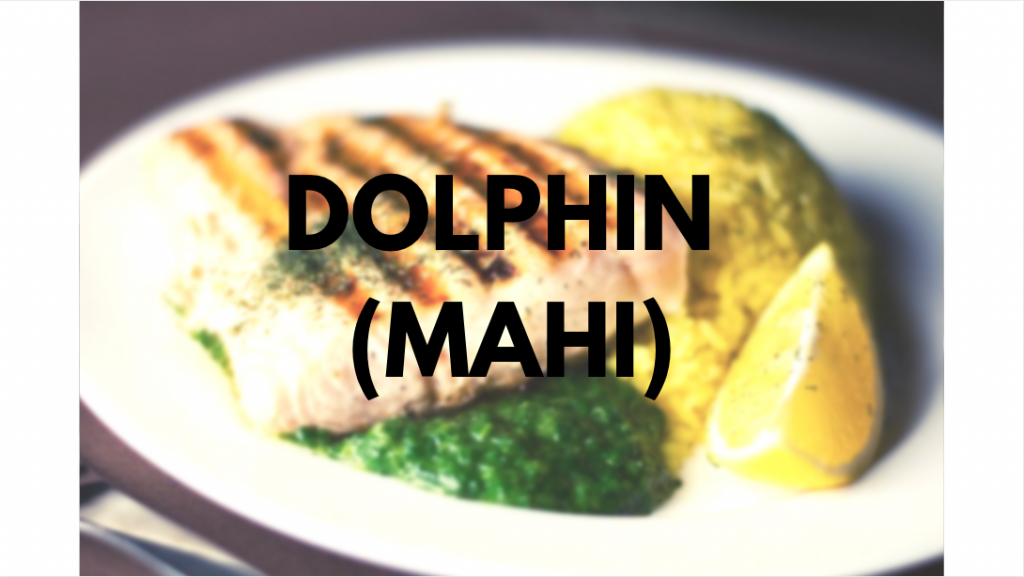 Dolphin (Mahi Mahi)
I'll never forget my first time going out on a boat to fish the world-famous Gulf Stream. The first catch was a Dolphin, or more commonly referred to as the Mahi. It's green and blue sheen danced and flashed through the water as we reeled and reeled and reeled. It's a truly beautiful fish with flavorful meat. With the OBX's proximity to the Gulf Stream, Mahi is fresh feature on many local menus. Its deliciously mild flavor can be enjoyed as a stand-alone or can be awakened with a dose of salsas, fruit, sauces, or spices.
Every restaurant whips up their own twist on this local favorite. A legendary spot for excellent Mahi is John's Drive In. Fresh fried next to salty sea itself, you can break up your day on the beach with a barefoot meal on the beach road.
Duck Donuts
Though these unbelievable fried favorites can now be found throughout the East Coast, the origin is in our very own Town of Duck – hence the name. Sure, you really can get these favorites on your drive to work or passing through a large city, but truly, the flavor of these donuts are enhanced by fresh salt air. They're intended to be enjoyed somewhere, anywhere, on the Outer Banks; sunrise on the beach, from the sundeck of your vacation home, with your kiddos before a big beach day, the ways to enjoy are endless. That's part of the novelty of these sweet treats.
Made-to-order means you can experiment with something funky or keep it simple. What's your favorite? For us, it's hard to pick, but the maple bacon brings both the sweet and salty packing a flavorful punch to kick start the day!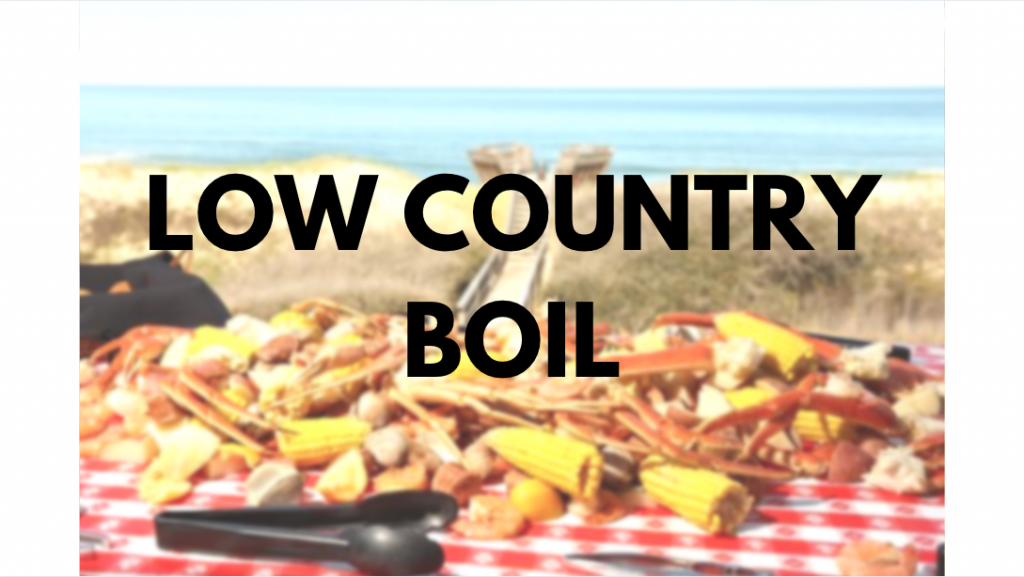 Low Country Boil
Grab some newspapers*, a pot, and all the friends and family you can squeeze in to your beach cottage. Line your table with newspapers, and toss your favorites into the pot and watch it boil! Traditionally, these pots will be filled with fresh blue crab pull from our sounds, local shrimp, potatoes, Andouille sausage, sweet onions and corn on the cob. All souped up with butter, old bay, and lemon. Once everything's been cooked, toss it, and let everyone get their grub on! When you're done, wrap the newspapers up and toss in the trash. Easy clean-up, because, let's face it, you'll be going into a "food coma".
There are also a variety of local companies that put together their own pots for your boil. The Outer Banks Boil Company will even come to your house, cook it up, keep you entertained, and take care of cleanup afterwards!
Sure, you can find these Low Country Boils throughout the South, but can you really beat a pot with fresh Outer Banks fruit-of-the-sea and Carolina corn? We didn't think so.
*We recommend newspaper as an environmentally and ocean-friendly option to disposable plastic tablecloths.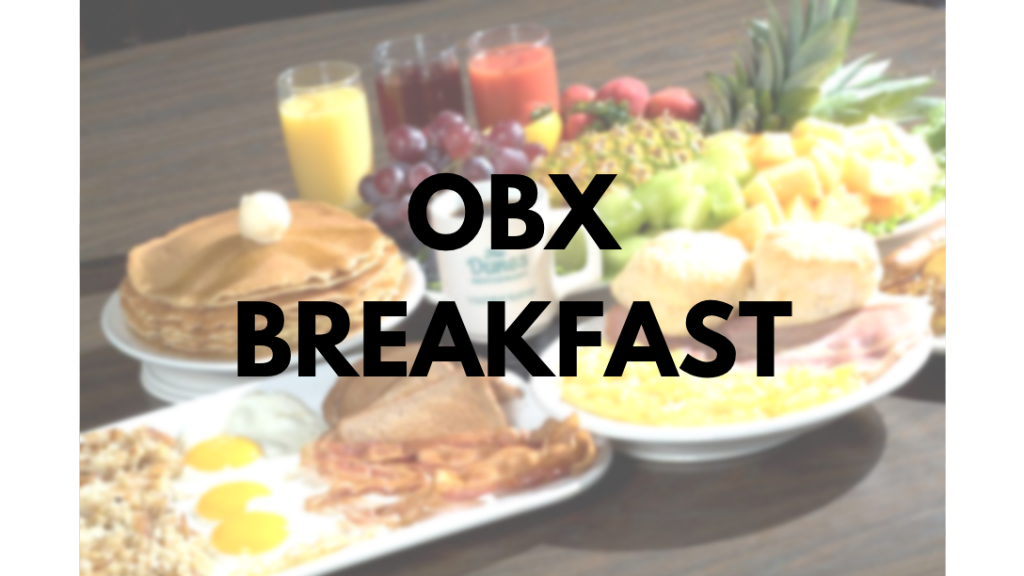 OBX Breakfast
A Banks Breakfast has got to be so large that it'll keep you full through a morning and afternoon of fishing, swimming, surfing, and sightseeing. As if you couldn't get enough seafood already — with our line-up of soft shell crab, mahi & oysters — on the OBX you can start your day with it too! Try a crab benedict, a crab-cake egg sandwich, a crabmeat omelet – okay, so basically just add crab to any traditional breakfast item, and you've OBX-ified it! We've also got your classic southern breakfast staples: biscuits and gravy, country ham, scrapple, and of course, grits. Whatever's on your plate, just be sure it'll stick to your ribs for a fun-filled day!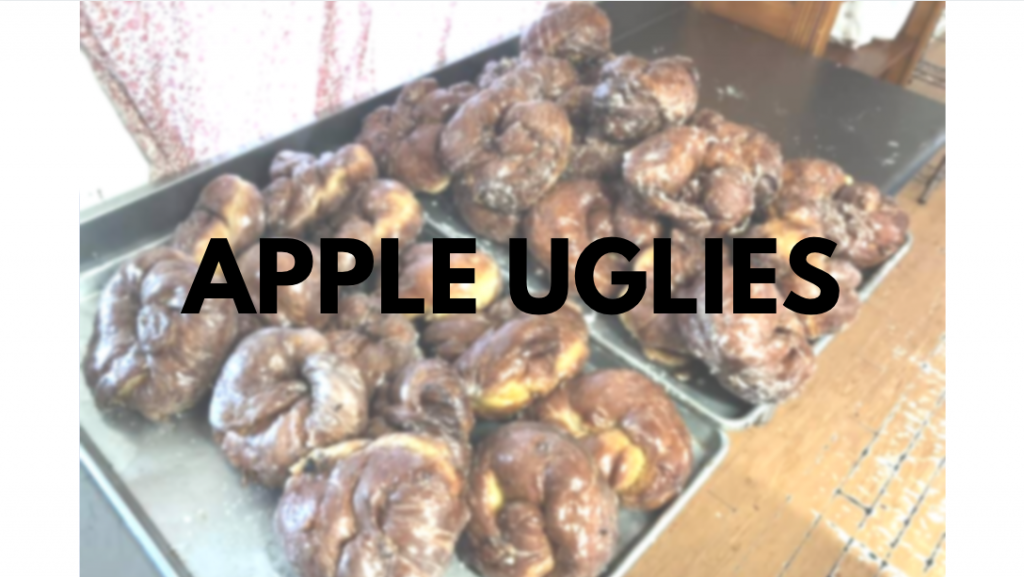 Apple Uglies
During your OBX vacation, don't forget to give Hatteras and Ocracoke Islands some loving. We recommend a day trip down south to see the lighthouses, the national seashore, The Point, and oh, how the list goes on! But first thing's first, if you're headed down south, you've gotta get the day going with one of our most-prized sweet treats. The misleadingly named Apple Ugly. The name would make it seem to be undesirable, but this "ugly" draws crowds. No, seriously. People will wake up with the sun to get in line at Orange Blossom Bakery just to get their hands on one! Not an early bird? Well, they sell out quickly and early! So if you're trying to roll up to the bakery around 8 or 9am, I'll tell you that you probably have a better chance of winning $1,000 on your scratch-off than you do getting an apple ugly. You know what they say, the early bird gets the Ugly — err, uhh– worm!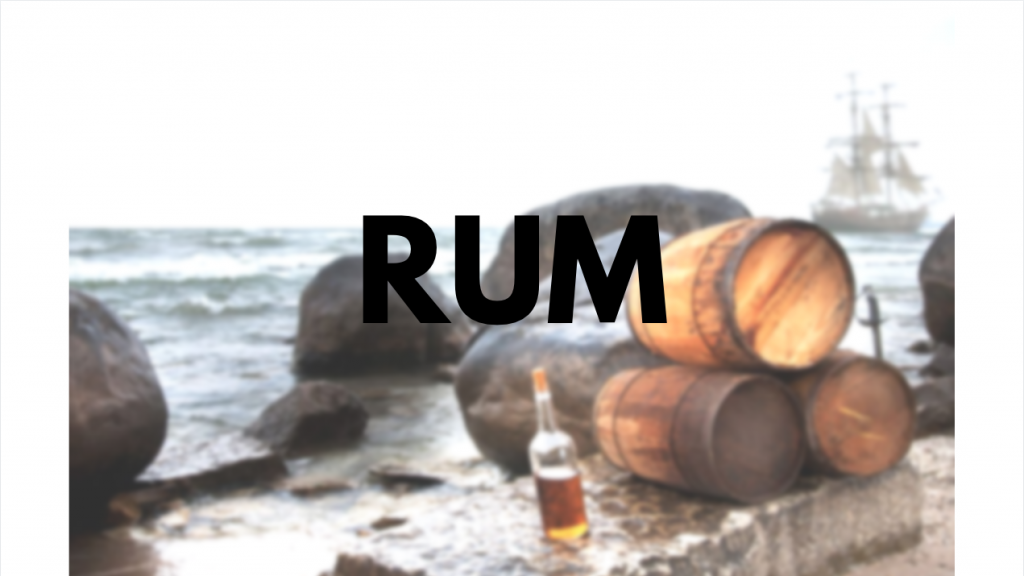 Rum
Okay, so maybe this isn't a literal bite, but it certainly packs a "bite". Traditions of rum run deeper than pirate's sunken treasure. We reference rum every time we speak of the lovely town of Kill Devil Hills. There's some debate as to how it get its name, but regardless, it involves rum.
One story is simply that the pirates stashed their rum in the dunes of the area. Their rum was claimed to be so strong that it could kill the devil. As such, the dunes of the area became known as the kill-devil hills.
Another version describes the iconic fuddled rum that came from this portion of the coast. This rum was very distinctive because of its spiciness. Historically, if something was spicy it was considered "deviled". The only way to infuse the spicy deviled flavor into the rum was through the use of a kiln. The iconic regional rum that came from here dubbed the areas dunes the "Kiln-Deviled Hills". This name association can be observed in public records since 1654. Over the centuries, it's been muddled down to Kill Devil Hills.
We have a new and local distillery that allows the legends of OBX rum to live on. Our local Outer Banks Distillery packages their Kill Devil Rum on the salty and legendary Roanoke Island. However, we'd like to clarify: it will not be spicy, fuddled kiln-deviled rum. Oh no, it's much better! They offer a fine variety of rum – check out the honey and pecans flavor!
Published on 3/9/20 by Kelly Knutson