January 10, 2014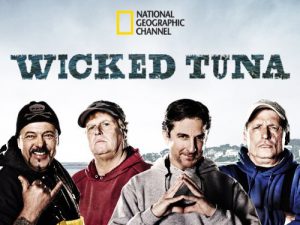 The wildly popular show, Wicked Tuna is on it's way to the Outer Banks in 2014!  TV episodes start Sunday, August 17, 2014.
National Geographic Channel President Howard T. Owens announced today that the network has given the go to a spinoff of its highly rated series.  The new series, Wicked Tuna: North vs. South begins filming off the coast of the Outer Banks in North Carolina this winter and will premiere in the U.S. and globally August 17th, 2014 at 9pm.
The new series of Wicked Tuna kicks off this February on television, but some of the New England captains will already be headed south to the waters off the OBX.
"Wicked Tuna is one of our strongest franchises, and taking our tuna fishermen down South allows us to explore a new region of America and new waters in the Atlantic," says Owens. "We are taking the best New England fishermen from Gloucester to the Outer Banks to see how they fare against good old Southern boys who fish the old-fashioned way off the beautiful shores of this epic country."
All news aside, I'm a huge fan of the series.  I'm also pretty sure our "good old Southern boys" are going to give those Gloucester captains a run for their money!  Wicked Tuna North vs. South will premiere on television August 17th at 9pm!
The Wicked Tuna series featuring the Outer Banks will include TV fan favorite captains like Dave Marciano of the Hard Merchandise and newcomer TJ Ott of the Hot Tuna.
Besides competitive entertainment, the series will also highlight an inside look at important issues facing our local fisheries.  The show has always paid close attention to matters of preservation and a local spotlight will be great to have televised to the world!
We'll keep the updates coming as we get them.  Stay tuned… or should I say "Tuna-d!"
For more information visit the Nat Geo's website for Wicked Tuna.   You should also start planning your own trip to the Outer Banks.  Southern Shores Realty has an inventory of over 600 vacation rental homes on the Outer Banks perfect for making your own fishing memories.  Start planning your Outer Banks vacation today!
---
***UPDATE***
So I may or may not have met most of the Gloucester fleet this fall at numerous watering holes here on the Outer Banks, but the word is that fishing was relatively slow for the start of this season.  However, there is also a good bit of evidence to suggest that the good ol' boys from the South put a hefty amount of fish on the decks compared to the scallywags from the North.  There's only one way to find out, and that's by tuning in this August 17!
---
***UPDATE***
Some episodes have descriptions on the Nat Geo website already…
Yankee Invasion – "After a mediocre North Atlantic bluefin tuna season up north, Captain Dave Marciano (Hard Merchandise) and Captain TJ Ott (Hot Tuna) travel south into the waters of the Outer Banks of North Carolina. The competition is fierce and the stakes are higher than they've ever been. The five hundred and fifty-mile steam means they're in debt before even putting a line in the water. In order to profit they'll have to overcome new fishing techniques, unfamiliar waters, and a less than welcoming Southern Fleet."
Southern Discomfort– "When another Northern boat comes steaming into the Outer Banks, the Southerners fear a full-scale invasion of the fishery. While some take drastic action to send a warning to their new rivals, others double down on their efforts to start bringing in bluefin and guarantee their own fair share of the quota."
Ice Ice Tuna – "N/A"