Outer Banks Towns
Within the Outer Banks of North Carolina you will find beautiful oceanfront towns. Select from Corolla, Duck, Southern Shores, Kitty Hawk, Kill Devil Hills, or Nags Head; each with their own unique features to make every vacation special and eventful.
Southern Shores provides various opportunities for you to search Outer Banks Rentals on our site. Explore each Outer Banks Town individually by clicking on the images below. Discover what area fits your family's vacation desires the best.
Each town located on the Outer Banks of North Carolina has different qualities; such as, different Public Beach Access, Water Activities, Family Activities, even Free Activities for everyone.
These specific towns are what make up the Outer Banks, and are what makes this area an easy place to fall in love with. If you have any questions as you make your way virtually through the Outer Banks, call us toll-free at 1-800-334-1000.
---
At the northern end of the Outer Banks, on what's known as the Currituck Outer Banks, Corolla is increasingly becoming popular for it's fishing, beach weddings, and vacations that take you away from everything. Well known for its wild mustangs, Corolla also offers incredible nature tours.
---
Duck, North Carolina is one of the most popular resort destinations on the Outer Banks. It has been named by both the Travel Channel and America On-Line as one of the best family beach destinations in the United States.
---
Centrally located, Kill Devil Hills is the Outer Banks™ oldest township. It is bordered by Kitty Hawk to the north and Nags Head to the south. Kill Devil Hills is the site of the Wright Brothers National Memorial.
---
Kitty Hawk is the second town you come to as you cross the Wright Memorial Bridge onto the Outer Banks from the north. Stretching from milepost 1 to milepost 4, Kitty Hawk is a classic vacation town.
---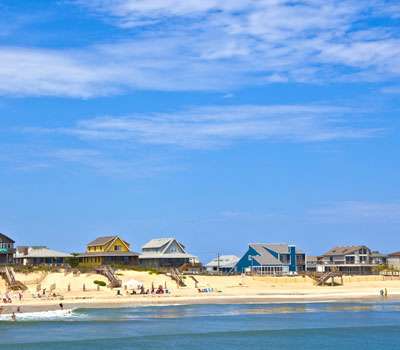 Steeped in history, Nags Head, North Carolina is the place for a traditional family vacation. In addition to the beaches, enjoy bike & jogging trails, 2 fishing piers, and the widest variety of restaurants on the Outer Banks.
---
Just south of Duck and just north of Kitty Hawk is the town of Southern Shores. Comprised of mostly single-family homes, Southern Shores is a beautiful town, with very little commercial development.
---