June 30, 2015
In case you weren't already aware, Southern Shores Realty guests are entitled to big savings on some of the coolest activities on the Outer Banks. Our Guest Rewards program is chock-full of enticing offers on amazing activities, dining, and even shopping. One very popular activity is to go on an Outer Banks Restaurant tour.
Outer Banks Restaurant Tours is owned and operated by Terry Bell, and offers a wide variety of dining experiences. We've been along for several, and documented the Kitty Hawk Restaurant Tour, Duck Restaurant Tour, and now finally have experienced the Corolla Restaurant Tour.
---
Outer Banks Popcorn Shoppe
Our day started off meeting in the Monteray Plaza in Corolla where we were greeted by our driver; Terry's good friend Wrenda. Wrenda was extremely pleasant and there was an instant feeling of comfort being around her. She made a point to talk and connect with everyone in the group before starting anything else. This was a really nice touch and made everyone feel welcomed and excited to start the tour. We were handed our itineraries, then shuttled across the highway to the Timbuck II shopping center.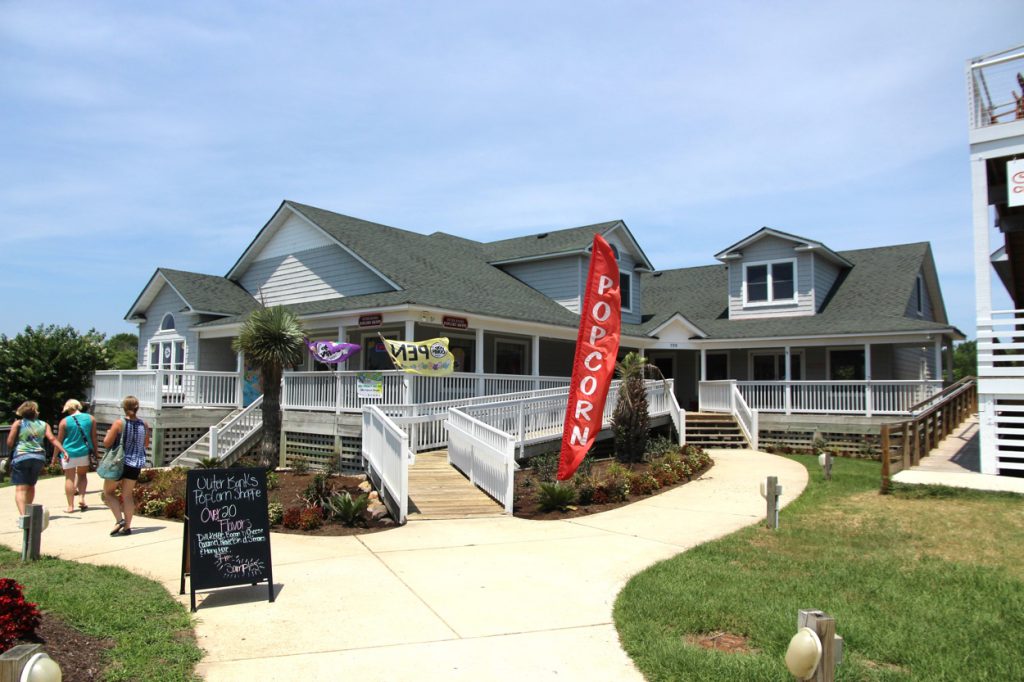 Nested in the far right corner was the Outer Banks Popcorn Shoppe. I will openly admit, after seeing the schedule of stops, and even as I continued towards the entrance, I was a bit skeptical about a "popcorn place" being on the list of a "restaurant tour." I am happy to say that I was pleasantly surprised by the experience!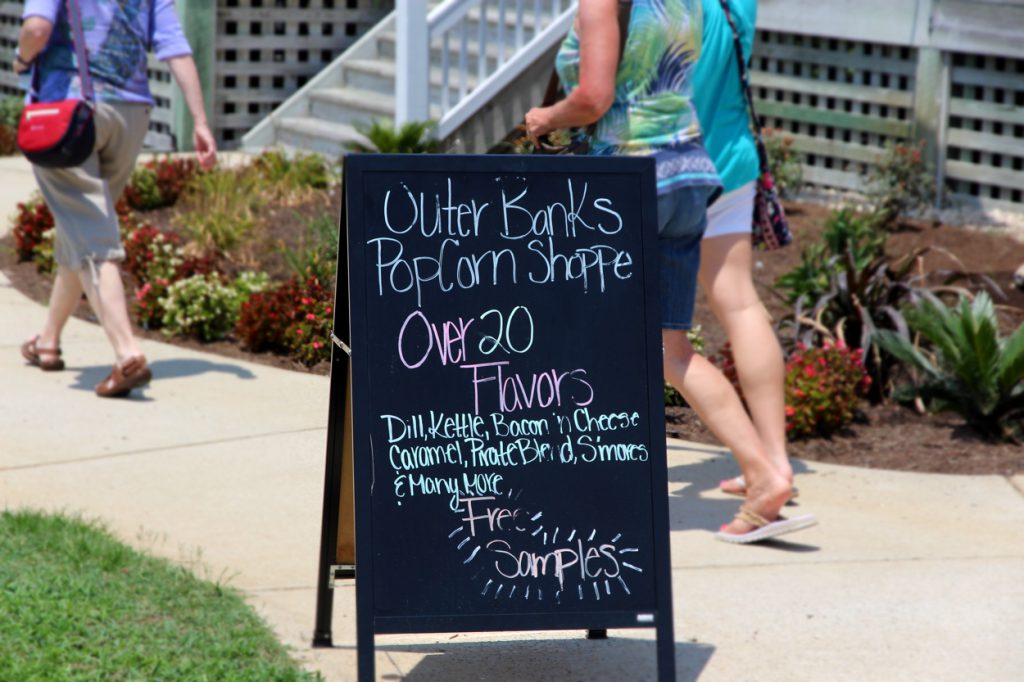 We all walked in and lined up along the large tasting bar inside. Before anyone knew it, vast varieties of popcorn samples were being poured out to us. Now, I'll have you understand, this was no run-of-the-mill "poperation." These folks have their corn down to a science! We were told to inspect the popped kernels and observe their texture and surface area as the Outer Banks Popcorn Shoppe uses a select type of kernel, that when popped, provides a massive area for flavors to be added and also has a very satisfying bite to it.
All science aside, the popcorn was very tasty and came in more varieties than you could imagine. There was sweet, there was savory, there was spicy. After about 10 minutes of tasting it felt as if we had already filled up from a whole meal. The Outer Banks Popcorn Shoppe also offers a wide variety of bags and tins for you to take home to your loved ones… or just you… that is always a good idea too. They had every sports team you could imagine, and giant bags you could fill to be larger than most 10 year old kids. This was a fantastic stop, but it was time to keep pace and move onto the next Corolla dining experience!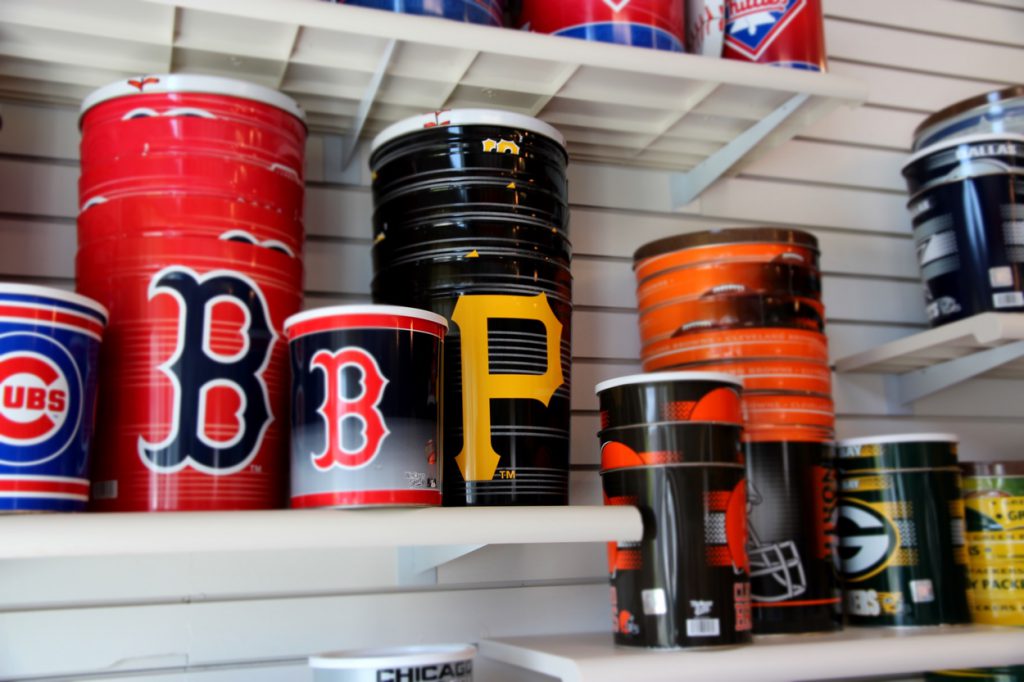 ---
Mike Dianna's Grill Room
No, it's not Mike & Dianna's, it's just Mike's place. Our next stop was Mike Dianna's Grill Room, just a short stroll away from the popcorn shoppe and located in the rear left corner of Timbuck II.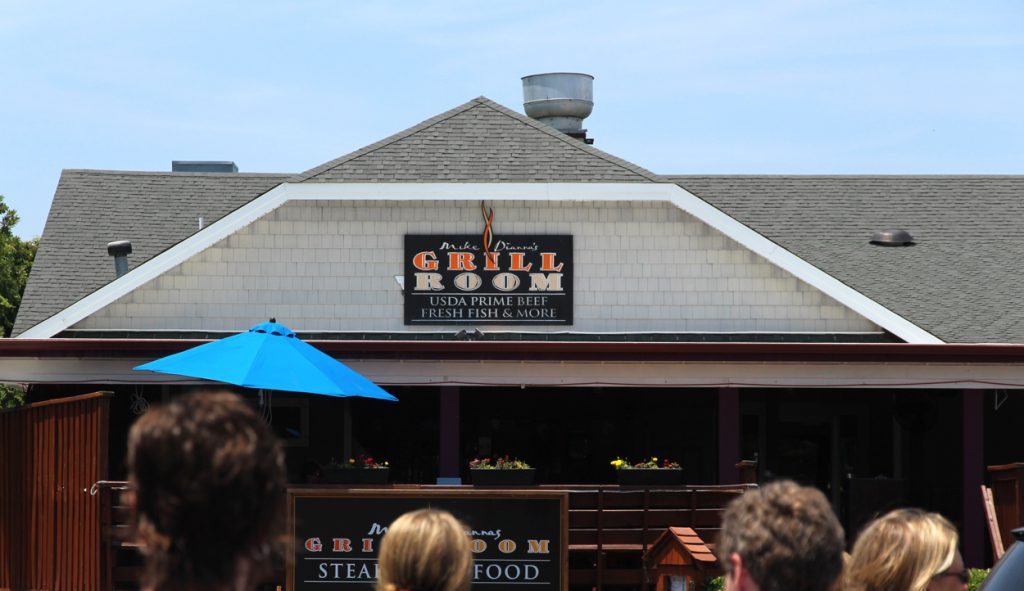 When we first walked in, we were all seated at a large table nearest the windows in the dining room, and greeted by a man who looked all too ready for a day in the kitchen. He promptly introduced himself as Mike Dianna; owner and head chef. I'm not going to lie, I felt that I knew him through some sort of past life. He had the sort of persona that made you feel as if you were lifelong friends, and were just sitting down to chat. Well, we did just that.
Mike told us a very interesting story of how he came to be a restaurateur on the Outer Banks. The entire group engaged with him and it was obvious he enjoyed enlightening the tour-goers as well as feeding them. Often times I've dreamt of owning a restaurant on the Outer Banks, and hearing Mike's story was very inspiring.
We listened to several interesting stories about him and his restaurants. Not only had he worked his way up to eventually owning this Corolla restaurant, he also started another, very popular restaurant in Nags Head: the Lucky 12 Tavern. Mike's passions also extend far beyond food. I learned he is the director of the Mustang Music Festival, a benefit for the Corolla Wild Horse Fund and his youth music program. I personally could have stayed and chatted for hours (Mike could have as well)… but we rapidly ran out of talk time and into chow time!
Mike mentioned earlier that their crab cakes are extremely popular and they sell them in astounding numbers. So, as not to disappoint, he prepared us crab cake salads that were loaded with fresh local tomatoes, beans, and berries. It was truly delightful and paired with a clean, citrusy white wine. I don't get to Corolla often, but I can't wait to come back to eat at Mike Dianna's with my family and friends. They feature a live wood grill, are large-party and kid friendly, plus boast a hoard of live music performances in the evenings. A+!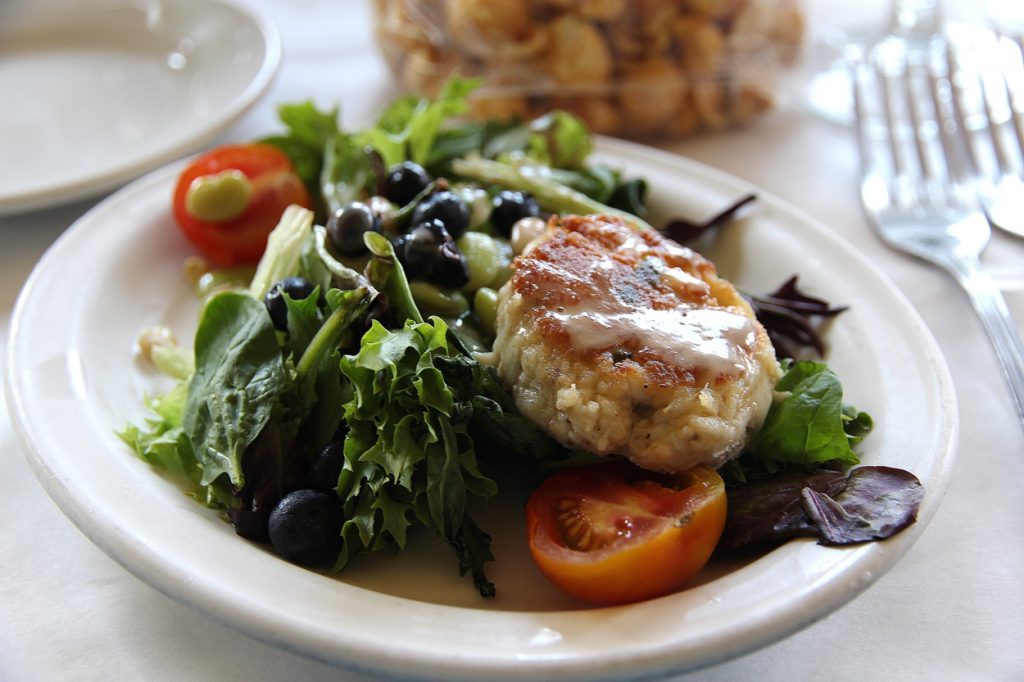 ---
Salt Water Grill
The tour continued and we were all shuttled across the way and back to Monteray Plaza. Our next stop was right in the center of it all near Food Lion, the Salt Water Grill. I honestly had never heard of the place and was very anxious to get inside.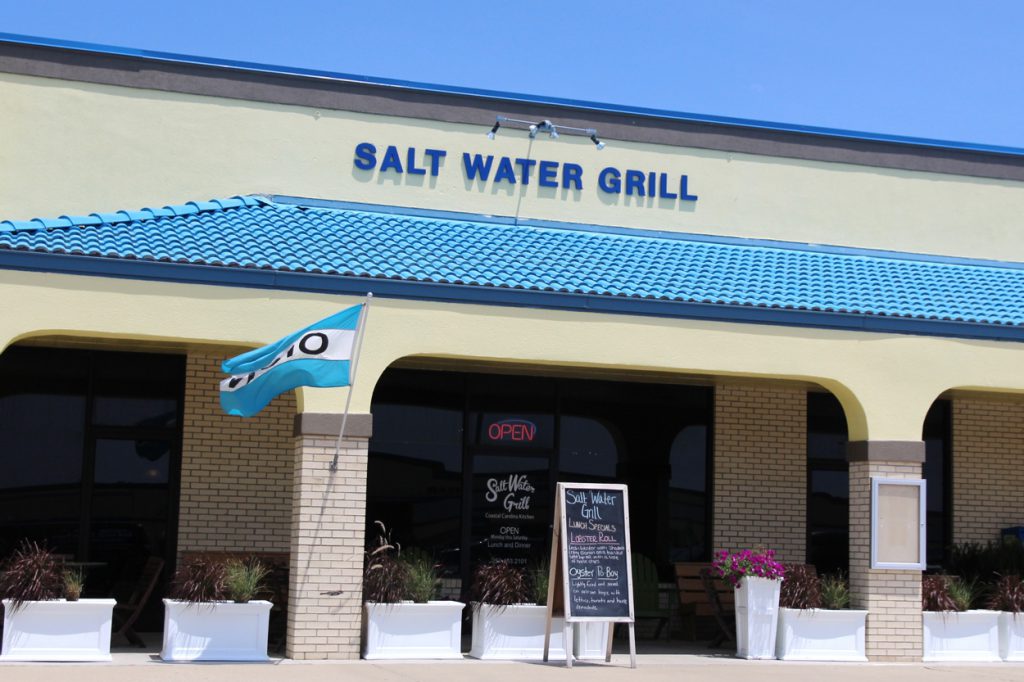 Once seated, we were all greeted and treated to a glass of Larry's Lemondade. Larry's is classified as a fruit beer, but it resembled a beer on my palate as much as a lawn mower resembles a space ship. It was crisp, sweet, bubbly, and very tasty. We all could have had a pitcher of it, but our food was next to come out.
We were served a mini-slider and some homemade potato chips. The slider was a shrimp BLT and was propped open face on a toasted mini bun. Unlike Mike Dianna's, the Salt Water Grill was open for their lunch at the time, and super busy. We didn't get too much 1-on-1 time with the owner but the place looked very enticing nonetheless. There was a attractive wooden bar that looked to feature a dozen or so pours (including the "lemonade") and the decor/ambiance of the entire restaurant was very appealing. Before we all knew it, we were headed out to our next stop.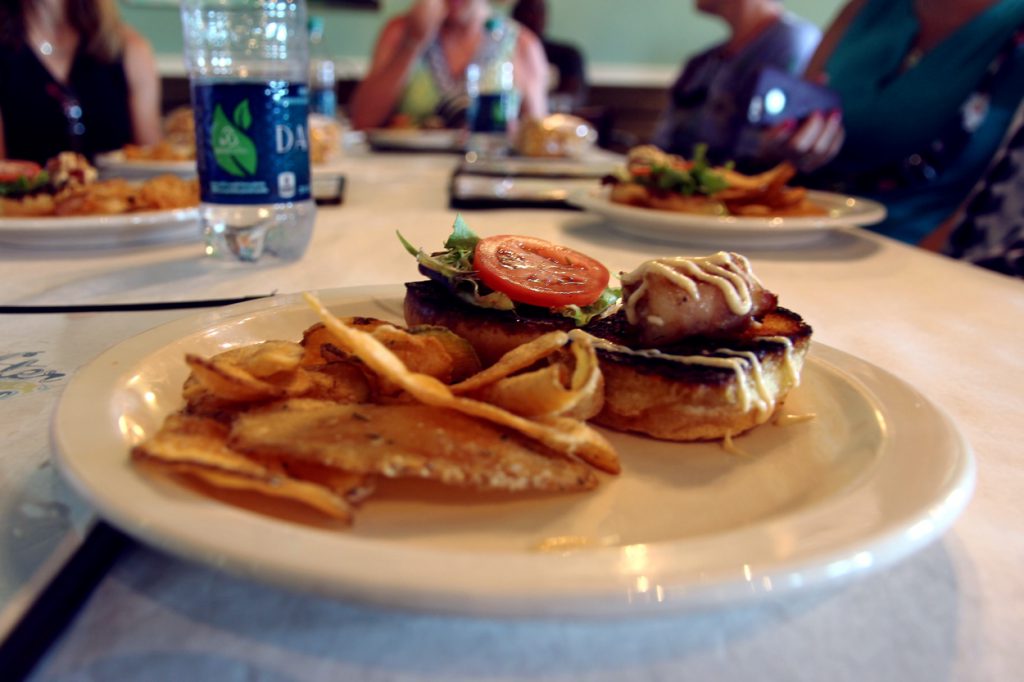 ---
The Crafty Cow
Little did we know, we were headed to our next stop, but with the same owner! Only a few yards behind the Salt Water Grill is the Crafty Cow. A cozy little spot nestled in the back of Monteray Plaza featuring craft burgers and craft beers. Mmmm… now that's a great sounding combo!
When we entered, it was chock-full of customers right in the heat of the lunch rush, but we found our way to an open line of seats at the bar. We were greeted by several of the wait staff and served a German dunkel beer. I was a bit skeptical about drinking a really dark lager during the heat of the day and during a full-on culinary binge, but it was pleasantly mellow and nowhere near as heavy on the stomach as it was on the eyes.
We all glanced thoroughly over the menus… there was in-fact, a large variety of beer as well as creatively themed burgers. Our sample was an Asian slider with a sweet chili glaze, ginger slaw, and toasted sesame seeds.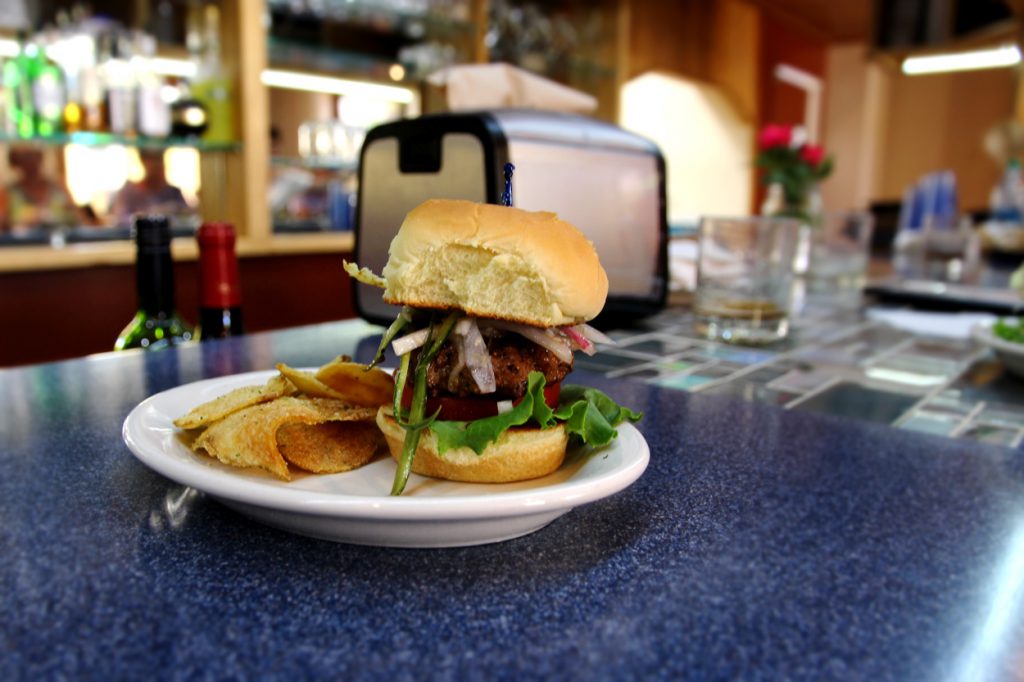 While it didn't take long to ingest, it was delicious! I was ready to eat a couple more but in different varieties. It was very easy to see why the place was so busy… it's a harmonious combination of tasty beer and beef creations. Who doesn't want some of that during your vacation week? As full as we were getting, there were more stops to go and the tour pressed on!
---
BuddhaLicious
Up next: BuddhaLicious, a place I always wanted to try as I have an insatiable appetite for Asian/Malaysian cuisine. We were very fortunate to still stop here on our tour… about a week and a half prior the restaurant experienced a fire and they were undergoing repairs and reconditioning. Given that, we all were seated at an outdoor table and treated with food despite the fact they weren't open for business just yet.


Sitting at the table, out in the open, with nobody else around certainly had its perks. Once again, everyone had the opportunity to connect and learn about each other. I've always found this to be one of the "bonuses" with Outer Banks Restaurant Tours. Our tour was from far and wide… North Carolina, Pennsylvania, even Wisconsin! Several in the group had never been to the Outer Banks before and it was really nice to share insight amongst ourselves.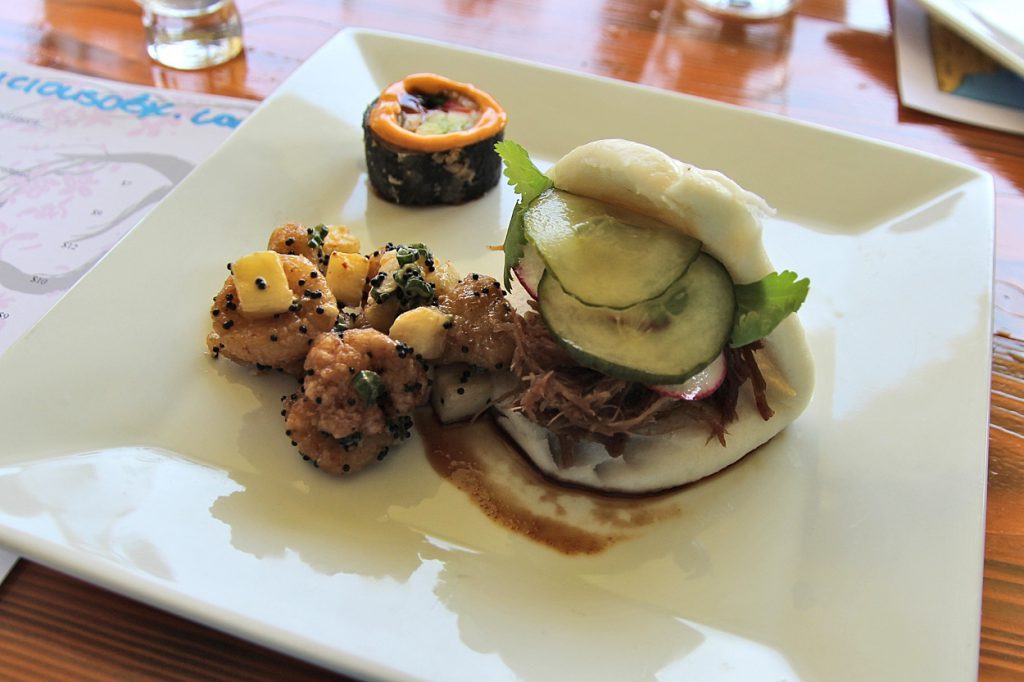 Oh yeah, the food… the food was awesome! We had a full plate of sweet and spicy fried calamari, an eel sushi roll, and some pulled pork on a rice flour bun. The rice flour was certainly interesting. I was not used to something so light and spongy when it came to cozying up to some pork, but it went down the hatch with a smile. The sushi was very tasty and the calamari was hands down my favorite. It was coated and fried perfectly, had a nice bite to it, and was sauced with a spicy pineapple & roe concoction that kept me coming back for more. Once again, I had wished for either a second plate of food or a $100 gift card to drop from the sky but alas, herein lies the majesty of the restaurant tour – serve up a satisfying experience to leave that tasty craving on the mind that can only be satisfied by a return visit.
---
Bacchus Wine & Cheese
Wine and cheese? I love wine and cheese. Give me some wine and cheese! Yep, our next stop was right next door at Bacchus Wine & Cheese.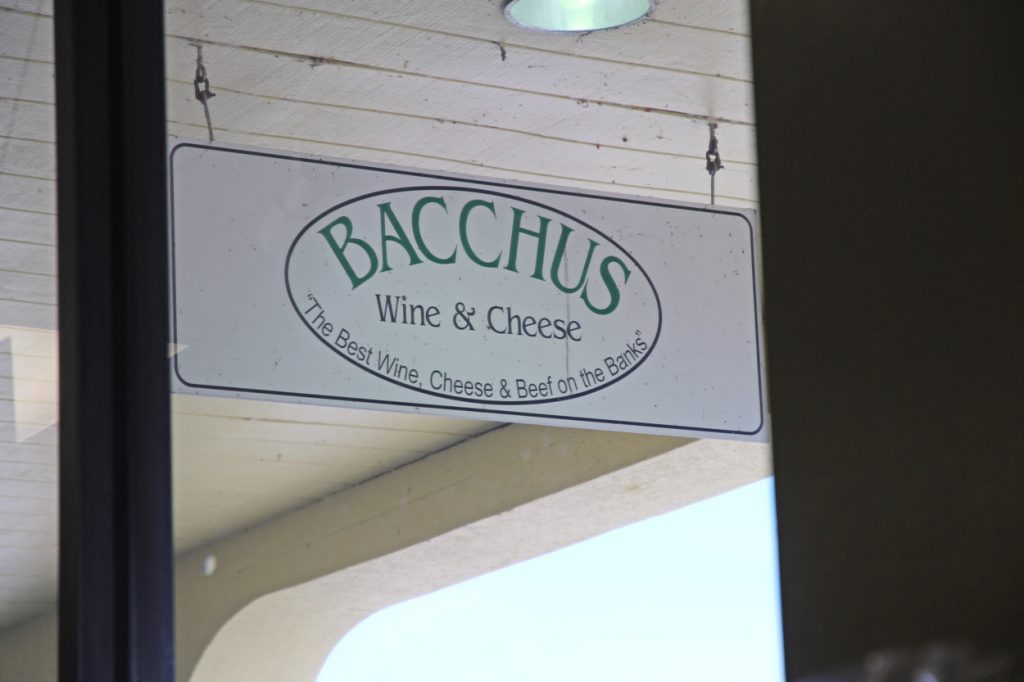 Fitting the name, Bacchus had a very impressive selection of wine… all of which was housed in a nook that resembled a cellar in a 15th century castle nestled away in some far off land. Way to set the mood! 😉
Although the tour found itself centered in the land of grape, I was very interested in the other offerings they had. I mozied my way over to the chilled section to gawk at the imported cheeses that were probably from that same fabled land. There was a very large menu board featuring deli sandwiches and they seemed to have a wide variety of bottled beers that were imported from far and wide. Before my browsing was complete, it was time to return to the nook and pair up with a wine glass.
We gathered around their bar and settled in for a round of tastings. One by one, many rounds of white wines graced our palettes. Let it be known – I fancy myself a red wine connoisseur of sorts… so I was a bit apprehensive at first, but it ended up all coming together.
The variety of white wines we were served was well thought out, and transitioned in a deliberate, meticulous fashion. All were very unique, and quite affordable. That is one of the benefits of skipping the grocery store and heading to a specialty store. For the same $10 – $15 you would spend on a mass-produced major label, you can instead head to a store like Bacchus and get paired up with a wine you've never heard of that blows your taste buds away! On a 100 degree day (it was) I'll agree that a chilled white appeals to the masses a bit more than a big, bold red… but, I'm very pleased to say we did savor that wondrous flavor with a hefty Montepulciano!
---
Bacchus marked the end of our Corolla restaurant tour. It was a very fitting end to the wide array of experiences of the day. Overall, the Corolla experience was wonderful. It was a pleasant mix of snacks, drinks, and flavorful foods. It also was a great learning experience for anyone not familiar with the area. Personally, I have been to both Timbuck II and Monteray Plaza countless times, but have not eaten at any of the restaurants on the tour.
As mentioned before, all of Southern Shores Realty's guests save 10% off on the Corolla, Duck, or Kitty Hawk restaurant tours. It's a really valuable discount and just one of the many ways we'd like to thank you for choosing us for your Outer Banks vacations. You can read more about the other restaurant tours on our Outer Banks blog, and full details about our Guest Rewards program here.
Thank you for stopping by and reading along about this journey. You can experience it yourself by going to www.OuterBanksRestaurantTours.com and making your reservation. Remember, to get your exclusive, 10% off discount, plus dozens of other area savings, you need to browse for your home and book your OBX rental with Southern Shores Realty!