July 9, 2014
Before I draw too much of your attention to my food ranting, I'd like to welcome you to another in-depth look into one of Southern Shores Realty's coveted guest rewards: Outer Banks Restaurant Tours.
If you haven't heard of them before, the concept is quite genius.  Outer Banks Restaurant Tours provides the opportunity to experience some of the best restaurants in our particular towns in a manner that's timely, guided, and an incredible deal.  It would take years of vacations to the Outer Banks to find some of these niche stops that are part of the restaurant tour program… which I think is one of the coolest parts.
Outer Banks Restaurant Tours operates many food tours up and down the Outer Banks, and Southern Shores Realty has been right there covering the action to show our visitors what an incredible experience they are.  Several of the stops have been updated with new restaurants and we want to keep our information as updated as possible!  Without further jib-jab, I present to you our experience on the 2014 Kitty Hawk restaurant tour.
---
OBX Trio
Our first stop on this guided restaurant tour was an eatery named Trio.  Due to the outstanding reputation and word-of-mouth recommendations from friends, my wife and I have frequented Trio for a while and the initial impressions had already been forged.  For newcomers to the beach and tour participants however, the first steps into Trio are like walking down a stairway as a child on Christmas morning.
Your eyes immediately are immersed in a sensory explosion of hardwood construction, wine, cheese, this level, that floor, and more.  It feels like a warm, inviting log cabin that has been transformed into a workshop of self-indulgence.
We were promptly greeted by our guides (co-owners John and Jennifer Minnich) and began investigating all the sections of the establishment.  We wandered through what seemed to be endless shelves of imported wine and fine beers.  We were also guided through sections specifically for local products to be highlighted.
After a two story tour of their extensive selection of product, we were walked over to "the stations"  (they have a fancier name than that, but for myself and most consumers of their product we shall stick with that)!  What I'm talking about are a cluster of automated wine dispensers that look like they came straight off a wine tasting party on the International Space Station.
We were all handed what looked like credit cards to be used with the machine.  Each pillar had three sides with dispensers, each dispenser offered four selections of wine, and each wine was available in either a sample size, half glass, or full glass option.  If you do the math, that literally equates to 72 options for your tasting pleasure.  A push of a button and your stream of expertly fermented grape comes right into the glass!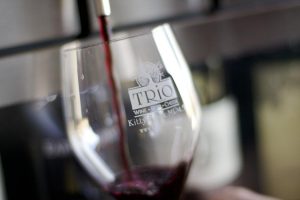 After sipping on some tasty reds and whites, it was time for some grub.  We were all served a wonderful sampling of some of the house favorites including: a spiced nut mix, wrapped asparagus, and imported meats and cheeses.  Everything was wonderful and well suited to accompany the Earthquake Red Zinfandel that was recommended to me by fellow tour goers who hailed from California.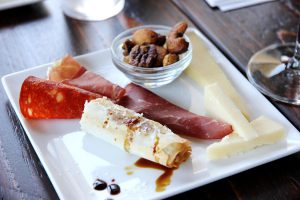 The cheese was ever so pleasing… in fact, it represents the third element to the "OBX Trio."  The wine, beer, and cheese are all impressive in their variety and selection at Trio.  The walls are lined with what looked like hundreds of beer tap handles from all the brews that have made their way through the lines there.  Their beer did not make an appearance on this particular tour, but I can tell you from experience that their draft selection is worldly to say the least, and their cafe menu is amazing (boasts the best Panini I have ever ingested).



OBX Trio was a wonderful way to start our restaurant tour.  I will definitely return (especially to pick up more Earthquake) and our fellow tour guests were also making their plans to return later in the week.  That's one of the beauties of these tours, you have the opportunity to discover new stops early on during your Outer Banks vacation and then return again to enjoy longer.
---
Coastal Provisions Wine Bar & Cafe
The next stop on our tour was Coastal Provisions Wine Bar & Cafe located in the Southern Shores Crossing plaza.  Southern Shores Crossing is conveniently located where HWY 12 and US 158 meet, and is a back-yard neighbor to the Southern Shores Realty office.
Our first steps inside were "intriguing" to say the least.  Our eyes were greeted with many things going on inside.  There is a brand new bar to one side, a full prepared foods display/take out kitchen straight ahead, and more relaxed dining spaces to the far right.
Our tour marched to the far right of the building where we were greeted by co-founder, Chef Dan Lewis at a gorgeous wine bar.  After a few hand shakes and a brief introduction, we quickly learned that the foundation of Coastal Provisions Wine Bar & Cafe and their other restaurants (Coastal Cantina, Coastal Cravings) came about by the desire to bring gourmet food and drink to the Outer Banks.  Also good to know: this location was once named "Coastal Provisions Market", but it rapidly adapted to a growing demand for an eatery vs. a gourmet grocery.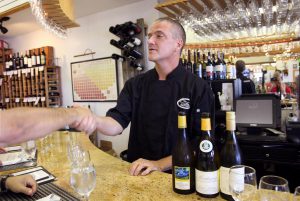 What was soon identified by the group as a welcome reoccurrence of the tour, we all were poured three glasses of white wine.  Chef Dan not only served a geographically diverse selection for us, but he made sure our wines tasted well with the flavor profiles of the food to come.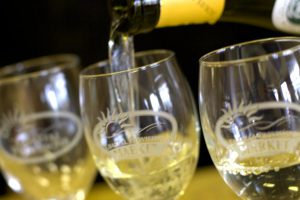 Each guest on the tour was presented a plate containing three dishes.  We started with a fresh arugula salad topped with goat cheese and citrus fruit.  Both Katlyn and I found the goat cheese to be the highlight of the preparation (go figure).  The middle dish was a sample size of their renowned crab cake, and last but not least was a recently re-popularized "Guy's Scallop."  What's in a name?  Their seared scallops over lobster sauce were one of the highlights and favorites when Guy Fieri of the television show Diners, Drive-ins, and Dives visited the Outer Banks last year.
All of the food was fantastic, and it was nice to taste some more diverse white wines than what typically is found elsewhere.  Before we left we took a couple more snapshots of the decor and areas (I really like their lit hanging decor).  There still is a good bit of produce available for sale, local seafood, as well as their cafe menu that contains amazing sandwiches, etc. (you must try their "Brie L T").  I plan on returning to experience their oyster bar which supposedly features a curated selection of these tasty treats from famed waters of both Virginia and North Carolina.
---
The Saltbox Cafe
Nestled off the windy road in the charming woods of Colington lies the Saltbox Cafe.  I had heard many great things about the Saltbox Cafe before our tour, but never visited it as it's relatively new to the Outer Banks.  Unlike local traditions and long-time favorites, the Saltbox had to break into the food scene and establish itself with a great menu and a following.  Given that, I can easily tell you that they will be in business for a very long time with the mix they currently have going!
We were all greeted at the door by Chef Randolph Sprinkle (a.k.a. "Sprinkles").  Chef Randolph is a celebrated chef who graduated from the Culinary Institute of America in New York, cooked alongside celebrity chefs (hint: "Bam!"), and has opened numerous successful restaurants as far and wide as Pittsburgh and New Orleans.  Wow what a resume!
Before savoring any foods at this stop, we heard a brief breakdown of Chef Randolph's inspirations and the true soul behind Saltbox Cafe.  It was far too humid to go out and see it, but he mentioned many of the ingredients (namely herbs and vegetables) are raised right on their property.
Our group was then seated, and served the first of what would be three courses. Round one: wild mushroom soup.  Holy smokes.
First of all, I love mushrooms.  Secondly, I love savory soups.  The presentation came as a wide, shallow bowl, graced with a toasted crostini topped with blue cheese and drizzled with a sweet olive oil.  True love does exist.
The second dish came out as soon as the first ran its course (if I haven't mentioned already our good friend, wine, was accompanying every round).  The second entree to tempt our palettes was a serving of fresh local grouper, nestled on a bed of savory rice pudding and a mild Asian brown sauce.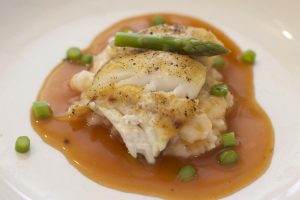 The fish was delicious… grouper is a favorite of mine when it comes to whitefish and this dish didn't disappoint.  The last round to be served was a thick slice of homegrown heirloom tomato, topped with arugula, sliced New York strip, and garnished with a balsamic reduction.  I must admit, the steak was cooked perfectly and the whole dish was taken to the next level with the flavor intensity of the balsamic reduction.  I would experiment making this into smaller versions as a passed summer appetizer for sure.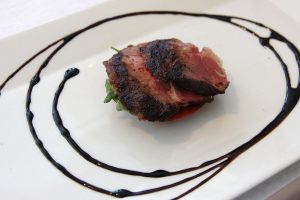 Overall, I was pleasantly surprised with the small building charm, ambiance of the interior, and overall foods tasted at the Saltbox Cafe.  I can't wait to return with my wife for a special dinner out, as well and try out the brunch Chef Randolph spoke about.
---
Bad Bean Baja Grill
As if we hadn't eaten enough food already, the tour trekked back on into Kill Devil Hills for a stop at the Bad Bean Baja Grill.  The restaurant is tucked in the corner of the Seagate North shopping center and you'd miss it if you weren't aware.  It's right across the road from TreadQuarters and just south of the stoplight where Paradise golf is at.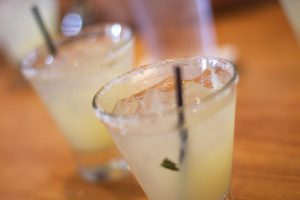 The Bad Bean is a Mexi-Cali fusion of sorts, all based on serving top notch ingredients at affordable prices.  I will openly admit, I've been to the Bad Bean Baja Grill more times in the past year than I have visited my hometown… but there's good reason for that!  Namely, home is hundreds of miles away and doesn't have nearly the soft taco prowess of Bad Bean.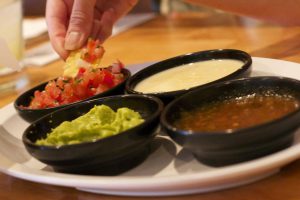 First entering the Bad Bean, your are welcomed to a sizeable dining area and a cozy looking bar off to the side.  The choice of colors and wall decor certainly set the mood for the cuisine to follow.
We were greeted by Chef Matt Payne, a Culinary Institute of America graduate who kicks Bad Bean's food up to the culinary max by using only the freshest ingredients and savory preparation methods.  Speaking of fresh, we started the visit off with what had to be the freshest, zestiest margarita I have ever tasted.  It was just wonderful!
We also were served a tray of Bad Bean's homemade salsa, guacamole, and queso dip.  One of the things I love most about Bad Bean Baja Grill is that all of the food, even the salsas are all simple, yet delicious.  The varieties of their homemade salsa is very impressive and the other dips are nothing short of grade "A."
At this point in time, there wasn't much room "left in the tank" so to speak.  We had eaten several sizeable plates of food and probably 5 full glasses of wine.  The fact of the matter remained that we had to steam through this.  There was too much food left to allow any form of weakness to break our steady stream of gourmet gorging.
Chef Matt, noticing our dip tray and house made tortilla chips low, strolled back into the kitchen and proceeded to bring out his hidden ace, his secret weapon, the be all end all; pork belly tacos.  Before I divulge the X rated sensory details circling the pork belly taco, you must know that this is not a regular menu option.  It is not listed on the menu nor available all the time.  Mobs of patrons have been known to raise pitchforks and wield torches when the pork belly gets "86'd" from the specials list (not really, but let's go with it for dramatic effect).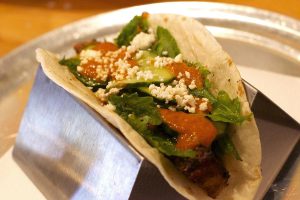 Do not let this photograph fool you.  Underneath the crumbled cheese, pickled cucumbers, and arugula (must have been a good crop this year – ate at 3 stops), there lied an ever-so-tender slice of pork belly.  I'll be honest; I've never eaten pork belly until my first several visits to Black Bean Baja Grill.  For anyone who's not experienced it before, holy smokes.  Prepared in this manner, it is the most tender and delicious piece of pork.  Chef Matt told us that the prep time for the slabs used for these tacos is in terms of hours… all to be devoured in minutes.  The end product is nothing short of an "experience" that you won't soon forget.  The pork literally melts in your mouth and it has such a smoky, buttery flavor that is out of this world!  The taco is also served in other variants and toppings, most commonly with a jicama slaw.  Everyone reading this needs to get into Bad Bean Baja Grill and just take it all in… it's a remarkable eatery and visitors are very lucky to get these big helpings on the restaurant tour!
---
Beachside Bistro
Our next stop, only a short ride away from Bad Bean was the Beachside Bistro; located in the Sea Ranch Resort on the oceanfront.  I was very excited to visit here as there are a very limited number of oceanfront restaurants on the Outer Banks.  As I sit here typing I literally cannot think of another off the top of my head.
We walked through the hotel area, just between the outdoor pool and lobby as we made our way to the restaurant.  We arrived to find seating options both inside and out, and given the choice, the group obviously opted for the preferable outdoor experience!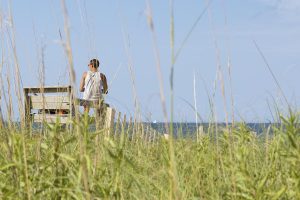 The view was quite spectacular, much better than what I had imagined.  There was only a small patch of sea oats and grass between us and the Atlantic Ocean.  A waitress promptly came out to us and served a large platter of foods plus another glass of white wine.


The plate was stuffed!  Working left to right was a barbeque stuffed egg roll, artichoke dip with fresh pita, a miniature crab cake, and a smoked tuna salad sandwich.  The food was excellent.  I particularly enjoyed the dip and the tuna salad… I believe there were pistachios used in the tuna salad and the light smoky flavor was a nice change of pace.  The white wine was an excellent, crisp addition to offset some of the starch overload from the day and the dish.
Although in the latter half of the tour, the Beachside Bistro definitely made an impression on everyone with its sweeping views of the ocean and delicious foods.  It will be nice visiting here again when there is more room in my stomach and more time to relax!
---
Zen Pops
The last stop on the tour was Zen Pops.  Zen Pops has a remarkable reputation on the beach for its tasty pops and frozen treats that are safe for many with dietary restrictions.  It's a good thing this wasn't a walking tour (as many of the others are), because by this point I was laboring to breathe given all my recent ingestions.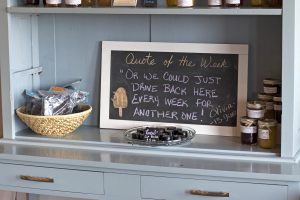 Zen Pops is located a few steps away from Trio, and shares a kitchen with two other natural food start-ups: Brynn's Good Karma Foods and Sweater Box Confections.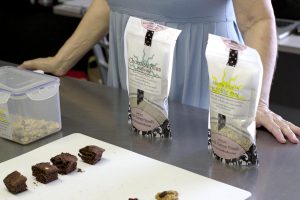 Our first sampling through the kitchen tour was homemade granola mixes by Brynn Waite.  We had the opportunity to taste several unique blends of crunchy goodness as well as some confections made with them.  She had prepared brownies with her muffin mix and cookies with her specialty "karma krunch" mix.  This was a welcomed way to wrap up our tour!
We then stepped over to taste some frozen sweets created by Crystal Swain.  Zen Pops are Crystal's adaptation of Mexican paletas (frozen fruit pops) that are suitable for strict dietary restrictions such as lactose intolerance.  She was inspired to come up with these creations so that her children could enjoy ice cream and popsicles like everyone else.
We were served several rounds of her famous pops, all with fresh fruit and refreshingly zesty flavors (natural ingredients will do that for you).  After the pops came samples of the dairy-free ice cream.  We tasted a lemon cookie ice cream sandwich and a chocolate ice cream with a coconut milk base.  I personally found it more satisfying and smooth than dairy ice cream!
The very last sampling was with Chris Carroll of Sweater Box Confections.  She had a wonderful sampling of coconut macaroons, cheese pennies (like cheese straws), and very unique lavender cookies.  I'll admit, I was a little skeptical to try the lavender cookie… but it was fantastic!  The aroma of fresh lavender worked wonders along with the buttery flavor of the cookie.  Chris does farm markets and shows all up and down the beach with many returning patrons craving her products.
---
Overall, the tour was a fantastic experience.  Like I said earlier, it would take years of trying out restaurants and stopping at small bakeries to find "sweet spots" like these.  Not only does it take time to find the places, but even more time to find the best foods.
Coming from a man who likes to eat, I can tell you that there was a colossal amount of food served to us on the tour and absolutely nobody went home hungry.  The price of the tour is a bargain considering all of the fine foods you get to eat, wines you get to enjoy, and valuable insight you get by going behind the scenes and interacting with the chefs, owners, etc.
We see such value in Outer Banks Restaurant Tours that we've teamed up to offer our vacation rental guests an exclusive, unlimited 10% discount on any of the tours in Duck, Corolla, and Kitty Hawk.  This is an ongoing relationship that is part of our guests rewards program, where we give our vacationers incredible and unique offers that you can't get by clipping coupons.  I thoroughly enjoyed my experience on the new Kitty Hawk restaurant tour and I know Katlyn did as well!
Until next time, EAT UP!
Restaurant Website Links:
Guest Rewards Program
Save 10% on Outer Banks Restaurant Tours
Trio
Coastal Provisions Wine Bar & Cafe
Saltbox Cafe
Bad Bean Baja Grill
Beachside Bistro
Zen Pops
Brynn's Good Karma Foods
Sweater Box Confections