December 8, 2020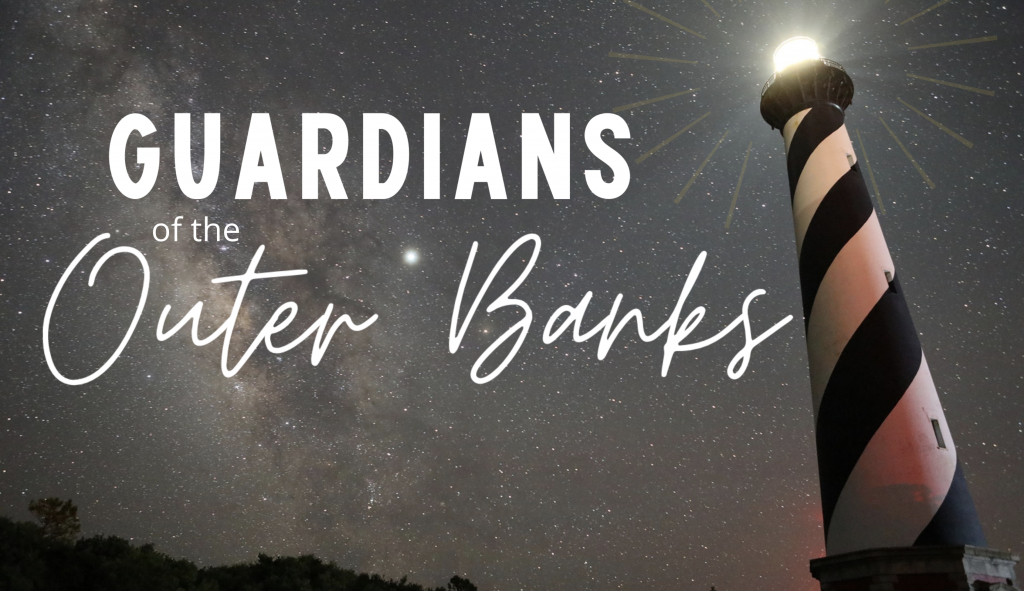 Guardians of the Graveyard of the Atlantic, the Outer Banks is home to 4 dignified lighthouses. Due to our location at the meeting grounds of 2 major ocean currents, the Gulf Stream and Labrador Current, our waters have been traversed by many a mariner. The currents can wreak havoc on vessels and are known to plunder even the most skilled sailors. To warn passersby of our sandbars, lighthouses were illuminated centuries ago, sparring many, and fascinating even more.
While they play an integral role in coastal safety, they also play a major part in our tourism industry.
Currituck Beach Light
1101 Corolla Village Rd, Corolla, NC 27927
Hours: 9am – 5pm
Height: 162 ft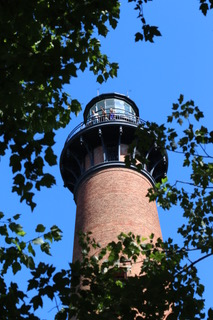 Overlooking the Corolla Village and the Whalehead Club the Currituck Beach Light has a been a staple of the Northern OBX since 1875. This lighthouse is distinguished by its raw and exposed red brick. Want to wager a bet on how many bricks it took to finish this lighthouse? Upward of a million! Phew! No wonder they didn't want to paint over all of that work.
Atop this lighthouse one can observe the various communities that comprise the Corolla area, the 4×4 beaches, Penny's Hill, Currituck Sound, Atlantic Ocean and Currituck Mainland.
–
–
–
Bodie Island Lighthouse
8210 Bodie Island Lighthouse, Nags Head, NC 27959
9am – 5pm
Height: 156 ft
In 1872, Bodie Island Lighthouse is officially lit! This '72 construction was the third and final construction of the lighthouse. The prior 2 attempts did not stand the test of time. The first was lost due to poor construction. The second was blown to pieces by the confederacy during the Civil War.
Located in South Nags Head between Nags Head proper and Hatteras Island, Bodie Island Light (pronounced "body"), keeps watch over the area north of the world famous Oregon Inlet. There are some phenomenal opportunities to observe wildlife from the lighthouse grounds. There are various trails/boardwalks that lead out excellent bird watching opportunities. The bird watching is so abundant in this area because Pea Island National Wildlife Refuge is a major pass-through for migratory birds.
Opened to the public for the first time in 2014, Southern Shores Realty had an exclusive look at the grand opening of the Bodie Island Lighthouse!
–
Cape Hatteras
46379 Lighthouse Rd, Buxton, NC 27920
Hours: 9am – 4:30pm
Height: 198 ft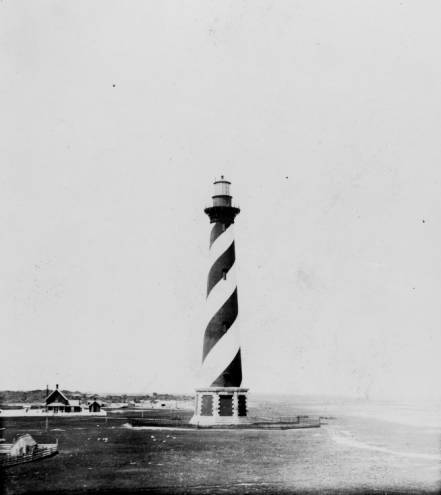 Cape Hatteras Lighthouse is arguably the most iconic inhabitant of North Carolina's coast. It is not only the country's tallest lighthouse, but it the world's tallest brick lighthouse. The lighthouse we see today was officially lit in 1870. This is actually the second (and hopefully final) build of this beaut. The original Hatteras Light was made of sandstone, sporting a color block red and white exterior. Today's lighthouse has its iconic black and white spiral day mark. Reminiscent to a barber's pole, this lighthouse can't be missed! It's unique day mark makes it easy for mariners to spot miles away.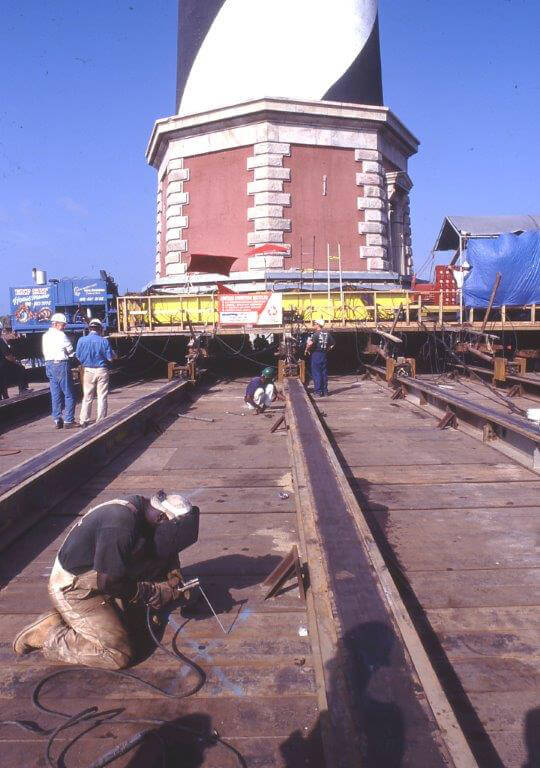 The big move. In 1999, Cape Hatteras Lighthouse was moved to new location. It original location was threatened by the ocean, as erosion and rising sea levels were putting it at risk. A team of movers begin the successful relocation of the lighthouse 2,900 ft. This pushed it 1,500 ft back from the shoreline. The move took over a year of preparation, $11.8 million and 23 days, moving incrementally at approximately 5 feet a go. Today, many love to climb her spiral staircase for the unbelievable view — where one can observe the old lighthouse location.

–
–
Ocracoke Beach Light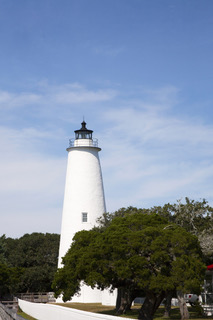 360 Lighthouse Rd, Ocracoke, NC 27960
Hours: 9am – 5pm
Height: 65 ft
The short, sweet, and southernmost signal. Located a 50-minute ferry ride down the coast on Ocracoke Island lies the oldest operating lighthouse in the state. This is the second lighthouse to stand these grounds. Construction began in 1794 on Shell Castle Island. The original structure was struck by lightning and a rebuild was essential. That's when the structure we see today was erected, in 1823. This all white beacon has seen quite a bit of history and hurricanes. Unfortunately, this one is not open to the public. This is out of safety concerns for the old structure.