June 11, 2013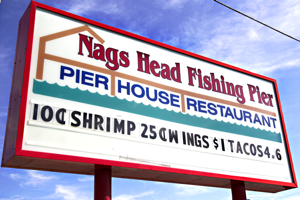 I like breakfast.  There, I said it!  One of the most delightful experiences you can have on your Outer Banks vacation is a tasty meal out.  One of the most ful"filling" meals out you can eat is breakfast.  Your OBX vacation certainly requires focus and energy, so there is no excuse not to have an enormously satisfying breakfast at the beach.
Contrary to popular belief, there are a nice assortment of gut-busting breakfast joints on the Outer Banks that are sure to please even the pickiest early morning foodie.  Now I'm not talking about meager stop-and-go, poke your head in, egg white sandwich drive thru's here.  I'm writing about the get in line, pop a squat, read the menu, sit, enjoy, drink tasty coffee, and celebrate enormous portions kinda places!
I won't go into detail and give you a play by play of all of these, because quite frankly, I'm quite addicted to a handful of these.  What I can tell you is that the Outer Banks breakfast scene is fantastic, and that you and your family should seriously consider making breakfast out one of your traditions.  Heck, it's cheaper than the rest of the meals of the day.  It also fills you up enough to not want to get in your bathing suit until about 3pm – so it's win-win!
I'll jump into the breakdown and stop rambling.  There's something about Outer Banks breakfast restaurants that is truly unique.  The thrill of vacation already sets the mood for the experience to be fantastic, the ambiance (at some places) is soothing and beachy, and finally… the wealth of fresh seafood makes a perfect paring with early morning entrees!
Some Outer Banks breakfast joints are made famous by their breakfast buffets.  The Dunes Restaurant in Nags Head is one of those.  I can remember going to The Dunes when I was younger, and my brother and I would be the only two brave enough to tackle the buffet.  The place has since been renovated, but the buffet is still gut-busting (or tame if you control yourself).


Other OBX breakfast spots are a more traditional, come in – get cozy – stuff your face, kind of places.  The Jolly Roger in Kill Devil Hills is a stellar example of this.  It has a warm and cozy interior, not your typical decor (I dig it), and a bountiful menu of large and in charge food.  Outer Banks breakfast has been spotlighted on the TOP 10 Foods to Try, and you better bet I threw a recommendation to the direction of the Crab Benedict!  I can also testify that the Pier House Restaurant, in the Nags Head Pier, is a fantastic ritual for tasty morning grub at really reasonable prices.  Eating right on the pier has that "aura" of it.  It's uber cozy – and I like cozy when it comes time to be active early in the morning!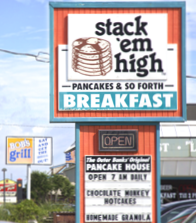 There are also a handful of "cult following" breakfast restaurants on the Outer Banks.  OK, there aren't cults (or are there?) circulating to breakfast spots here, but these restaurants have a certain fanship that understands there's just something regulated and ritualistic about them.  Know what I mean?  For example, let's take Bob's Grill in Kill Devil Hills.  At first glance you wouldn't know, oh wait, yes you would.  According to my supervisor, I should not type such language, but Bob's has a catchy little slogan that is really hard to miss when driving by.  It gets you in the door and reminds you how long your welcome is there.  This is the type of "breakfast mania" mentality I'm hinting at.  Stack 'em High Pancake Houses – both in Kitty Hawk and Kill Devil Hills, have a HUGE following amongst OBX'ers anxious to stuff down some syrup slopped cakes.  The lines pour out the door – and that's how it is.  Like the Orange Blossom Cafe in Buxton, NC, you kind of just "do what you have to do" to get the good stuff after the wait.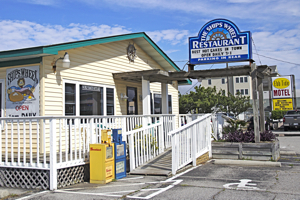 Speaking of cult following pancakes, the Ship's Wheel Restaurant by the Ebb Tide Motel in Kill Devil Hills has a pancake bigger than my computer screen I'm looking at right this very minute.  I assure you, it's quite large.  They aren't widescreen shaped, but they are huge, they are tasty, and you know what?  They are memorable!  That's what the secret ingredient is for any successful breakfast restaurant here.  Memorable!  Vacation is all about having fun, making memories, forming traditions, and hopefully doing it all over again to forget about your day job (I like my day job).   An Outer Banks breakfast is a perfect combination of all (had to count) 4 of those, and you need to get out and start making a serious tradition of this.  Please.  Thank you!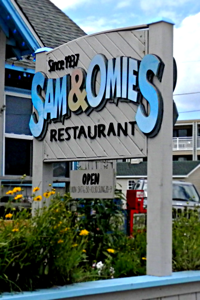 Other breakfast places that need to be mentioned and written down are Henry's in Kitty Hawk, Miller's on the beach road in Kill Devil Hills, and Sam & Omie's right across from Jennette's Pier in Nags Head!  Get out!  Go, get, scram!  Go eat some OUTER BANKS BREAKFAST!!!!