November 16, 2021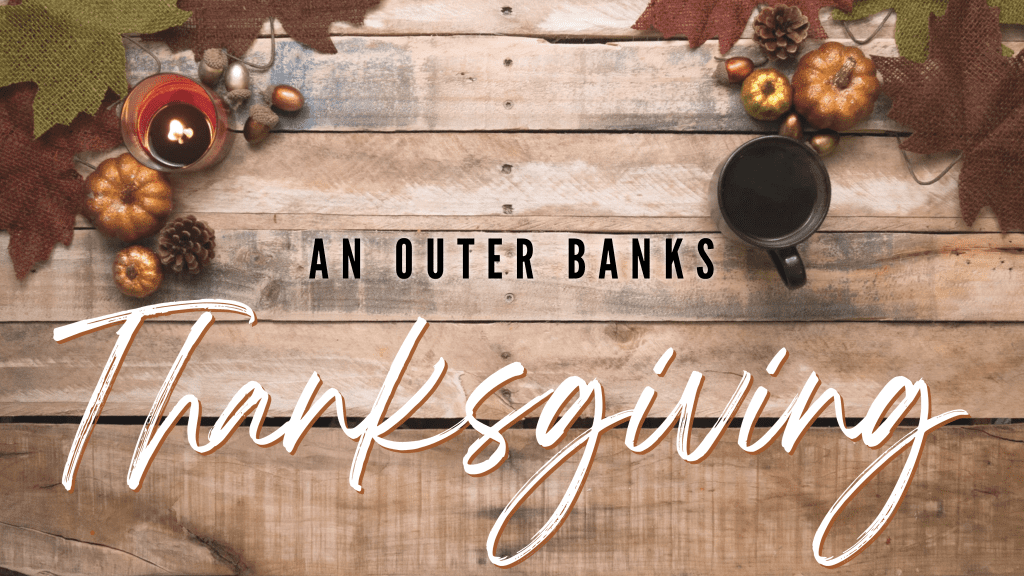 Can you believe we're coming upon the holiday season and celebrating Thanksgiving? The Outer Banks, one of the most family-friendly vacation spots in the USA, is a great place to enjoy the holidays.
So what does Thanksgiving on the OBX look like? Here's what we think you'll want to know.
Temperatures are mild, averaging in the 60s. Sometimes it can be warmer, and sometimes colder, so sweatshirts are perfect to pack! The ocean isn't swimmable, but fishing is great and the beach is ready to be combed.
Thanksgiving Dinner
These restaurants are either offering dine-in, buffet, catering, and/or carry-out. Call ahead to reserve your spot!
Aqua Restaurant & Spa
1174 Duck Road
Duck, NC 27949
252-261-9700

Basnight's Lone Cedar Cafe
1623 S. Virginia Dare Trail
Nags Head, NC 27959
252-441-5405

Captain George's Seafood Restaurant
705 S. Croatan Hwy.
Kill Devil Hills, NC 27948
252-480-6677

Eventide
1190 Duck Road
Duck, NC 27949
252-715-1216

NC Coast Grill & Bar
1184 Duck Road
Duck, NC 27949
252-261-8666

Red Sky Cafe
1197 Duck Road
Duck, NC 27949
252-261-8646

Kelly's Outer Banks Catering
1004 9th Ave.
Kill Devil Hills, NC 27948
252-441-4116

Kimball's Kitchen
1623 S. Virginia Dare Trail
Nags Head, NC 27959
252-441-5405

Ocean Boulevard Bistro & Martini Bar
4700 N. Virginia Dare Trail (milepost 2.5)
Kitty Hawk, NC 27949
252-261-2546

Owens' Restaurant
7114 S. Virginia Dare Trail
Nags Head, NC 27959
252-441-7309




Local grocers include Harris Teeter, Food Lion, Publix, Fresh Market, and a variety of seafood markets.
Things to do:
Fishing
Fishing this time of year is great. Crowds have thinned out and waters are clear of swimmers. It's a relaxing way to enjoy the beach or cast out on a pier. Check out our fishing guide for tips and info!
Oyster Roast
It's a coastal tradition this time of year! Get your fill of oysters while getting's good! You can learn more information about local oysters by clicking here.
Walk the Beach/Nature Trails
There are gorgeous ways to get out in nature. The beach is, of course, a given, but there are other beautiful routes as well, we have the details here. Enjoy the changing colors and cooler temps of our local maritime forests and walking trails.
Shopping
Christmas is right around the corner! Get unique gifts and shopping done early. With the rush of summer behind us, navigating your favorite stores and boutiques is so much easier. Take advantage of the smaller crowds and explore some new spots.
Kites with Lights
On November 27th from 4:00 – 7:00 pm, you won't want to miss this annual holiday light show that will brighten up the sky over the dunes of Jockey's Ridge! Come out to Kites With Lights, presented by Kitty Hawk Kites, and celebrate with an impressive display of huge 19 to 30-foot kites completely decorated for the season! Kids and adults will relish in the sight and will also enjoy the lighting of the Jockey's Ridge State Park Solar Christmas Tree! Plus, baked goods and warm beverages will be available across the street (Jockey's Ridge Crossing). Although the event is free, donations are welcome and benefit The Friends of Jockey's Ridge, a nonprofit organization created to support, maintain and enhance the park.
Winter Lights at the Elizabethan Gardens
November: 27,28,30
December: 1-5, 7-12, 14-19, 21-23, 26, 28-30
January: 2, 7-9, 14-16.
6:00-9:00 pm
Adults: $12
Youth $10
Child:: $7
Infant: FREE
Dog: $3.

"The #1 Outer Banks holiday tradition not to be missed! Stroll along illuminated garden walks and discover the joy of the season with holiday lights, sights and sounds that transform the ten-acre gardens into an enchanted wonderland. Sponsored by Southern Bank, The Outer Banks Visitor's Bureau and Dominion Energy. The radiant glow, traditional holiday décor and fantastical displays are a true spectacle to behold. Indoors are decorated with festive trees and holiday displays too. Other highlights include: holiday gift and plant shopping in the Royal Exchange, a crackling open-air fire, giant outdoor holiday movie and live entertainment on Fridays and Saturdays."
On Wednesday, November 24th at 11 AM