March 25, 2020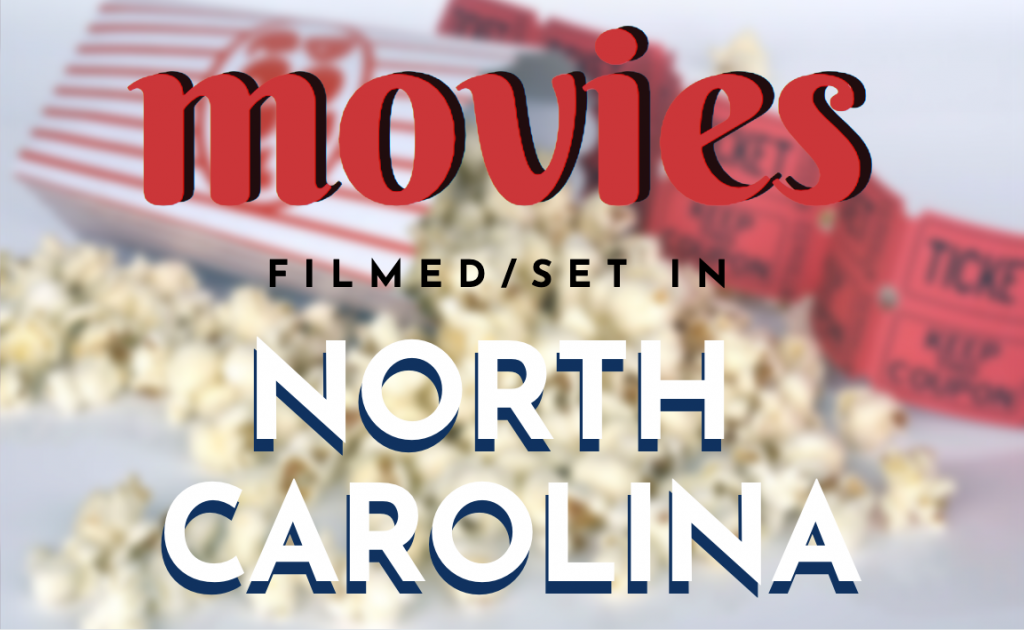 Coastal Carolina is picturesque, lush, natural, diverse, and — a hub for film and tv! Say what? Did you know that south of the OBX, in a coastal town named Wilmington, lives the "Hollywood of the East Coast" or "Hollywood of the East"? Yep, that's right. North Carolina is the setting to plenty of movies and TV shows.
Now, maybe you come across this blog because you're missing the Old North State during this unique time; maybe it's a rainy day; maybe you're practicing social-distancing during this pandemic, and maybe as a result, you have run out of movie options. Well, I'll tell you that you're definitely in luck, because we've got your bases covered! We're here to help ya find a flick that will bring back memories of vacationing in North Carolina. So go ahead and grab your popcorn!
Below, we've compiled a list of movies that are set or filmed in our state. Which ones have you seen?

Peanut Butter Falcon
Set and filmed on the Outer Banks!
A phenomenal New Release, written and directed by OBX native, Tyler Nilson. This film is a feel good, get-ya-giggling local favorite. The directors even showed up to local movie theaters during the premiere, running a Q&A, and paying homage to the village that inspired the film. We're sure you'll recognize the scenery in this uplifting movie.
A modern Mark Twain style adventure story, THE PEANUT BUTTER FALCON tells the story of Zak (Gottsagen), a young man with Down syndrome, who runs away from a residential nursing home to follow his dream of attending the professional wrestling school of his idol, The Salt Water Redneck (Thomas Haden Church). A strange turn of events pairs him on the road with Tyler (LaBeouf), a small time outlaw on the run, who becomes Zak's unlikely coach and ally. Together they wind through deltas, elude capture, drink whisky, find God, catch fish, and convince Eleanor (Johnson), a kind nursing home employee charged with Zak's return, to join them on their journey.
Nights in Rodanthe
Set and filmed in our very own Rodanthe, NC. Many Rodanthe locals will have a story or two to share about the filming of the movie. The house still stands in a new location. Definitely give it a drive-by next time you're down on Hatteras Island.
When Adrienne Willis (Diane Lane) arrives at the coastal town of Rodanthe, N.C., her life is in chaos. There, she hopes to sort through the trouble surrounding her, while tending a friend's inn for the weekend. The only guest at the inn is Dr. Paul Flanner (Richard Gere), a man tormented by a crisis of conscience. As a storm approaches the coast, Paul and Adrienne find comfort and a life-changing romance.
Message in a Bottle
Set in Outer Banks, but filmed in Maine.
During her morning jog on the beach, journalist Theresa Osborne (Robin Wright Penn) discovers a bottle protruding from the sand. Inside it, she finds a heartbreaking, anonymous love letter. After her paper publishes the letter, Osborne tracks down the letter's reclusive author, world-weary widower Garret Blake (Kevin Costner), in the Carolinas. But, as Osborne finds herself falling hopelessly in love with Blake, she becomes wracked with guilt over the real impetus for her visit.
Dear John
Set farther south on our coast in Wilmington, NC.
When soldier John Tyree (Channing Tatum) meets an idealistic college student, Savannah Curtis (Amanda Seyfried), it's the beginning of a strong romance. Over the next seven tumultuous years and separated by John's increasingly dangerous deployment, the lovers stay in touch through their letters, meeting in person only rarely. However, their correspondence triggers consequences that neither could foresee.
Safe Haven
Set and filmed in Southport, NC.
Nicholas Sparks really loves Coastal Carolina! I mean, who could blame him? 😉
Katie Feldman (Julianne Hough) moves to a small town on the North Carolina coast, determined to make a new life for herself. She takes a job as a waitress and keeps a low profile, but she is soon won over by the warmth and caring of the close-knit community, especially that of widower Alex (Josh Duhamel). With the help of Alex and his children, Katie learns to love and trust again — but when a mysterious stranger arrives and starts asking questions, Katie's dark past threatens to reclaim her.
The Guardian
Partially filmed in our neighboring Elizabeth City!
The Series of Unfortunate Events
Filmed in Wilmington, NC

Bull Durham
Set and filmed in North Carolina's Bull City — Durham. Hence the name!
In Durham, N.C., the Bulls minor league baseball team has one asset no other can claim: a poetry-loving groupie named Annie Savoy (Susan Sarandon). As the team's season begins, Annie selects brash new recruit Ebby Calvin Laloosh (Tim Robbins), whom she christens "Nuke," to inspire with the religion of baseball. Nuke also receives guidance from veteran player Crash Davis (Kevin Costner), who settles Nuke's erratic pitching and teaches him to follow the catcher's lead.
The Longest Ride
Filmed in Winston Salem, Wilmington and Jacksonville.
Former bull-riding champion Luke (Scott Eastwood) and college student Sophia (Britt Robertson) are in love, but conflicting paths and ideals threaten to tear them apart: Luke hopes to make a comeback on the rodeo circuit, and Sophia is about to embark on her dream job in New York's art world. As the couple ponder their romantic future, they find inspiration in Ira (Alan Alda), an elderly man whose decades-long romance with his beloved wife withstood the test of time.
The Hunger Games
Filmed in southwestern NC. Set in a dystopic version of the area as well, as western NC would belong to District 12 in the fictional Capitol of Panem.
In what was once North America, the Capitol of Panem maintains its hold on its 12 districts by forcing them each to select a boy and a girl, called Tributes, to compete in a nationally televised event called the Hunger Games. Every citizen must watch as the youths fight to the death until only one remains. District 12 Tribute Katniss Everdeen (Jennifer Lawrence) has little to rely on, other than her hunting skills and sharp instincts, in an arena where she must weigh survival against love.
Dirty Dancing
Filmed in Lake Lure, NC.
Baby (Jennifer Grey) is one listless summer away from the Peace Corps. Hoping to enjoy her youth while it lasts, she's disappointed when her summer plans deposit her at a sleepy resort in the Catskills with her parents. Her luck turns around, however, when the resort's dance instructor, Johnny (Patrick Swayze), enlists Baby as his new partner, and the two fall in love. Baby's father forbids her from seeing Johnny, but she's determined to help him perform the last big dance of the summer.
Patch Adams
Filmed in Asheville & at University of North Carolina – Chapel Hill
After struggling with depression in a mental hospital, Hunter "Patch" Adams (Robin Williams) decides he wants to become a doctor. He enrolls at Virginia Medical University but is disillusioned by the school's clinical perspective on patient care. With the aid of a wealthy friend, Adams opens his own medical clinic for those without insurance. He forms a deep bond with fellow medical student Carin Fisher (Monica Potter) before a tragedy causes Adams to re-evaluate his approach.
Forrest Gump
Filmed in various locations throughout NC — including both coast and mountains. The iconic running scene on Blue Ridge Parkway (Grandfather Mountain) has been dubbed "Forrest Gump Curve".
Slow-witted Forrest Gump (Tom Hanks) has never thought of himself as disadvantaged, and thanks to his supportive mother (Sally Field), he leads anything but a restricted life. Whether dominating on the gridiron as a college football star, fighting in Vietnam or captaining a shrimp boat, Forrest inspires people with his childlike optimism. But one person Forrest cares about most may be the most difficult to save — his childhood love, the sweet but troubled Jenny (Robin Wright).
Masterminds
Set & filmed in Asheville, NC
The Fugitive
Filmed in Bryson City & Dillsboro, NC
The Color Purple
Filmed in Anson & Union Counties, NC.
Paper Towns
Filmed in Charlotte and Concord, NC.
Three Billboards Outside Ebbing, Missouri
Filmed in various towns throughout Western North Carolina
The Green Mile
Partially filmed in Blowing Rock, NC
Our Vacation Rentals with In-Home Theaters
Interested in a vacation rental with a great in-home theater to watch these flicks in?
Here's a list of some of the houses in our program that have a theater room.