November 6, 2012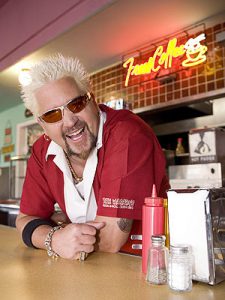 You've been waiting for the Food Network to air Diner's Drive-ins, and Dives on the Outer Banks, and now confirmed for November 11, 2012 at 12:00pm, Guy's Family Reunion show will highlight Guy Fieri's Family and their visit to the Outer Banks.  The show will highlight their entire week here and will sure to have nice footage of our beautiful area! It will be taking place in Nags Head, and will include many prepared family meals like Oyster and Chicken Po' Boys, creatively Stuffed French Toast, delicious Mahi Mahi Tacos, and even world famous Outer Banks Crab Boil!  For those of you who have not vacationed to the Outer Banks before, you will see fun activities like family games on the beach, deep sea fishing out of Pirate's Cove marina, and even crabbing in the Pamlico sound. There will be plenty of candid moments with Guy's entire family and this is a great show that will include ONLY the Outer Banks so it's one not to miss!  This is a rare inside look at one of Food Network's biggest stars! Other air times include:
Nov 12, 20122:00 PM ET/PT
Nov 16, 20127:00 PM ET/PT
For other great Outer Banks' goodies check out the Top 10 Foods to Try, Top 10 Attractions, and Top 10 Activities!