October 24, 2011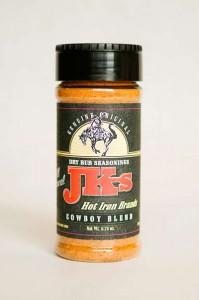 "You mean I can actually purchase your Signature Spice, full of delicious flavor, to bring back home with me? And in addition to this exciting news, you have even generously prepared a PDF format on your website, complete with great ideas for me to use my new Hot Iron Brand Spice with? I hope I am hearing this correctly, because I can't wait to surprise my friends and family at home with this distinctive yet wonderful taste you have just introduced to my mouth!"
That's right, our local JK'S Restaurant specializing in steaks and seafood have just received the very first Outer Banks Oscar from Southern Shores Realty for the outstanding job they do with pleasing every individual who comes through their door with the unique taste of their Signature Spice.
The spice has been used for decades in the kitchen of JK'S, and now you can take this subtle and versatile blend back home with you. To be correct, they have used the exact blend since 1984, consistently. Season a variety of grilled meats and/ or fish with either the Cowboy Blend Spice or the Zest Chipotle to create a guaranteed great dinner. Actually, with these hot iron blends you are capable of turning any dull dinner into something spectacular. Over the years, the cowboy blend has become a regional trade right here on the Outer Banks in Kill Devil Hills, North Carolina.
For the residents who can't get enough of this home town spice, along with the vacationers who share this spice with friends and family across the country, say that it has become an essential in their cooking 'secrets.' As crazy as it is, people even put this stuff on their morning eggs! I guess what they say is true; once you try it, you can't get enough of it! You may purchase the infamous signature spice of JK'S Restaurant in house, online, or in one of our local Harris Teeters grocery stores. The owners of this fine dining and live wood cookery will quickly ship the blends right to you if you simply can't wait until the next time you are in town. Just head over to their website to place an order online, or if you would prefer to simply wait until your next stay in one of our Outer Banks vacation rentals, do so. Just don't forget to stop in to this fine establishment which has the perfect comfort to it, to taste the great flavor of this seasoning.
The owners update recipes frequently on their website for your use, especially around the holidays. Be the next to create the taste of JK'S in a home kitchen!An extra about JK"S: Every Thursday night throughout the fall months, they service a burger night in the bar. They are to die for! If you happen to be here during the fall, head over to grab yourself one!