December 1, 2020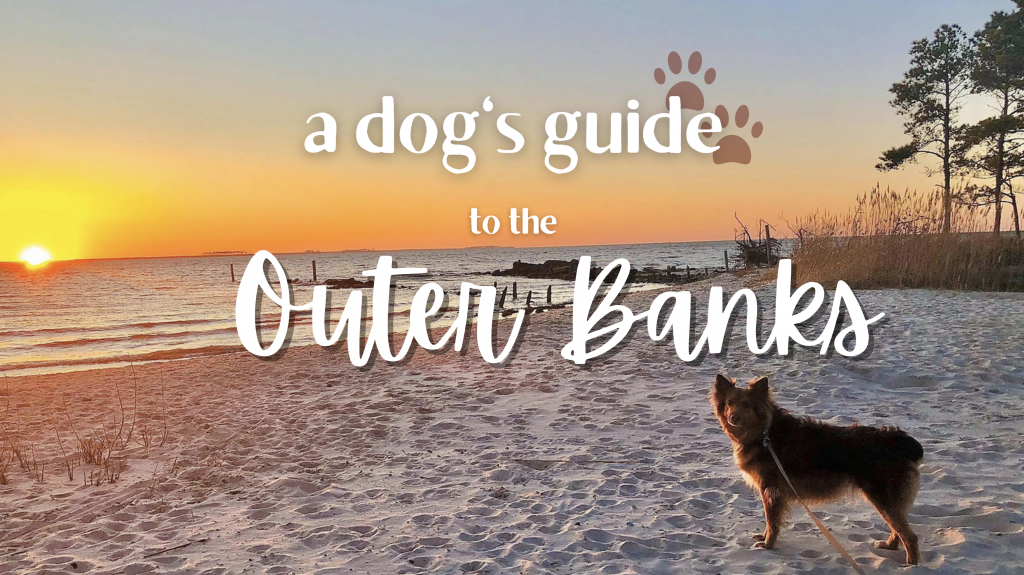 Dogs. Not just pets, but also family. With the increasing availability of pet-friendly vacation rentals, it comes to no surprise that more and more folks are asking, "what else is pet-friendly?" Apart from the Fido friendliness of our beaches, there's plenty more going on!
All OBX beaches allow dogs, but with varying rules on times of day and leash lengths. For a details by town, check out our breakdown on rules.
Activities:
Kayaking
A great sight-seeing opportunity doesn't have to be limited to just humans — get your dog involved! Soundside kayaking is a great family activity that even your pooch can enjoy. We strongly recommend a life jacket for the pup while on a boat, and will list pet stores below in which one may be purchased.
We have a detailed information on kayaking, rentals, and tours here.
Hiking
Get both pet and parent heart rate up with a hike through our maritime forests!
All local trails allow for leashed dogs. Just ensure your pet is up-to-date on tick and heartworm preventatives before hitting the trail, as both are prevalent on the OBX.
We have a great blog detailing all of the OBX nature trails, but we're going to feature some of our favorites below.
Nags Head Woods
West Ocean Acres Drive (MP 9.5) – Kill Devil Hills
252-441-2525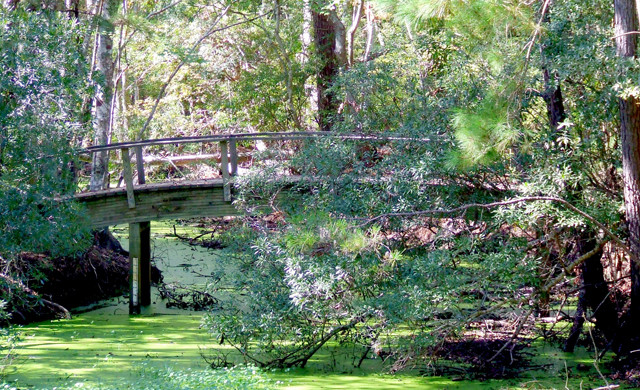 The beautiful Nature Conservancy will not disappoint if you're in the market for a full immersion in nature. Surrounded by maritime forest, dunes, marshland, and wildlife, this 1,400 acre preserve was officially designated a National Natural Landmark in 1974. There are multiple walking trails to venture down, ranging in length from a 0.5 mile ADA accessible trail to 5 miles worth of intricate trails. On your stroll, enjoy observing the more than 100 bird species, 15 amphibian species, 7 fish species, and 28 reptile species that call Nags Head Woods home!
–
Kitty Hawk Woods
The Woods Road, Kitty Hawk
252-261-8891
Site Brochure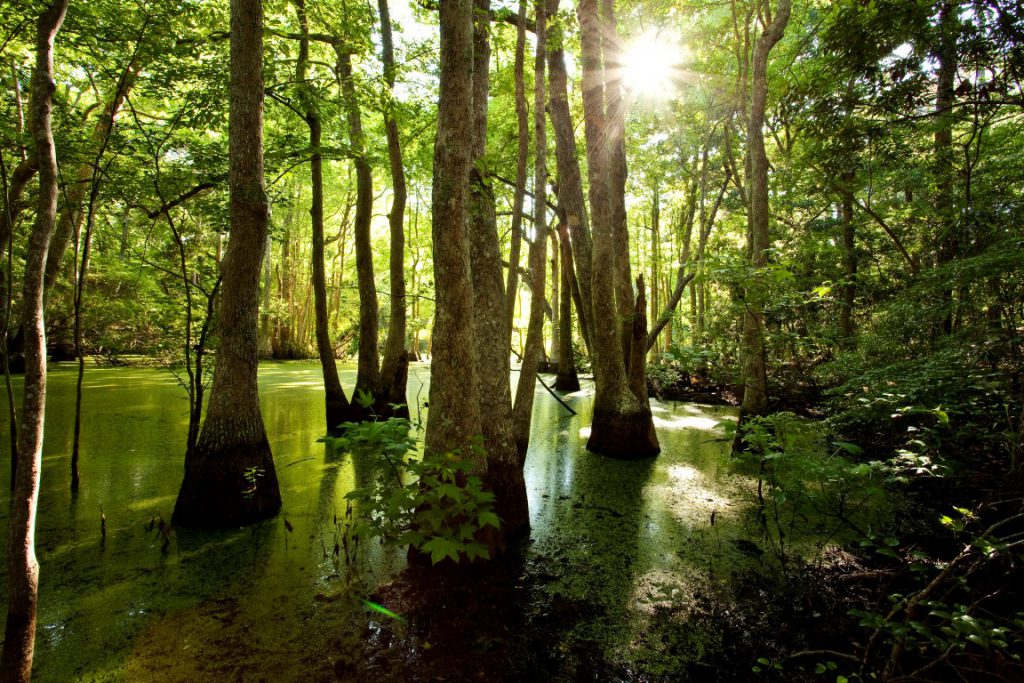 Tucked away in the northwest corner of Kitty Hawk, atop relict ancient sand dunes, lies a nature preserve teeming with biodiversity. Kitty Hawk Woods is one of the largest tracts of maritime forest, deciduous swamp, and marshland in the entire state of North Carolina. The preserved land also includes sound-front beaches and small, uninhabited islands in the Albemarle Sound. A two-mile trail works its way through the 1,824 acres of natural land.
Access this trail at the parking area located at the North end of Woods Road; by foot along Woods Road, and on the westside of Eckner Street, Birch Land and Amadas Road; by paddleboard, kayak, or boat. Public boat access is located on Bob Perry Road.
Interesting finds in Kitty Hawks Woods include some rarities, as its home to four globally rare plants. This includes: southern twayblade, American featherfoil, coastal goldenrod, wooly beach heather, and hop hornbeam.
A great place for birding, one can find a variety of indigenous and migratory birds.
Currituck Banks Reserve
NC Hwy 12, Ocean Hill – Corolla
252-261-8891
Near the end of the paved road, beyond the Currituck Beach Light, lies a beautiful and well kept preserve. The Currituck Banks Reserve has a board walk pathway, which is handicap accessible, and an alternative natural dirt pathway. If one takes the boardwalk, informational postings are exhibited along the way, highlighting the local flora and fauna observed en route.
Scenic Strolls
Jockeys Ridge
In the summertime, sunrise and sunset are the most pet-friendly times of day. The sand is too hot for paws during the midday sun. However, during the remainder of the year, Jockeys Ridge is a great midday excursion! Your pup will have plenty to sniff, there are seemingly endless dunes to run, and you'll have great views of the ocean and the sound — a win-win-win!
Wright Brothers Memorial
What an unforgettable walk to bring pup along for! There are paved paths that offer forth an opportunity to stroll alongside history. At this memorial walk, one can observe the dune/hill that modern aviation literally took flight. On this walk, one can view the take-off point and landing points of each flight. Due to it's pull on visitors, we recommend that the human-loving pups take this stroll, as there are plenty of opportunities for socialization.
Downtown Manteo
Speaking of history, we can't forget legendary Roanoke Island and the town of Manteo. The island teems with memories of the past, the Lost Colony, adventure, and wildlife. There are so many great areas to "get your steps in" while exploring history. Some of these areas include Festival Park, Fort Raleigh, the sandy soundfront beaches, and, especially, downtown. We love the Downtown area as a way to please both people and pups. The colonial streets leading to the boardwalk allot for ultimate dog socialization, plenty of boutiques, restaurants, and coffee shops. The majority of downtown Manteo has outdoor seating, so this is an easy spot to get the pooch out and about!
Duck Boardwalk
Duck's waterfront is home to so many awesome tourist-y areas! There are great areas to shop, dine, explore and get involved. Like the aforementioned downtown Manteo, there are locally owned boutiques, restaurants, yoga, kayak tours, and much more! Let your pup strut its stuff along one of the best shopping areas in the Northern beach towns. Don't forget to stop at Outer Barks along the way, too!
Dog Parks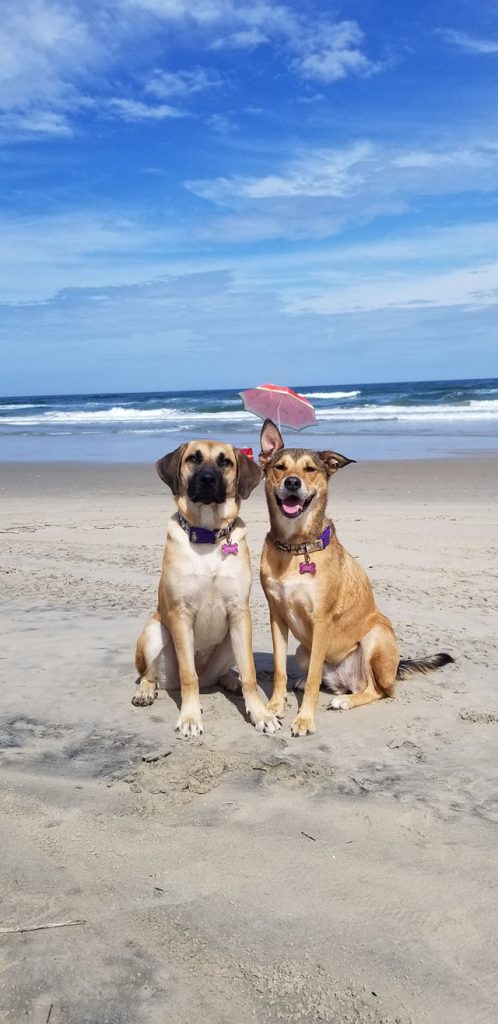 Want your pup to go fully unleashed? Look no further! The OBX has 4 amazing dog parks.
Dog Park @ Kitty Hawk Park
856 Midgett Rd, Kitty Hawk
Kill Devil Hills Paws Park
103 Veterans Drive, Kill Devil Hills
Nags Head Dog Park
227 W Satterfield Landing Rd, Kitty Hawk
Roanoke Island Dog Park
Beside Dare County Regional Airport
Restaurants
With the pet-friendliness of the OBX, it hopefully comes to no surprise that the amount of Fido-friendly eating establishments are plentiful. We've highlighted a couple of our favorite below.
Roadside Bar & Grill – Duck town center
Mulligans Bar & Grill – Historic Cottage Row, Nags Head
Coastal Cantina – Waterfront Shops, Duck
Pet Stores
Outer Barks, Inc. (252) 261-6279. Nags Head.
The Holistic Petshop (252) 449-0331. Kill Devil Hills.
Lotsapaws Barkery & Boutique (252) 986-5444. Avon.
Petsmart (252) 564-3061. Nags Head.
Southern Shores Realty Pet-friendly Homes
We have a wide array of homes that allow for pets, but we've selected some with some exceptionally great details for the dogs! Click here for a full list.
0458 – A Panoramic Rendezvous
6 bed / 5.1 bath – Southern Shores
Fenced in backyard, private pool & hot tub
0582 – Cuckoos Nest
4 bed / 2 bath – Southern Shores
Fenced in backyard, volleyball court, tiki bar, private pool & hot tub
0528 – Serendipity
5 bed / 4.1 bath – Duck
Oceanfront, fenced in pool area, private beach access