March 14, 2017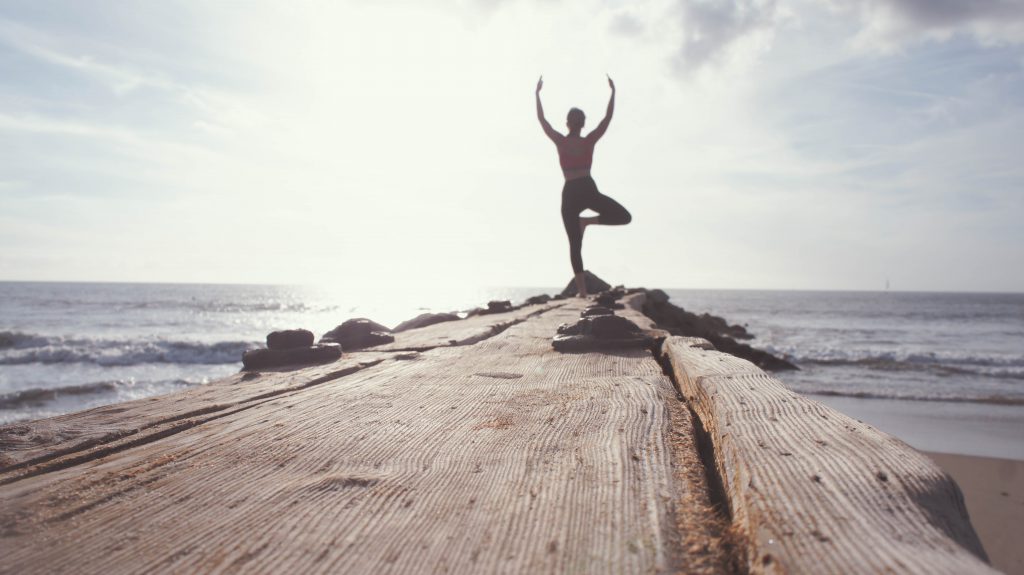 Namaste the Beach Way
Beautiful beach destinations and yoga just go together. For many of us, a trip to the Outer Banks offers beauty, peacefulness, and relaxation. And with so many unique vacation rentals to choose from, everyone can find their happy place. Yoga is the perfect accompaniment to recharge and renew while visiting the beach. Yoga rejuvenates the body while helping us to appreciate the present moment. And what better moment is there to appreciate than time spent blissfully on the OBX?
Whether you are brand new to yoga, you practice regularly at home, or you just want to have some fun, you can find yoga classes and private sessions of all varieties and levels of intensity near your vacation rental in the Outer Banks.
New to Yoga
You do not need to be flexible to try yoga. Whatever your fitness level, yoga will help you become more flexible, balanced and strong. Whatever you are seeking — a stretch, gentle movement or getting your sweat on– you are sure to find the perfect yoga class while on the Outer Banks. Life is busy, and it's never easy to start a new habit or try something new. Use an hour of your vacation time to explore the benefits of yoga and how it may improve your health and quality of life. Be sure to select a beginner-friendly class and keep an open mind.
Experienced and Serious Yogis
You don't have to leave behind your regular yoga practice while on vacation. Take an opportunity to visit a new studio and change up your yoga experience. All studios on the Outer Banks are happy to welcome new students and many offer multi-level classes for all abilities. If you are not traveling with your yoga mat, a yoga studio can provide one. Be sure to check class descriptions before dropping in to make sure the class you select is suited to your levels and abilities. Mix it up! Take a variety of classes from different studios and teachers and use your vacation as an opportunity to explore and deepen your existing yoga practice and learn something new.
Just for Fun
There's no need to be so serious while you are on vacation. Maybe just get sandy, laugh and enjoy a fun beach yoga session with family and friends. Many yoga studios offer morning beach yoga classes each week during the summer. Just bring a towel, water, and some sunscreen and join a class!  Private and group yoga sessions on the beach also are a fun and healthy activity for the whole family. Whether you want to gather multiple generations of your family, or you have a group of friends or bridesmaids visiting the beach together, every beach yoga class is a one-of-a-kind experience located just outside the door of your oceanfront vacation rental!
So if you are ready to Namaste the OBX way, check out this list of local yoga options to find one near your vacation rental:
Located in Central Square Shopping Center in Nags Head, Ashtanga Yoga Center is rooted in traditional Ashtanga yoga offering beginner level Ashtanga and led Primary Series as well as Mysore practices. A variety of vinyasa, hatha, and beach yoga classes also are offered each week often in warm or hot varieties.
Bliss Fit offers private, group and beach yoga sessions on demand. Classes, yoga mats, and the instructor come to you, from Vinyasa to gentle yoga on the beach or in your rental cottage. Groups celebrating a special occasion, wedding or vacation together can enjoy fun partner yoga poses as well as meditation and relaxation techniques.
Located in the Waterfront Shops on Duck Rd, Duck Village Yoga offers a variety of classes, including beach yoga, vinyasa yoga, and warm yoga classes. There are two studio rooms offering classes for all levels. The studio was founded to create strength, mindfulness, and freedom of expression! Specialty classes and workshops are offered frequently.  A yoga teacher training course also is available.
Outer Banks Yoga offers classes for drop-in year-round in its Kitty Hawk location and during summertime months in the Corolla Village location. Both locations offer a beautiful studio space with mats to borrow. A variety of daily yoga and pilates mat classes are suited to all levels of students and beach yoga is offered during the summer. The studio offers a yoga teacher training course as well.
Located in Pirates Quay Shoppes, in Nags Head, The Studio specializes in yoga for families and children. The Studio offers children's yoga classes, after school programs and day camps throughout the summer. The weekly class schedule also includes mind-body yoga classes for women, Mom & Me Yoga and Kids Yoga.
With a variety of unique yoga offerings, you are sure to find some inner peace while enjoying the surrounding beauty of the Outer Banks. Don't be surprised if you find yourself thinking "Nah ma'stay at the beach!" after a taking a class. But if you have to leave the beach, at least you will return to your vacation rental stretched, relaxed and renewed!