January 28, 2020
Remember the days of choosing between talking on the phone or using the Internet? How about party lines? Gone are those days, and our ever-advancing world of technology certainly has its perks. Now you can instantly communicate with folks around the world; turn off your thermostat from your phone; have packages delivered via drone; and even book your Southern Shores Realty vacation home with a few clicks of your phone!
While there are so many pros to this "new era" in technology, there are also, unfortunately, some cons. Literally. These "cons" are using technology to harm others. Some are posing as vacation rental property managers, scamming folks into wiring them money, promising a beautiful vacation home rental. That beautiful vacation home you just booked at a "Too Good to be True" special off of Craigslist, truly was too good to be true. The beach home you were planning on and traveled to doesn't actually exist.
Fret not; Southern Shores Realty is here not only to make vacation planning a breeze, but also to help keep you away from scammers. The number one way to prevent fraud is, of course, by booking directly through a vacation rental management company. We have compiled a list of "red flags" to keep in mind when booking your next getaway. If anyone posing as a vacation rental manager raises these flags, we recommend stepping away and reevaluating.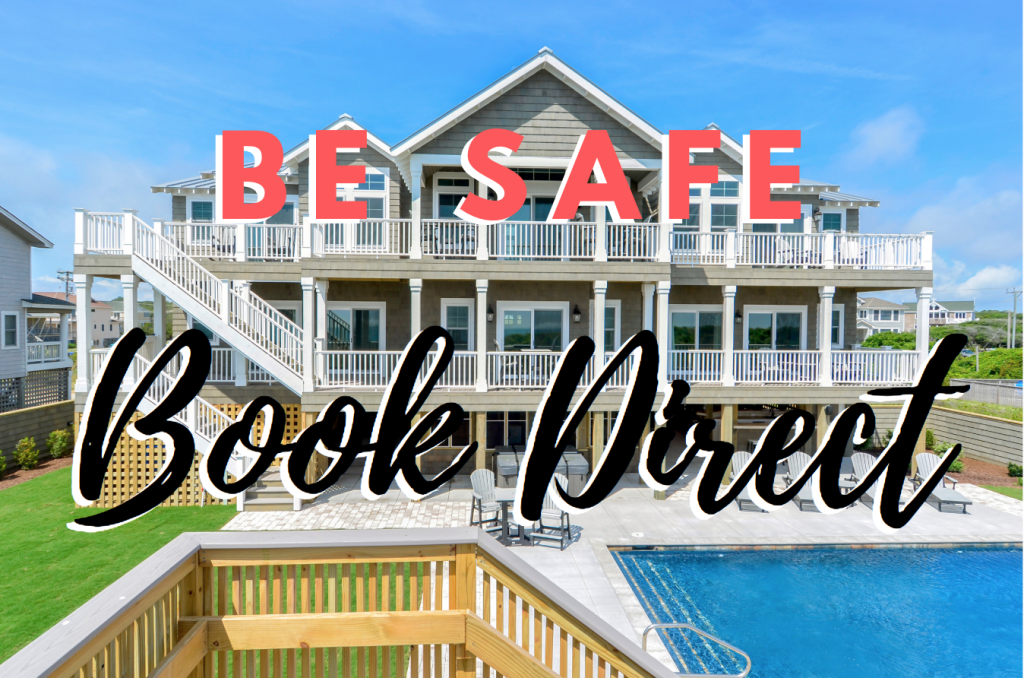 What to Consider When Booking A Vacation Rental:
Booking Platform
First of all, take a look at where you've found your vacation rental. If you're not on the property manager's website or a reputable online travel agency, you should probably take a step back. Reevaluate and grab this handy checklist. If subsequent flags are raised: steer clear. Craigslist, for example, has been a notorious hub for scams. Use extra caution with this website, or avoid it all together when booking a vacation.
2. Unknown Properties and Managers
If you can, rent through a company or individual someone you know has previously rented through. If the home does not have a professional property manager: check for verified reviews, contact the local tourism office and/or Visitors Bureau, or investigate owner memberships.
3. Wire Transfers
Do not wire money to an unknown bank account. This is a big red flag. Southern Shores Realty and most other property managers will never ask you to wire money. If you are asked to send money via Western Union or MoneyGram – DO NOT. These scammers can move the money to a new bank account, close the original account, and take off. In which case, you will not recoup your money. There are secure methods of making a payment, credit card being the most secure. When you book with us, your payment will only be done in a secure manner (credit/debit card or e-check) and all information will be encrypted, and 100% confidential.
4. Amazing Discounts & Lenient Policies
If a deal was received in your email inbox, or found on Craigslist and it's "too good to be true", well, then frankly, it probably is. "Guaranteed 100% of Your Money Back Anytime" is another phrase to beware of. Most vacation rentals don't have cancellation policies that guarantee 100% return of monies anytime without a penalty. Stay away from these claims.
5. Lack of Professionalism
Vacation Rental Managers operate professionally and accurately. If you are dealing with someone who doesn't want to speak on the phone; has poor grammar; or overall bad communication skills, you could be dealing with a scammer. Managers/Owners are happy to speak with guests and offer assistance during regular business hours, and will never avoid communication. If information you're given has errors and you are sent a link to a different property than you inquired about, be alert. Many times these scammers are communicating with other "vacationers" and can lose track of whom they're talking to. They may accidentally send the wrong property to the wrong person. Be alert.
6. Trust Your Gut
If something seems fishy, it probably is. Trust your gut.
7. Book Direct
As mentioned, the number one way to prevent being scammed is to BOOK DIRECT. Feel free to give your friends at Southern Shores Realty a call, and we'll be happy to book your next vacation in a safe, secure, and friendly manner.
Browse our scam-proof vacation homes by clicking here.

We are open 7 days a week, 9am-5pm and can be reached locally at 252-261-2000 or via email rentals@southernshores.com