July 6, 2019
Monday July 8th:
Fish With A Ranger:
The Hatteras Island Fish with a Ranger Program is open to fishermen and women of all ages. This free program is hosted by one of the national park rangers each Monday and Thursday during the summer. Poles and rigs are provided for all attendees, but you must provide your own bait. Pre-registration begins today at the Hatteras Island Museum or by phone. Don't miss your opportunity to fish in the salty waters of the Outer Banks! (252-475-9622, 46379 Lighthouse Road, Buxton, NC 27920)
Taylor Williams' Solo Exhibit:
If you are looking for local art based on the Outer Banks experience then you're in luck! Just this past Friday, Taylor Williams opened her solo art show entitled 'Between Bridges.' The exhibit is full of seascapes and skyscapes of the barrier islands. William hopes to immerse the viewer in the beautiful scenery of the Outer Banks. The exhibit will be on display until July 30th, make sure to check it out! (300 Queen Elizabeth Avenue, Manteo, NC 27954)
Tuesday July 9th:
Kitty Hawk Kites' "Kid's Days":
Come out for Kitty Hawk Kites Kids Days on the Outer Banks. Enjoy a variety of games, kite coloring, toy and yo-yo demonstrations, other creative activities, and many more surprises. Every Tuesday, Kitty Hawk Kites hosts a Kids Day at both Duck (10:00am – 12:00pm) and Corolla (2:00pm – 4:00pm). Kids Days are sure to be fun for the whole family! (1226 Duck Rd, Duck, NC 27949 & 819 Ocean Trail, Corolla, NC 27927)
OBX Sunset Kayak Tour: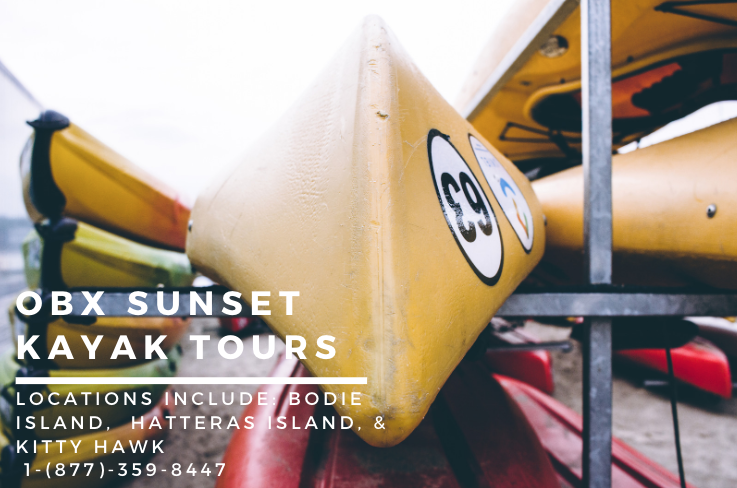 Experience legendary North Carolina sunsets on the water this summer during your vacation on the Outer Banks. Kitty Hawk Kites hosts kayak tours across the Outer Banks. Although the 2019 season for these locations has not started yet, tours will also take place in Corolla and on the Currituck Sound. Click here to book online or call the number above to reserve over the phone.
Wanda's Monster:
Come out to watch a Feared Fiend become transformed into a Gentle Friend. Every other Tuesday and Wednesday, the SoundStage theater in Fort Raleigh National Park hosts Wanda's Monster. Wanda's Monster is a musical that encourages individuals to embrace what you fear or find overwhelming and you may meet a friend. The theme of the show revolves around the ideas of acceptance and friendship. Tickets cost $10 each. Click here for more information.
Wednesday July 10th:
Maritime Crafts for Kids: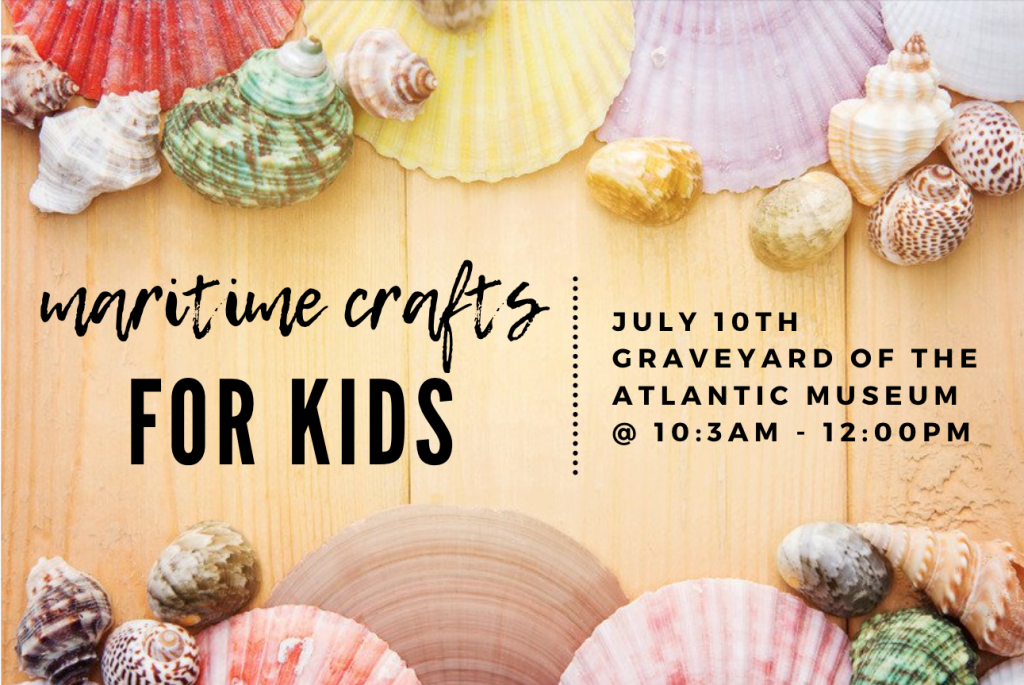 Make your own art based off the local environment. Every Wednesday, kids are invited to join Maritime Crafts: For Kids at the Graveyard of the Atlantic Museum. The museum will provide all the supplies at no cost to the participant. This activity is open to all ages and occurs weekly from 10:30am – 12:00pm. (59200 Museum Drive, Hatteras, NC 27943)
A Peter Rabbit Tale the Musical:
From 10:30am – 11:30am on Wednesday or Thursday, come experience A Peter Rabbit Tale The Musical. Based on Beatrix Potter's novel, A Peter Rabbit Tale, the show tells the story of Peter Rabbit. Peter Rabbit begins to believe that being a rabbit isn't as good as everyone thinks – he has too many chores to do, he's tired of his twin sisters, and he's sick of being picked on. Peter decides to leave home, but after encountering difficulties he realizes that maybe home isn't that bad after all. (1 Festival Park, Manteo, NC 27954)
Thursday July 11th:
USAF Full Spectrum:
If you're looking for a night of great music, look at Duck's Concert on the Green featuring the United States Air Force Full Spectrum band. The band consists of three vocalists, keyboards, guitar, bass, and even an audio engineer. The band is composed of active-duty air force members based out of Langley Air Force Base in Virginia. Come out for a night of high energy pop and hip hop music! (6:30pm – 8:00pm, 1200 Duck Town Road, Duck, NC 27949)
Crafting Sailors' Valentines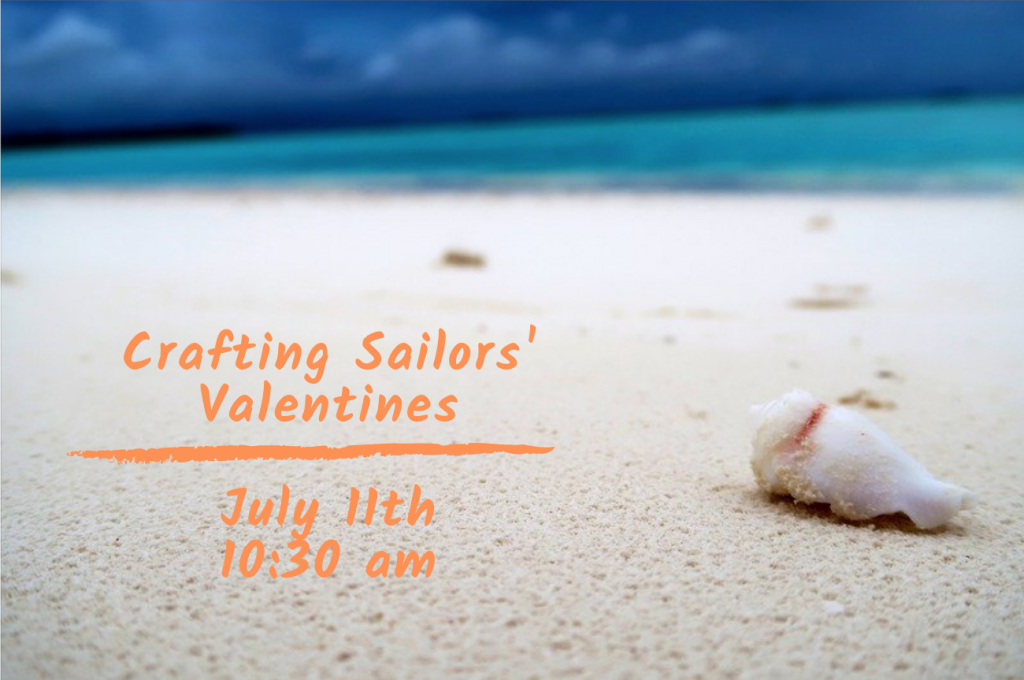 Ever wonder what a sailor would send to their sweetheart while they were away at sea? Come out to the Graveyard of the Atlantic Museum and learn all about the history of maritime art while making your own sailor valentines out of shells and other materials. This event is free for all and will take place from 10:30am – 12:00pm. (59200 Museum Drive, Hatteras, NC 27943)
Friday July 12th:
Roanoke Adventure Museum:
Explore the 400 years of Outer Banks history from the mystery behind the lost colony to present day at Roanoke's Adventure Museum. A great way to spend time together all the while learning about history and having fun. Children can even dress up in 16th century costumes while parents explore portraits of England's first explorers. (1 Festival Park, Manteo, NC 27954)
Saturday July 13th:
41st Wright Annual Kite Festival: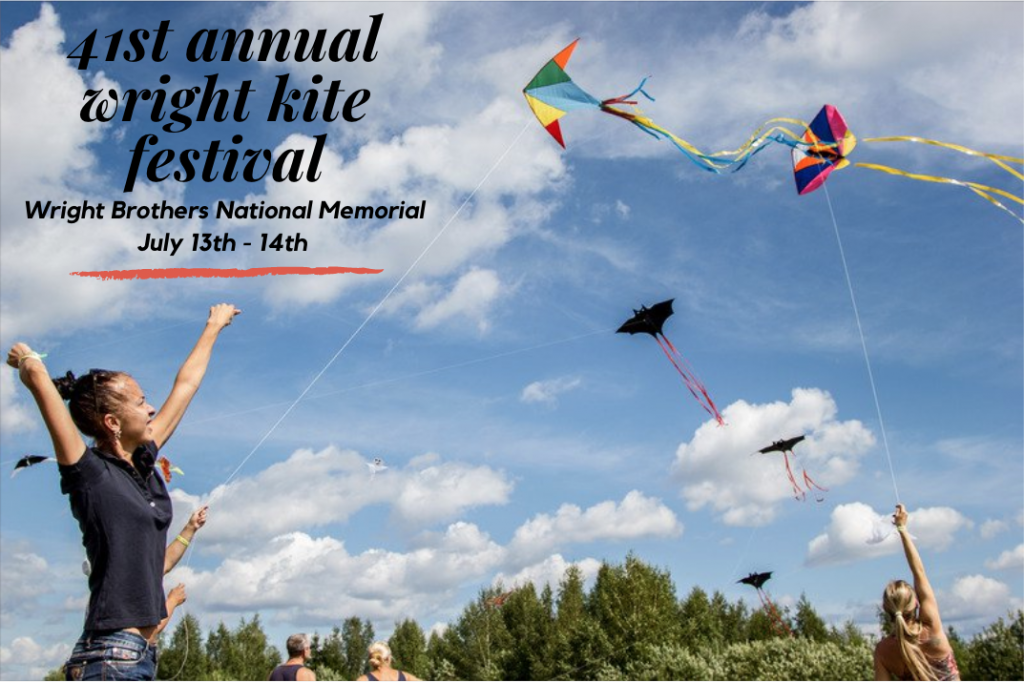 From 10:00am to 4:00pm this Saturday come experience an incredible event that is sure to sweep you off your feet. Kitty Hawk Kites will be hosting the 41st Annual Wright Kite Festival in honor of brothers, Wilbur and Orville Wright, who flew the first airplane over the Outer Banks. The festival will feature 30-100 foot kites, as well as flying lessons, and a make your own kite session. Come bring your favorite kite from home if you have one! Admission to the Wright Brothers National Memorial is $10 for individuals 16 years or older, but the Kite Festival is free for all participants. (1000 N Croatan Hwy, Kill Devil Hills, NC, 27948)
Sunday July 14th:
Girl Scouts Love State Parks Weekend in Nags Head:
Join local Girl Scouts and thousands of girls in hundreds of state parks across the country to share your love for nature. This event is open to all and gives the chance for girls, their families, and anyone else interested in joining Girl Scouts to experience the outdoors. Experience nature at Jockey's Ridge State Park from 10:00am to 2:00pm on Sunday morning. (300 W Carolista Dr. Nags Head, NC 27959)
Don't miss out on other family fun activities. Check out our previous blog posts here and here to find weekly recurring events!